In my previous article, about AMD, I talked about how critical it is for any tech company to stay innovative and adapt to a changing market. Companies that fail to recognize their own need for change find themselves in trouble. Over the last few years Sony Corporation (NYSE:SNE) has been struggling. Despite carrying many popular electronics products, Sony has had only a single profitable year since the 2008 financial crisis (a profit of $458 million or $0.46 per share was earned in fiscal 2012). The mounting financial losses can be blamed on many different things, to be sure. There was the devastating Japan Earthquake and Tsunami in 2011, the financial crisis of course, currency fluctuations, the rise of Samsung, and so on and so forth. Many of these issues were out of Sony's control, but the company has survived and has made some hard managerial choices that may prove to be effective.
Results for fiscal 2013 (April 2013 - March 2014)
It was another challenging year for Sony to say the least. The company earned a net loss of $1.25 billion ($1.24 loss per share) on revenue of $75.4 billion and operating income of $257 million. Wait, how did over a quarter of a billion dollars of operating income turn into a final loss of well over a billion? Well, after other income of $412 million and other expenses of $419 million, there was net income before tax of $250 million. Subtract from that taxes of $918 million and a net income attributed to non-controlling assets of $554 million and the final profit result is the dismal loss of $1.25 billion. The reason taxes were so high (they paid above Japan's statutory rate) is because Sony continued to not recognize tax benefits associated with subsidiaries which incurred losses. The fact that net income before tax was $250 million and that it had positive cash flow from operations of $6.45 billion shows that there is underlying strength in this company. Overall, this means that Sony is not in the dire situation it seemed to be in at first glance.
Cash flows and Balance Sheet
For a company to be successful in the long term it must generate positive cash flows from operations, have stable and under control financing, and maintain an appropriate level of investment in order to spur continued growth. From fiscal 2013 to 2014, Sony's net operating cash flow increased by 39%, it kept investing a steady use of cash at $6.9 billion, and net cash from financing increased by 135% to $2.02 billion. The large increase in financing was due to a decrease in the payment of long-term debt, an increase in short-term borrowing and a slight increase in deposits from its financial services division. The chart below exemplifies the trend of growing operating cash flows, stable investment and stable financing over the last five years.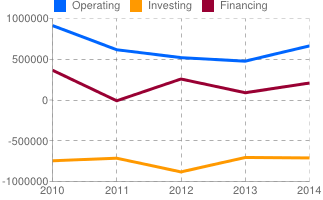 Source: Google Finance.
On top of good cash flows Sony also has some good balance sheet fundamentals. Current assets totaled $40.8 billion, including, $10.16 billion of cash & equivalents and $8.08 billion of marketable securities. Total assets were $148.9 billion versus total liabilities of $121.8 billion, including $46.4 billion of current liabilities. While liabilities are high, it is mostly due to deferred taxes, customer deposits from its financial services division and insurance. Actual debt is surprisingly low, with current debt totaling $3.6 billion and long term debt totaling $8.9 billion. Below is a chart showing total assets vs. total debt and the debt to assets ratio going back five years.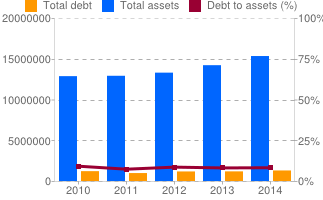 Source: Google Finance.
The striking thing about this chart is how stable Sony has managed to keep its debt while at the same time increasing assets each year during a period of low profitability and losses. Debt to equity (using total liabilities) is a relatively high 5.46. But I also calculated their "personal" debt to equity ratio, which only counts long-term interest bearing debt, at just 0.42. Making it very comparable to Apple (NASDAQ:AAPL) , whose debt to equity is 0.62, and Microsoft (NASDAQ:MSFT) whose debt to equity is 0.81. This in part corrects for Sony's initial debt to equity ratio because its liabilities include deposits and insurance issues from its financial services division which many other companies in Sony's primary industry do not have. Here again Sony is a lot stronger than it seems on first glance.
Strategy and Sales
In the last few years Sony has certainly recognized its need for change, and has begun to improve its offerings and capabilities. Sony has taken steps to restructure its corporation, eliminate whole product lines and divisions, and create new products that are both compatible and complementary. Since it is essentially in the middle of this process it's impossible to say for sure if it will be successful, but we can look at the costs associated with the changes and their potential benefits.
Restructuring
The process will include the end of VAIO PCs and PSPs, the splitting of its TV division into a separate subsidiary and the cutting of over 5,000 jobs worldwide. This will allow Sony to focus on its more profitable and growing segments and will save money in the long term. But for now there are serious costs to restructuring as shown below (in billions of yen). These costs are declining each year and the major restructuring should be completed by 2016.
Click to enlarge images.
PC Division

Source: Sony.net.
The biggest (and most expensive) part of Sony's restructuring has been exiting the PC business. It decided to do so after years of declining sales and lack of operating profits. It's clear from the chart below (located in the earnings report FYE March, 2014) that costs of exits ran high at $566 million, and that excluding exit costs its operating loss was $323 million. Obviously these kind of losses are unsustainable and its decision to exit a business sector that has been highly unprofitable the last couple of years is certainly the right one. The bleeding will stop.
Play Station 4

Source: Sony.net.
Sony's latest and greatest gaming machine is its Play Station 4. Super powered and built to compete with Microsoft's XBOXONE and Nintendo's WiiU, it has already outsold both despite being on the market as for as long as the XBOXONE and for over a year less than the WiiU. Sales in terms of number of consoles sold are shown in the chart below (Sales as of May 2014). It is clear that the PS4 has gained a significant lead over its competitors and this is a very important win because over the last few generations of consoles the one that got ahead first - stayed ahead. It happened last time around with the unstoppably popular Nintendo Wii and before that the PS2 (still the most sold console of all time). This tends to occur because gamers want to own the system that the majority of their friends play on. So the more people buy PS4's early on, the more likely it is that sales will maintain high levels. Therefore, this lead that Sony now has is a really good sign for the future of both the PS4 and its gaming division. On top of this Sony has also shown interest in selling the PS4 in China, if successful, sales of their PS4 may outstrip even those of its PS2 and profits would be huge.
Portable Gaming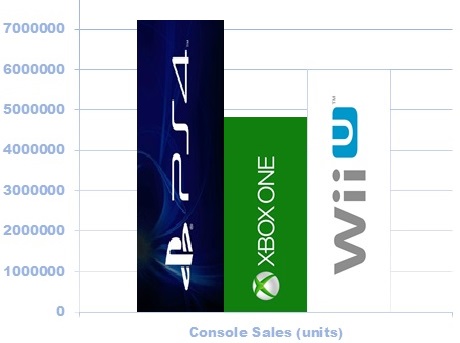 Source: Sony.net.
Earlier this year Sony announced that its popular Play Station Portable, PSP, gaming system will no longer be sold, ending sales first in North America, then in Japan and finally Europe by next year. This is despite the fact that it's the most popular portable device Sony has ever created, selling over 80 million units since it first appeared in 2005. Why would they stop selling a popular and well known device? The answer is The PS Vita. The Vita is Sony's newest portable gaming machine and has sold less than 8 million devices since 2012. But, the Vita is far more capable than the latest PSPs and is both extremely compatible and complementary to Sony's PS4. By eliminating PSPs, Sony will increase sales of the Vita since that will stop product cannibalization.
Stock Performance
Since 2011, Sony's stock price has tumbled from a high of $27.47/share to a low of $9.71 at the end of 2012 and is now at a price of $16.10. At this price Sony's market capitalization is just $16.8 billion. This gives Sony a price to sales ratio of 0.22 and a price to book ratio of 0.77. This is far lower than both Microsoft and Apple. In addition, Goldman Sachs set a price target of $19/share for Sony; this would represent an 18% upside from Friday's close. Also consider: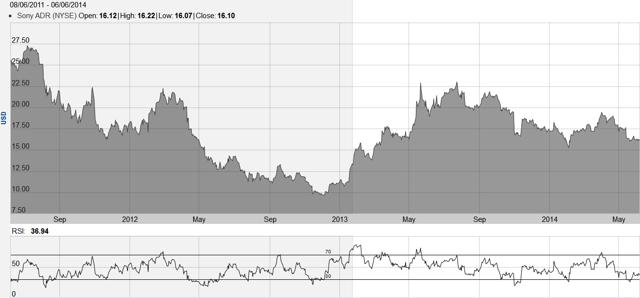 Source: Sony.net.
A profitable and strong Sony tends to trade at above $20. Considering the long term benefits of the current restructuring program and its potential to return to profitability, buying in at $16-17/share would prove to be a wise move.
Sony's management estimates that results for FYE March 2015 will be: a net loss of $486 million on slightly increasing revenue and operating profits and income before taxes increasing 428% and 406%, respectively. The loss is mainly due to the completion of restructuring and its costs.
Sony has been helped by the depreciation of the Japanese Yen relative to the US dollar and Euro, this trend is likely to continue and will further boost Sony's income.
Despite its troubles management has continued to pay out dividends yielding at about 1.3%. Total payouts last fiscal year were $240 million. This commitment is impressive in an era when many large companies like Google, Amazon and Netflix don't bother paying a dividend at all.
Conclusion
When I began my research for this article I was very skeptical about the value of this company, even at $16.10 it seemed too risky. However, after the analysis it's clear that Sony's position is not as weak as it seems, regarding the obvious concerns about profitability, cash and debt levels. Furthermore, its restructuring is nearing completion and I believe will prove effective. Sony will stop bleeding money from the PC business, cut jobs, stop cannibalizing PS Vita sales and finally the PS4 is well on its way to dominating the eighth generation gaming market. There remains a significant degree of risk for a short to medium term hold. However, I believe that there is a significant potential upside, of at least 20%, for those willing to hold on to the stock into 2015, or better yet until 2016 when profits should return.
Disclosure: I have no positions in any stocks mentioned, and no plans to initiate any positions within the next 72 hours. I wrote this article myself, and it expresses my own opinions. I am not receiving compensation for it (other than from Seeking Alpha). I have no business relationship with any company whose stock is mentioned in this article.