I started getting bullish on India during the third quarter of 2013. So much so that I published volume 1 of India Investment Strategy: The Hunt for Hidden Value on October 31st. On 9/30/13, (the date of inception of portfolios presented in the book) the Sensex stood at 19,380. Today it stands at 25,396, up 31%. That is not a bad market timing call, though I say so myself! Truth be told, my market timing is normally terrible, which is why I stick with an asset allocation model: it works far better for me than trying to be clever with market timing.
The question to contemplate now is whether after the spectacular eight-month gains, are there more gains to come? In my view, the market remains a buy the dip, don't sell the rip market. Though there is never any harm in returning to allocation on both dips and rips. Why?
Politics & Policy
Following the recent elections, we have a single party (BJP) with a majority in the lower house (Lok Sabha) of the Parliament. After decades, we have a government with a mandate to do what it takes and to do what is necessary. It is true that the BJP does not have a majority in the upper house (Rajya Sabha), but together with BJP's alliance partners, who together with BJP form the ruling NDA, and with some outside support, they remain firmly in control.
The NDA has a small and relatively inexperienced team. What they lack in experience is more than made up in sheer grit and determination, coupled with the willingness and ability to listen and learn to sound advice from external advisors and the bureaucracy. Indeed much of what is heard on policy direction from the corridors of power is very positive.
The time for words is past: it is now time for action, not words. And we have a short-term catalyst - we expect to see the first fruit from policy action soon: the budget will be announced by early July, and while policy expectations have gone from being low to high, the full extent of optimism remains unpriced.
Another aspect, which must not be under-appreciated is the mood of the nation. After handing a clear mandate to BJP, confidence is high. In addition, there is a change in the nature of the nation.
One of the most important post-election comments came from Kamal Nath: one of the few Congress MPs who retained a seat in Parliament. The Times of India published an analysis of a TV interview where Kamal Nath seeks to understand the loss:
In a TV interview, Nath singled out UPA's rights-based entitlement schemes for hurting the party, saying Congress did not realize India had become "aspirational" and was looking for things like material gains. He said the party's policies and approach were a few years behind the times.
The argument may, in part, explain why Congress was rejected by all classes despite giving pro-poor schemes as a "right" and making them the main campaign plank, contrary to the "no dole" pitch of rival Narendra Modi.
Kamal Nath said "rights", like on food, work and land, did not enthuse people who saw it with a sense of entitlement and felt the government had to give them anyway. While the beneficiary section did not feel indebted to the government, there was a big middle-class which turned against the Congress for these "doles", he said.
When people (in particular the middle class) don't hanker for entitlements, they become aspirational: a national asset, instead of a national liability. That's big, and that is change.
Economy
Overview - Positives and Negatives
The economy continues to drag along the bottom. But there are clear signs that the deterioration has been arrested. And there are some signs of improvement too.
The index of industrial production [IIP] plunged into the negative zone during the year ended 3/31/14 (FY14), led by IIP - Capital Goods which dipped into negative territory for the first time in thirty years during the year ended 3/31/13 (FY13). And while IIP - Capital Goods closed FY14 in negative territory, we have seen the trend of IIP - Capital Goods improve since it bottomed in FY13. Revival of the industrial segment is critical for the economy: the good news is that the services sector has stabilized, and the revival has begun, and with policy support it can be expected to accelerate. There are enough easy pickings in policy to drive a robust revival in IIP and IIP - Capital Goods during FY15.
We have also seen a turnaround in the earnings growth cycle. Earnings growth dipped to 5.4% in FY13 from 9.7% in FY12, during FY14 earnings growth rose to 13.1% and regained momentum.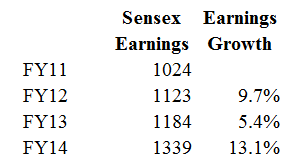 Source: MaxKapital Archives
The earnings downgrade cycle looks like it is over. Sensex earnings are expected to grow to 1,525 for FY15 and to 1,825 during FY16.
The negatives are Agricultural GDP growth: it is most unfortunate that the weather and El Nino point to a weak year from rural India, which is home to a majority of her citizens. While the impact might be limited because awareness and knowledge have provided farmers an opportunity for early planting, there will be a negative impact.
GDP Expectations
The Reserve Bank of India in its bi-monthly policy statement sets FY15 GDP growth expectations at a central point of 5.5%.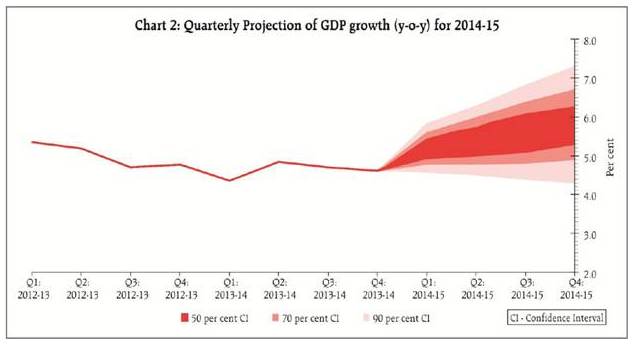 Source: RBI Bi-Monthly Policy Statement
In my view this 5.5% growth estimate is not unreasonable given the El Nino threat. However, 6% to 6.25% is very doable if the severity of the El Nino impact is limited by simple actions such as early planting.
GDP Growth is presently at 4.6%. Over the past six years it has averaged 6.71% (Median 6.25%). Over the past ten years, growth has been far more robust at an average of 7.61% (Median 8.55%). In my view, potential long-term GDP growth is well higher than 5.5%, and so while a rise to 5.5% would be welcome today, there is plenty of scope for far higher growth in the yonder years to come.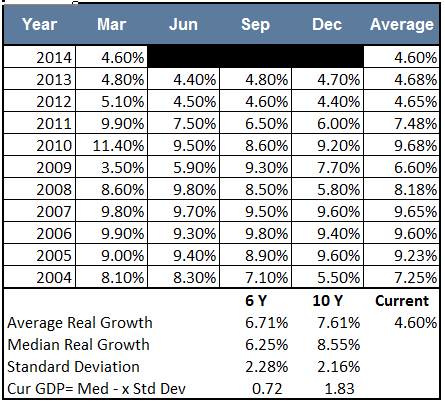 Source: MaxKapital Archives
Inflation
Consumer Price Inflation [CPI]
In the recent policy statement, the RBI said:
The Reserve Bank remains committed to keeping the economy on a disinflationary course, taking CPI inflation to 8 per cent by January 2015 and 6 per cent by January 2016. If the economy stays on this course, further policy tightening will not be warranted. On the other hand, if disinflation, adjusting for base effects, is faster than currently anticipated, it will provide headroom for an easing of the policy stance.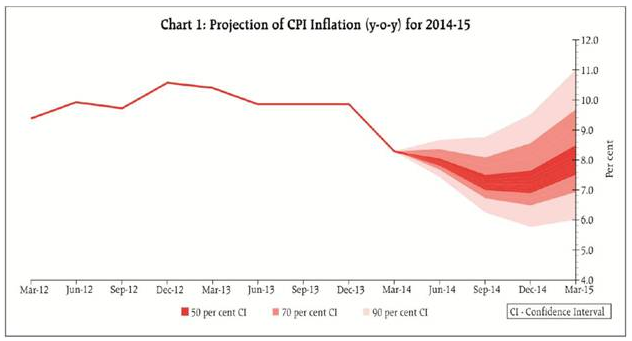 Source: RBI Bi-Monthly Policy Statement
Consumer Price Inflation remains elevated today. And RBI has a tolerance range of 7.5% to 8.5% within which no further tightening is expected. Given the high intensity of food costs on inflation in India, we have a serious threat to this range on account of El Nino. However, with the warehouses brimming with inventory, the inflation impact coming from grains can be suppressed with efficient release and distribution of stocks, leaving the inflation impact from fruit and vegetable which should not be too bad. We can also expect some disinflationary forces arising from lower import costs resulting from a stronger Rupee.
In addition, RBI has displayed a willingness to wait while the impact of one-off events plays out, provided that core inflation remains contained. And so in my view, we are at a peak of interest rates and can expect cuts in the months to come.
The RBI has also specifically noted that if disinflation adjusted for base effects is faster than expected, there is scope for accommodation (rate cuts). I suspect we will see rate cuts late in 2014.
Wholesale Price Inflation (WPI)
As it happens, WPI in India is now well below levels consistent with long-term averages. WPI is at 5.2%, compared with a ten-year average of 6.51% (Median 6.7%) and a six-year average of 7.26% (Median 7.55%). There is a threat that the cart will be upset by a reversion of WPI to mean levels. On the other hand, there is an opportunity: a convergence of CPI to WPI rates is something that ought to be a policy target - with a more open and competitive market, the consumer will not suffer from elevated prices caused by inefficient producers and middle-men.

Source: MaxKapital Archives
In addition to convergence of WPI and CPI rates through policy, the biggest policy challenge ahead is job creation. We have demand side issues adding to inflationary pressures. But inflation in India is structurally high because of supply side issues too. These supply side constraints need to be addressed by policy makers, not monetary authorities.
Amongst other things, infrastructure, power, resources, energy, transport, are deficient and constitute major supply side issues. And then there is the fact that wage inflation is high in India. And it is high because despite a very large population, the work-force is extraordinarily small. Bodies do not make a work-force: they need skills, education, and training. And the focus on skills, education, and training and work-force creation should have started twenty years ago. How it is handled at this late stage remains the biggest opportunity and threat to India - it shall determine whether we see a demographic dividend, or a demographic disaster.
Interest rates
The RBI left the reverse Repo unchanged at 7%. This level is higher than the 10-year average of 5.61% (Median 6%) and the 6-year average 5.69% (median 6.25%). This is somewhat surprising given that WPI is lower than historic levels. It is however what it is because the RBI is shifting its approach from one focused on WPI to one focused on CPI. In addition, the RBI seeks to move away from financial repression in that they have made it clear that savers should be able to earn real returns of at least 1% to 2%. This is helping contain inflation expectations, which is a long-term positive. On the other hand, it may be hurting the economy. Notwithstanding this, I believe the RBI is on the right course. Real interest rates need to be positive if for no other reason than motivating good policy and management of the fiscal deficit.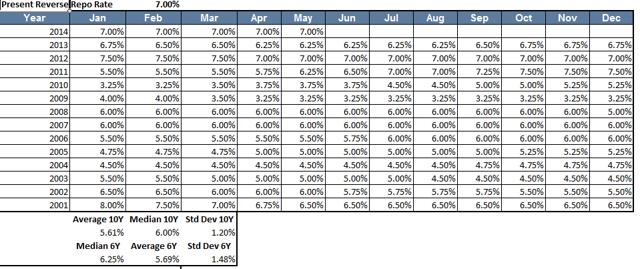 Source: MaxKapital Archives
Recent rates on the 10-year government securities have dipped to 8.51%. These rates can be expected to decline as and when the RBI cuts rates as I expect they will in the coming months. In the meantime, the elevated rates relative to ten and six-year average and median rates are a nice incentive to encourage restraint on governmental borrowing to finance the fiscal deficit.

Source: MaxKapital Archives
The yield curve is none too steep. And that is sometimes a worry. But then the markets do expect easing of 50 basis points in the latter part of this year and that should cause the short end of the yield curve to fall more than the long end will.
For now this snapshot of the corporate bond market says something. The spread on the AAA and AA corporate bonds are very, very narrow. That says two things. Risk aversion has declined considerably as people chase yield. It also says that people expect interest rates to fall.

Source: MaxKapital Archives
Currency Rates
Exchange rates are also a good indicator of confidence. The exchange rate is now just over $1/Rs 59. This is down from over $1/Rs 68 seen as confidence was destroyed last year. I calculate a fair value range for the Rupee using inflation differentials as adjusted for total factor productivity. You can read more about the method in my prior post. Since time has passed since that last post, as of now given a value of Rs 48 in 2003, the value of the Rs today should vary between Rs 51.80 to Rs 59.40 based on TFP and WPI differentials. As economic growth rates expand in India, confidence in the higher level of total factor productivity can be expected to rise, and take the Rupee to Rs 52 levels, at which time, risk appetites will have grown too large for my liking.
Valuation
How the market has behaved these past several months tells me that we are in a bull market. Where we are in the policy and economic cycle suggests that we are in a bull market that should endure at least through FY17 (three years).
Over the past twenty-one years the Sensex has closed at an average PE [TTM] of 18.07 (Median 17.59), having reached an average high point of 20.13 (Median 19.89), and an average low point of 12.58 (Median 13.12) over the course of the year. The average for the Hi/Lo/Close is 16.92 on average and 16.87 at median levels.

Source: MaxKapital Archives
Sensex earnings for the fiscal year ended 3/31/14 came in at 1,339. Based on the historic multiples, this is the range of values we could have reasonably expected to see during the year ended 3/31/14.

Source: MaxKapital Archives
The Sensex closed at 22,386 on 3/31/14, which is close to the average indicative values of 22,662 to 22,584.
For the trailing twelve months to 6/30/14, I am looking for Sensex earnings of 1,385. These are the indicative values based on twenty-one year multiples.

Source: MaxKapital Archives
The market is presently trading at 25,396, which leaves a downside of 8% to average indicative levels and an upside of 8.5% to 10% to the Hi levels. Given that we have a catalyst in the upcoming budget, which I expect will be viewed positively, I believe upside of 7% to 10% is likely by end July. If achieved, this might be a nice level to return to allocation, and hope for a small dip to buy again.
For the trailing twelve months to 3/31/15, I am looking for Sensex earnings of 1,525 (rounded down from 1,531.59). This represents 14% growth on FY14, which is a reasonable if not conservative target. These are the indicative values based on twenty-one year multiples.

Source: MaxKapital Archives
The market is presently trading at 25,396, which leaves an upside of 1% to 2% to average indicative levels and an upside of 19% to 21% to the Hi levels by 3/31/15. Given that I expect robust growth during FY16, I will retain conviction in the Hi levels indicated. If achieved, this might be a nice level to return to allocation, and hope for a small dip to buy again.
For the trailing twelve months to 3/31/16, I am looking for Sensex earnings of 1,825. This represents 20% growth on FY15, which history suggests is a reasonable if not conservative target for that stage of the earnings growth cycle. These are the indicative values based on twenty-one year multiples.

Source: MaxKapital Archives
The market is presently trading at 25,396, which leaves an upside of 21% to 22% to average indicative levels and an upside of 43% to 45% to the Hi levels by 3/31/2016. If achieved, this might be a nice level to return to allocation, and revisit expectations for FY17 while hoping for a dip to buy again. In my view FY17, not FY16, should represent the peak for the present earnings growth cycle, and I expect earnings to hit 2,150 to 2,200 during that year - it will take no more than a reversion of long-term annualized earnings growth rates to 13.5% to take earnings from 1,024 in FY11 to 2,189 in FY17.
Below you will find my estimate of earnings for the Sensex components and index in FY15. Do note that some of the high quality names are expensive, while some of the lower quality names are cheap. The low quality names typically have issues, which are associated with poor capital structures (excess leverage), excessive promoter leverage, poor governance record particularly with respect to minorities, and government controlling ownership. These risks tend to get ignored during bull markets, and punished during bear markets.
The area of low quality where I am fairly bullish is public sector undertakings (government controlled companies). The reason is simple: there is some chatter of a very substantial reduction in government ownership over the years to come, and there is yet more chatter that the government holdings (especially for banks) will be spun off to a government owned holding company, and be managed passively much like a typical sovereign wealth fund. Such events could trigger dramatic gains. But remember, when you invest in low quality, you do so at your own risk and peril!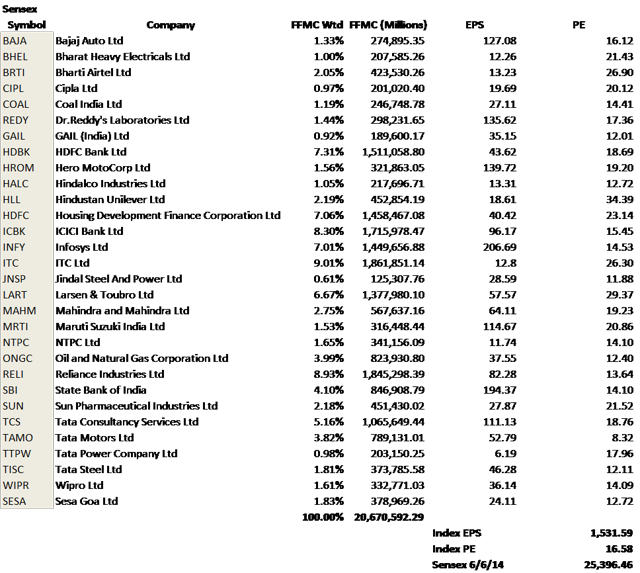 While the easy gains are over, the potential for continued gains from multiple expansion and earnings growth (including higher than expected earnings growth) is high.
How people with conviction in the India story can participate
Eligible investors can invest directly in stocks listed on the National or Bombay Stock Exchanges. Those who invest directly in stocks could have a look at my book (India Investment Strategy: The Hunt For Hidden Value) for ideas on how to go about stock selection and capital allocation in India. My preferred strategies from amongst eighteen strategies presented in the book are 70% to Frontline Investable India Sectors Free Float Market Capitalization Adjusted for Value (FIISFFMCV), and 30% to Midcap Investable India Equal Weighted Adjusted for Value (MIIEWV). That combination delivered a return since inception of 35%, outperforming the Sensex by 400 basis points and the NIFTY by 280 basis points. And if that weren't enough, in addition to the 35% gain, the Indian Rupee strengthened and so the total return in dollar terms came in at 49.1%.
For those not able to invest directly in stocks, there are a variety of ETFs/CEFs available to investors. These include:
This is a list displaying returns since 9/30/2013 for several popular India ETFs/ETNs/CEFs. The top two performers (SMIN and SCIF) on the list are small cap focused and carry heavier risks. The third top performer is a very decent pick, but a significant part of the return comes from a narrowing of the discount to net asset value at which the instrument trades, rather than performance of the underlying instruments - the instrument still trades at a discount of near 10% to its net asset value. The fourth on the list is a multi-cap offering which has performed well on a risk adjusted basis.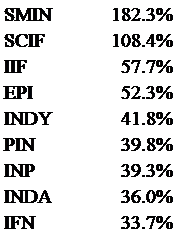 Source: MaxKapital Archives
Which is the best for the present time? In my view WisdomTree India Earnings ETF has a smart multi-cap portfolio build with a focus on earnings, and they were able to accept that the Rupee was undervalued and willing to embrace this risk by increasing the allocation to Rupee sensitive companies. Smart active management, together with a solid multi-cap portfolio, with the capital allocated based on earnings proved to be a winner: the WisdomTree India Earnings ETF is a good selection for those seeking to participate in the Indian markets and economy.
Disclosure: The author has no positions in any stocks mentioned, and no plans to initiate any positions within the next 72 hours. The author wrote this article themselves, and it expresses their own opinions. The author is not receiving compensation for it (other than from Seeking Alpha). The author has no business relationship with any company whose stock is mentioned in this article.
Additional disclosure: While I have no long positions in any of the ETNs/ETFs/ECFs mentioned in this post, I have extensive long positions in the local Indian markets, including in several companies included in EPI and INDY's portfolio, in addition to stocks noted on the list of Sensex companies in this post.