Much news has been out as of late concerning Diamond Offshore's (NYSE:DO) contract cancellation of mid-water semisubmersible Ocean Vanguard.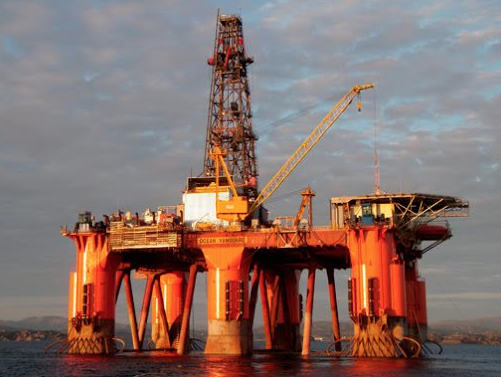 Photo from offshore.no.
Statoil (NYSE:STO) cites "technical reasons" for the contract cancellation but as the Vanguard operates with a 1.250kip hook load capacity as well as holds a tough to get Norwegian offshore work certificate I find this unlikely. I believe the real reason can be found within Statoil's recent announcement to cut CAPEX going forward.
Regardless of the reason, Q214 Diamond Offshore earnings will be negatively impacted. I'm updating my earnings estimate to reflect this among other things and I'm now predicting $.60 in earnings on $660m in drilling revenue. This estimate does not take into account "reimbursable" revenue. Some will speak to this estimate being below the quarterly dividend number however I'm projecting $196m of free cash flow for Diamond during this quarter. This is more than enough to cover the $125m dividend payment due mainly by acknowledging that depreciation, while deducted from revenue, is not a true expense.
I have recently added to my position based on valuation, the current yield of 7.41% and what I believe is a standing BoD authorization to buy back shares at or near current prices. Additionally, based on comments by CEO Marc Edwards, I think Diamond is "poised to strike" with regard to future expansion plans.
I agree with analyst comments that this will be the worst quarter prior to a recovery. Current drilling rigs that I rate as needing work within the next 45 days include:
Ocean Victory
Ocean Valiant
Ocean Star
Ocean Vanguard
Ocean Saratoga
Ocean Scepter
Ocean King
Ocean Titan
Positives:
I believe that the Ocean BlackHornet was completed slightly ahead of schedule and will positively impact earnings in Q3. The Drillship is now en route to the USGOM. Diamond's earnings were impaired this quarter due to scheduled maintenance on several of its rigs. This scheduled maintenance should streamline going forward for the rest of 2014. Coming online for the rest of the year after newbuild construction or extensive modification include:
Ocean BlackRhino
Ocean BlackHornet
Ocean Apex
Ocean Endeavor
Ocean Confidence
Ocean Patriot
I view Diamond Offshore's prospects as favorable and consider the stock a buy at these levels. I expect the stock to reach $55 this year and $67 next year on improving conditions. Until then, I will continue to monitor this well-managed company and collect the generous dividends.
Disclosure: I am long DO. I wrote this article myself, and it expresses my own opinions. I am not receiving compensation for it (other than from Seeking Alpha). I have no business relationship with any company whose stock is mentioned in this article.