Preface: In an effort to streamline the "CEF Weekly Review", a brief summary constituting the week's "Outlook" commentary will be provided as well as a link to the article for those wishing to review broader market related themes in their entirety.
Outlook: The article, "Real Men Don't Buy Gold[1]" is a "tongue in cheek" comparison of the price of an ounce of gold relative to seven publically traded stocks that manufacture goods critical in the event that financial chaos turns to anarchy. The Survivor Index trounces gold and by 33%. (See chart below)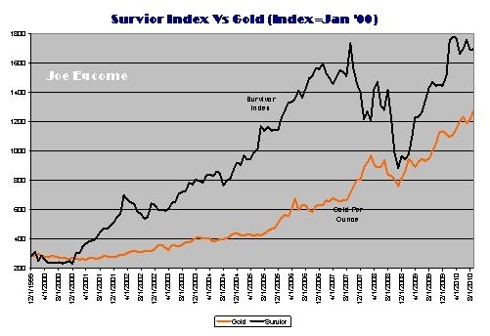 CEF Weekly Review: The 13 closed-end fund (CEF) types on average posted a 0.2% decrease for the week ending 9/17/10. The high-low spread was +3.5% versus +1.3% the previous week with an average price change of -0.2% and +0.7%, respectively. On an aggregate, unweighted basis the weekly average price change for the 500 plus CEFs was down 0.5%.
The PowerShares CEF Income Composite (NYSEARCA:PCEF), an ETF that invests in taxable income CEFs, was down 0.7% for the week. The S&P 500 was up 1.4% for the week and turned positive YTD (0.9%).
(Click here] for YTD CEF Performance. The table is based on a smaller CEF sample size as all the data fields are not available for the CEF universe.)
The Eqcome CEF Fear Index was elevated. The average price was down 0.5% while NAV was up 0.2%. The CBOE Volatility Index ((VIX)), which typically moves inversely with the stock market—but is mostly a measurement of volatility based on stock options' premiums—was essentially flat for the week but jumped on Wednesday and remained elevated for the balance of the week. With the "talking heads" predicting a stock market technical headwind the VIX could remain elevated or jump in the immediate future.
The S&P's recent advances continued to be fueled on low volume. While weekly average daily trading volume for the S&P 500 jumped 24.3% from the previous holiday laden week, volume continues to register below the 4.0 billion shares threshold.
Investor Absenteeism: "Money Flow" into the DJIA ticked up 1.9% for the week and the up/down ratio was 1.24 versus 1.07 for the month. Stock oriented mutual funds continue to see more cash pulled out. Investors continue to pile into bond-oriented funds seeking higher yields in response to non-existent returns on money market funds.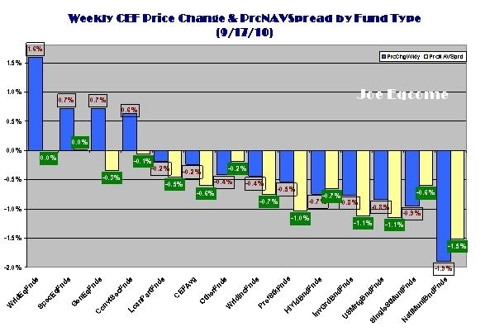 CEF Weekly Fund Type Performance: Funds' type performance sorted out along the risk spectrum as equity-oriented fund types posted stronger returns with fixed-income oriented funds receding.
Muni CEFs took a tumble this week that appeared specific to that market segment. In comparison, the Muni ETF (NYSEARCA:MUB) only registered a modest decline of -0.1% for the week. Muni bond performance has been stellar over the pass year and investors may have decided to take some winnings off the table.
The PrcNAVSprds typically move in the direction of stock prices. The one notable exception this week was GenEqFnds where the average price climbed 0.7% while its respective NAV climbed an even higher to 1.1%.
Weekly CEF Winners and Losers: One of the CEFs with the greatest positive spread was the Morgan Stanley China Fund (NYSE:CAF). CAF price advanced 1.1% while its NAV declined 4.3% generating a positive PrcNAVSprd of 5.4%. The decline in CAF's NAV was a result of a successful $140 million rights offering (5.4 million shares) at 90% of its net asset value. The stock had recently been trading at a 1.8% premium.
I have been critical of the rights offerings of Cornerstone Strategic Value Trust (NYSEMKT:CLM) and Zweig Total Return Fund (NYSE:ZTR) and yet the rights offering of CAF makes sense for existing shareholders.
1. The "rights" offering was a transferable allowing an existing shareholder to monetize the value of his/her rights if they chose not to buy additional shares. (Neither CLM's or ZTR's rights offering is transferable.)
2. Very few foreign investors are allowed to invest in China "A" shares, so CAF is a rare investment vehicle. (China "A" shares are listed on the Shanghai and Shenzhen stock exchanges and are traded in the local currency the Renminbi.) Most other foreign investors are limited to investing in China "N" or "H" shares that are Chinese companies listed on the NYSE and NASDAQ.
3. CAF doesn't pay a regular distribution so its stock price performance is based on the underlying performance of its portfolio and not by ginning up the distribution with return of capital distributions.
One of the CEFs having the greatest negative PrcNAVSprd for the week was American Strategic Income Portfolio III (NYSE:CSP). CSP's price declined 4.8% while its NAV advanced 0.2% generating a negative PrcNAVSprd of 5.0%.
There was no specific news on CSP—although the stock experienced three times its average daily volume the last three days of the week. SIT Investment Associates, Inc. (SIT) appeared to be selling a portion of its position.
At the end of August SIT filed that it owned 26.1% of CSP. In its most recent filing yesterday SIT indicated its ownership had been reduced to 18.6%. It appears that SIT frequently increases and decreases it position in CSP.
CSP trades at a 10% discount and at a yield of 14.5% of which 58% is considered a return-of-capital.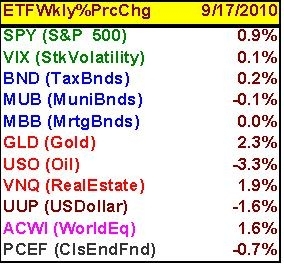 Economic & Earnings Outlook: (Click here for next week's economic calendar; click here for earnings' announcements and estimates.)
ETFs: For a more detailed EFT performance by sectors, click here.
Insider Trading: While insider trading continues at a lethargic pace in September, there were a couple of transactions of interest.
The first of those transactions was the acquisition of preferred shares in three Nuveen muni funds by Larry W. Martin, a V.P. and Assistant Secretary of the CEFs. Mr. Martin acquired 4,800 preferred shares both in Nuveen Maryland Premium Income Muni Fund (NMYPRC) and Nuveen Maryland Dividend Advantage Muni Fund (NFMPRC). Mr. Martin also acquired 2,500 preferred shares in Nuveen Dividend Advantage Muni Fund (NADPRC) bringing his total interest to 9,500 shares.
The other interesting insider transaction was the liquidation of Daniel S. Choquette's position in Putnam Managed Muni Income Trust (NYSE:PMM). Mr. Choquette, a managing director of Putnam, the parent company to the fund's advisor, sold his 7,460 share position in PMM in five filings during the month netting him $58,439.
CEF Distribution Announcements This Week: The following is a link to a table of CEF distribution announcements this week as well as the previous week's with yet expired ex-dividend dates. The list is not intended to be inclusive.
Significant CEF Corporate Events: SunAmerica Focused Alpha Large-Cap Fund (FGI), as part of the Boards approval of a shareholders' resolution to narrow FGI's discount, has announced its intent to conduct an in-kind tender offer in the fourth quarter of 2010. FGI will seek to acquire up to 25% of the Fund's outstanding shares at a price equal to 98.5% of the Fund's NAV per share. In exchange, shareholders will receive a pro rata distribution of FGI's portfolio securities ("In-Kind Tender Offer").
FGI also intends to conduct, in both 2011 and 2012, a cash tender offer for a portion of its shares if its shares trade at a volume-weighted average discount to NAV of more than 10% over a 12-week measurement period. It is currently anticipated that the measurement periods would commence in the third quarter of 2011 and 2012, respectively.
Zweig Total Return Fund (ZTR) Board has effectively authorized an increase in the fees to the CEF's advisor by approving a nontransferable "rights" offering to shareholders entitling them to acquire one share of its common stock for each five shares held. Shareholders would also have the right to subscribe for additional shares not subscribed for by others in the primary offering.
The subscription price per share will be equal to 95% of the common stock's net asset value per share at the close of business when the subscription period expires or the average of the last reported sales price over the four days leading up to the end of the subscription period, whichever is lower.
ZTR distribution consists of over 80% return of capital and its NAV per share has continued to decline over the past 5 years. The major difference between ZTR and Cornerstone Strategic Value Fund (CLM) rights offering is: ZTR isn't trading at a 51.3% premium. ZTR is currently trading at a 3.4% discount. Neither of these rights offerings makes sense for the existing shareholders based on either of the Advisor's past performance.
CEF Focus Stock(s) for the Week: The focus stocks for the week are the Cohen & Steers CEFs that recently announced increases in their distributions as a result of the implementation of a Managed Distribution Program (MDP) in each case.
Highlighted here last week was the case why managed distribution programs should be eliminated or Modified. (See, "Why CEF Managed Distribution Programs Should be Eliminated or Modified"(9/8/10))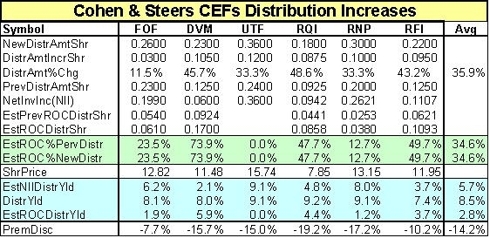 Above is a table of those Cohen & Steers' CEFs that recently increased their distribution as a result of their MDPs.
On average the distribution increases were 35.9%. Interestingly, while larger on a nominal basis, the ROC component of the new distribution rate remains at the same level as the old (see "green" section in table above.) Consequently, there was a real increase in the earnings component of these CEFs.
Based on this table, it would seem that Cohen & Steers Infrastructure Fund (NYSE:UTF) appears to be attractive given its recent 33% increase in its distribution (none of the distribution is deemed ROC) for an indicated distribution yield of 9.1% (ex-dividend: 9/22/10) with the shares current trading at a 15% discount.
For those looking to put their CEF investing on automatic pilot, Cohen & Steers Closed-End Opportunity Fund (NYSE:FOF) is generating an attractive NII yield of 6.2% and trading at a 7.7% discount. This might be a good companion to PowerShares CEF Income Composite Portfolio (PCEF) which is an ETF that invests in taxable CEFs. FOF has more exposure to equity CEFs.
* All things being equal, price and NAV should move in tandem. A price movement greater than the NAV generates a positive PrcNAVSprd and may be interpreted as negative on a near-term basis and indicate that the stock is overvalued relative to its NAV which in theory is the stock's intrinsic value. The opposite would be true for a negative PrcNAVSprd.

Disclosure: (Owns a diversified portfolio of CEFs and ETFs.)