In a previous article, I mentioned that Sprint (NYSE:S) may have a legitimate chance at acquiring T-Mobile (NASDAQ:TMUS), assuming Sprint is more proactive politically.
A couple of days ago, further details on the rumored Sprint and T-Mobile merger made it to the front page of The Wall Street Journal. Rumors indicate that T-Mobile will be acquired for $32 billion, and it will be announced sometime in July. Following the announcement of the acquisition, an uphill battle of winning support from regulators will continue.
Sprint will have to present various economic models, forecasts, data usage trends, etc., to convince regulators. Furthermore, a larger PR campaign will most likely take place in an attempt to win the U.S. public's best interest.
The competitive landscape may become more balanced in the United States if T-Mobile and Sprint merge. While regulators like the idea of four telecoms, it's more likely that a trio of telecom companies will allow for reasonable network scale and pricing. However, AT&T and Verizon (NYSE:VZ) will not want this merger to go through as it will put Sprint in a more flexible position to compete.
The regulatory environment has eased on bigger acquisitions
DirecTV could be acquired by AT&T (NYSE:T) for an acquisition value of approximately $48.5 billion, pending regulatory approval. Furthermore, the Comcast (NASDAQ:CMCSA) (CMCSK) acquisition of Time Warner Cable (TWC) valued at $45.2 billion paired with some divestitures in overlapping markets may give regulators a valid enough reason to green light the buyout. The overall trajectory in the United States telecom space is further consolidation. Furthermore, many in the media agree that both the Time Warner Cable and DirecTV deals will go through the FCC and DOJ without much hassle.
I think that if these two mergers can go through, Sprint may stand a reasonable chance at acquiring T-Mobile. There's plenty of evidence indicating that both Sprint and T-Mobile are outclassed.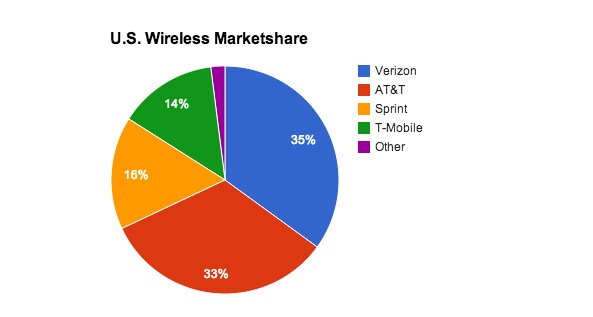 Source: Washington Post, via Moffett Nathanson
If T-Mobile and Sprint were combined, the wireless market share would total 30%. This level of market share would allow T-Mobile and Sprint to operate a network that can support an even bigger 4G LTE rollout. Average 4G network speeds in the United States lag when compared to other emerging and developed markets, which indicates that the United States infrastructure spend is more about profit maximization rather than about operating the market at equilibrium, or at a point of reasonable economic profit. A better capitalized competitor may allow for the market to price itself closer to the equilibrium point.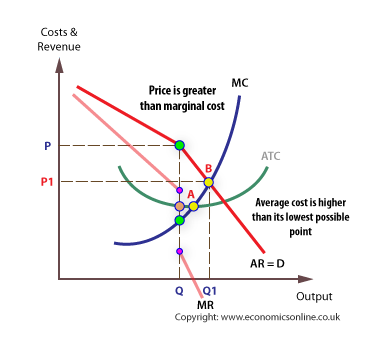 Source: Economics Online
Using a standard economic model for an Oligopoly, it's likely that Verizon and AT&T operate their services at P and Q, rather than P1 and Q1. In this specific case, price is greater than marginal cost, indicating that both AT&T and Verizon are earning profit even on the lowest-priced mobile plans and packages. I can confirm this is the case because both AT&T and Verizon have significantly higher average revenue per user figures when compared to average cost per user figures.
However, in some cases, firms operate at the intersection of ATC (average total cost) and AR (average revenue i.e., demand curve). This is the breakeven point, which is where Sprint and T-Mobile are at.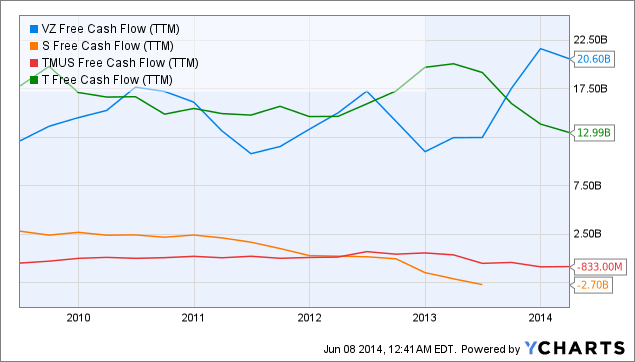 Source: Ycharts
Sprint and T-Mobile can't invest much into capital expenditure because the amount of revenue conversion to profit is rather abysmal. Both T-Mobile and Sprint have negative free cash flow, which indicates the two mobile companies are operating either at economic breakeven, or loss.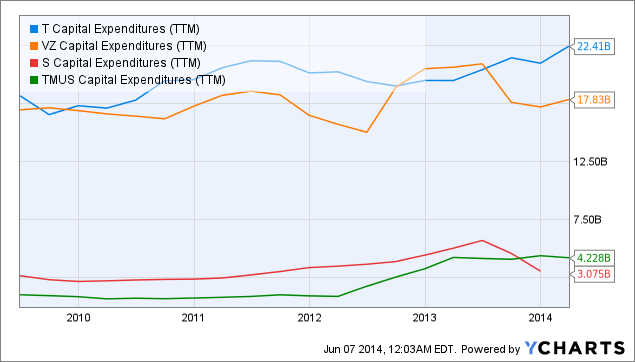 Source: YCharts
The combined CAPEX spending of T-Mobile and Sprint would total $7.295 billion. This is less than half the CAPEX spending of Verizon or AT&T.
Furthermore, AT&T and Verizon have sustained this differential in Capex spending for the past five years. Sprint and T-Mobile operate vastly inferior 4G LTE networks, and it's likely that unless something changes soon, the mobile telecom space will eventually turn into a two-legged horse race.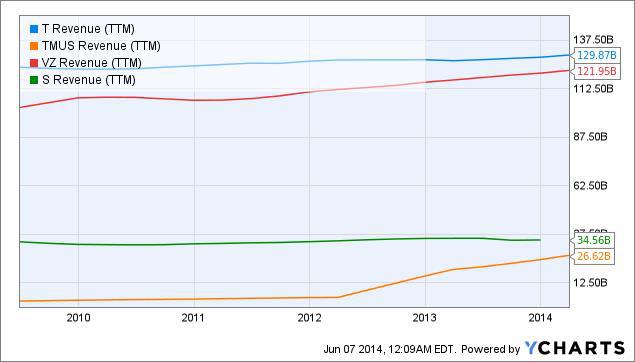 Source: YCharts
To stay relevant, T-Mobile did offer lower pricing on mobile plans, but the subscriber additions have been very minimal, and the impact on sales for both Verizon and AT&T isn't likely to be sustained. This is because consumers haven't really demonstrated any sustained interest in staying on T-Mobile's network due to quality issues. Also, the loss of mobile subscribers for both AT&T and Verizon barely results in a blip on trailing twelve month sales.
Verizon and AT&T also operate a fiber to the premises network, meaning Capex spend is mixed between broadband and mobile networks. This doesn't necessarily ease the competitive pressures facing Sprint and T-Mobile. Mobile product bundling with broadband may allow AT&T and Verizon to exhibit greater economies of scale and further flexibility to price their services at a lower level, and retain similar levels of profitability in certain wireless markets throughout the United States.
So what does Masayoshi Son plan to do?
SoftBank (OTCPK:SFTBY) can divest some of its financial interest in Alibaba (ABABA) and invest more of that into the United States telecom market. As you have seen in previous charts, both T-Mobile and Sprint operate at negative free cash flow, which means CAPEX spend is being funded through debt, retained cash or through some other means.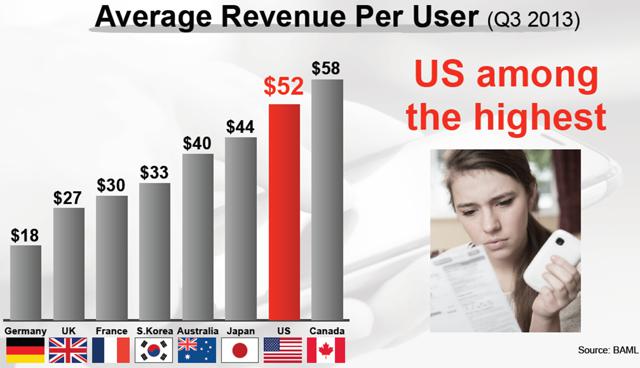 Click to enlarge
Source: SoftBank
Furthermore, the United States has some of the highest ARPU figures in the world, indicating that the wireless market can be disrupted with lower levels of pricing. However, to be fair, the United States has a geographic area significantly larger than many of the European and Asian developed markets. This indicates that the differential in revenue per user is contingent on the cost structure of a specific market.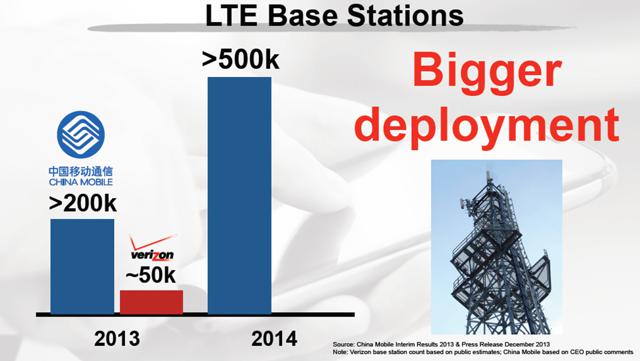 Click to enlarge
Source: SoftBank
As you can tell, the amount of mobile deployment in the United States is lower when compared to other emerging markets that have a similar geographic area. Furthermore, China Mobile has a lower ARPU figure when compared to Verizon. This reiterates the truth about the United States telecom market being priced at the point at which price elasticity can be maximized, rather than at a point where the greatest number of U.S. citizens can own a smartphone.
This gives Masayoshi Son enough flexibility to build out a competitive network and lower pricing on mobile plans at the same exact time. With an equal number of mobile subscribers, T-Mobile and Sprint may be able to catch up, assuming SoftBank frees up cash flow from its Japanese operation, and invests that into United States network build out.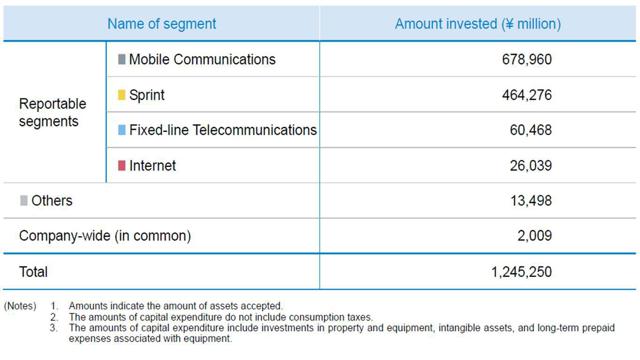 Click to enlarge
Source: SoftBank
Between Japanese mobile communications and Sprint, SoftBank invests $11.15 billion into capital expenditures (using current exchange rates). The combined entity (including T-Mobile) will invest $15 billion-plus into mobile network capital expenditures.
Softbank has a lot of financial flexibility because it can allocate some of the Capex spending from its Japanese network into the Sprint Spark network. Furthermore, the company can use cash from Japanese operating activities to pay down debt, while continuing the network build out of its vastly inferior U.S. telecom network. SoftBank's Japanese mobile business is extremely healthy (high mobile subscriber additions), along with having high data speeds.
When combining the Capex of SoftBank, T-Mobile and Sprint, the spending is only comparable to Verizon's Capex. This is because Verizon and AT&T have higher ARPUs and tend to increase pricing over time, whereas SoftBank has decreased its pricing on plans in Japan. However, SoftBank is loaded with financial assets, like Yahoo Japan and Alibaba. SoftBank has ample liquid assets to cover any short-term deficiency in solvency and flexibility when it comes to capital allocation. Furthermore, upon the combination of T-Mobile and Sprint, cost efficiencies can be used to improve profitability, which leaves a higher amount of income for capital intensive network build out.
Conclusion
SoftBank may have a solid case for the FCC and DOJ. Without added scale, there's just not enough net income for the needed CAPEX to make for a competitive alternative network. Furthermore, SoftBank has demonstrated that having three competitors in a market place can lead to lower pricing.
Assuming Sprint's capital expenditure spending can reach $10-15 billion annually, Sprint's 4G LTE network may reach similar data speeds to Verizon and AT&T. However, a T-Mobile acquisition is more like playing catch-up. AT&T and Verizon will have the upper hand (they're pretty much done with network build out).
Disclosure: I have no positions in any stocks mentioned, and no plans to initiate any positions within the next 72 hours. I wrote this article myself, and it expresses my own opinions. I am not receiving compensation for it (other than from Seeking Alpha). I have no business relationship with any company whose stock is mentioned in this article.
Editor's Note: This article discusses one or more securities that do not trade on a major U.S. exchange. Please be aware of the risks associated with these stocks.