BlackBerry Valuation
Even with plummeting revenues and even worse earnings, BlackBerry's (NASDAQ:BBRY) share price may have reached a floor in valuation. While the outlook in the handset business is dismal for BlackBerry, their cash on hand, patents, and enterprise solutions could still be reasonably valued around $7 per share. This would be a conservative value based upon Fairfax Financial's letter of intent to purchase BlackBerry last year for around nine dollars a share.
As far as the hard numbers go, BlackBerry's price/book and price/sales remain attractive relative to the industry.
Current Valuation
BBRY
| | | | | |
| --- | --- | --- | --- | --- |
| | BBRY | Industry Avg | S&P 500 | BBRY 5Y Avg* |
| Data as of 06/06/2014, *Price/Cash Flow uses 3-year average. | | | | |
| | | | | |
| Price/Earnings | - | 41.2 | 17.2 | 4.5 |
| | | | | |
| Price/Book | 1.1 | 2.7 | 1.9 | 2.3 |
| | | | | |
| Price/Sales | 0.6 | 2.3 | 1.8 | 1.2 |
| | | | | |
| Price/Cash Flow | -25.3 | -5.1 | 9.2 | 3.7 |
| | | | | |
| Dividend Yield % | - | 1.8 | 3.1 | - |
(Source: Morningstar)
BlackBerry's valuable assets and depressed stock price also keep the takeover rumors and speculation alive and well, which should keep the downside limited for now. That said, catalysts for future growth must be considered to warrant investment.
The New Strategy - Project Ion
Since November 2013, John Chen has at the helm. Obviously his goal has been to create and pursue a successful turnaround strategy. Chen could be just the man to implement BlackBerry's new strategy. Remember Chen was able to take a struggling Sybase and turn it around to the point where it was eventually acquired by SAP for $5.8 billion in 2010. Last month BlackBerry announced the launch of "Project Ion". While few details are known about the new project, it's not hard to see the value in BlackBerry pursuing this multi-trillion dollar market known as the internet of things. Essentially, the idea would be for BlackBerry to use its experience in building secure, connected devices to connect sensors, cars and anything else in a secure fashion tied to the cloud. One particular example of how BlackBerry is approaching this technology is by using its proprietary products to allow specific types of data/information to be shared with specific parties. Take for instance the way information is shared with automobiles, such as location, mechanical operation, and driving statistics. BlackBerry's technology would be able to filter and securely deliver specific data to appropriate users.
BlackBerry hopes to launch these particular products and services by early 2015. But as investors are accustomed, stock prices often precede announcements and details. In short, BlackBerry's place in the Internet of things could be very lucrative for the company.
The Opportunity in the Internet of Things
What exactly is the Internet of things? ZDNet describes the internet of things as "the rise of objects that connect themselves to the internet -- from cars to heart monitors to stoplights." (article)
So how important is the Internet of things to BlackBerry? In a recent blog on BlackBerry's site CEO Chen said "For the Internet of Things to be really useful, you have to have security. It's a value that we have, and a leading position that we have. Both in the know-how and the IT, the patents that we've got and the heritage. We have strong lead and we shouldn't give away that lead." Estimates for this industry are massive. A recent report by McKinsey and Company put the economic impact from the Internet of things in a range from $14 trillion-$33 trillion by 2025.
Revenue streams from BlackBerry's involvement in the Internet of things remain difficult to determine. However, the possibilities just within the auto sector seem exciting. For example, BlackBerry's QNX platform is directly involved in CarPlay -- an in-car infotainment system that allows iPhone users to make calls, message, access maps, and listen to music. BlackBerry and Apple (NASDAQ:AAPL) have a longstanding partnership in which CarPlay is powered by BlackBerry's QNX platform. Apple has already listed 15 auto manufacturers as partners including Ferrari, Mercedes-Benz, and Volvo (ZDNet article).
The Alpha Idea
Per the previously mentioned valuation metrics, BlackBerry's current share price has most likely priced in the majority of negative news and outlooks. Therefore, further downside from here would likely be driven by BlackBerry's viability as a company coming into question. Thus a fairly tight stop loss should be implemented around $5 per share. For the time being BlackBerry's book value per share remains around $7 per share as of February 2014. Should BlackBerry fall below this level, investors might begin considering an exit and wait for further clarification regarding value.
A short-term upside target of $11 per share would be based upon a stabilization of revenues and a cautiously optimistic view of profitability in 2015 (the same factors that drove the stock price to these levels at the beginning of 2014). Specifically, BlackBerry's international pursuit in emerging markets could significantly add to revenues in the upcoming quarters. Positive signs have already begun to show up in Indonesia. The lower cost Z3 handset should recapture marketshare from Samsung and provide a much needed deceleration in losses.
Longer term, a reinvention of the company to participate in the Internet of things on a machine to machine level could propel share prices back to levels above $30/share. This would assume they could grow revenues back to the 2009-2010 levels ($14-$15 billion level).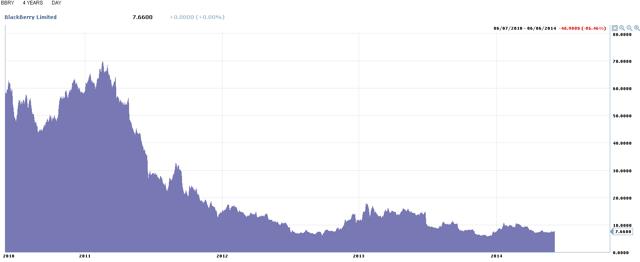 (Source: OptionsXpress - Author)
Trade Details Recap
| | | | |
| --- | --- | --- | --- |
| Purchase | Stop Loss | Short Term (6-12 mos.) | Long Term (12-24 mos.) |
| $7-$8 | $5 | $11 | $35 |
Disclosure: I have no positions in any stocks mentioned, and no plans to initiate any positions within the next 72 hours. I wrote this article myself, and it expresses my own opinions. I am not receiving compensation for it (other than from Seeking Alpha). I have no business relationship with any company whose stock is mentioned in this article.