Delivering true alpha generation usually requires bucking the trend and being a contrarian. The most opportune time to purchase securities is when no one else wants them and they are undervalued. In theory this makes perfect sense, but following this doctrine in a disciplined manner is profoundly difficult.
King Digital Entertainment (BATS:KING) IPO'd on March 26th 2014 at $22.50 and immediately traded below that level. The stock has yet to trade back at that level and currently sits in the high $17 range. The reason for pessimism was centered around one game, Candy Crush Saga, accounting for 78% of total gross bookings (gross bookings is essentially synonymous with revenue for our analysis). Moreover, its top three games represented a staggering 95% of total gross bookings. With such lack of diversity in its revenue streams, the market became skeptical of its future outlook.
The high degree of revenue concentration was widely discussed by the investing community. As a result, investors became bearish on the stock and the sentiment turned decidedly bearish on King Digital. When everyone and their grandma cites a statistic like that as a bearish consideration, the risk becomes priced in and the opportunity for too much negative sentiment becomes plausible. I believe that is what has exactly happened with KING.
About King
King Digital Entertainment is a leading interactive entertainment company for the mobile world. It has a network of 352 million monthly unique users as of first quarter 2014, and offers more than 180 exclusive games in more than 200 countries through its king.com and royalgames.com websites, Facebook and mobile distribution platforms such as the Apple App Store, the Google Play Store and the Amazon Appstore.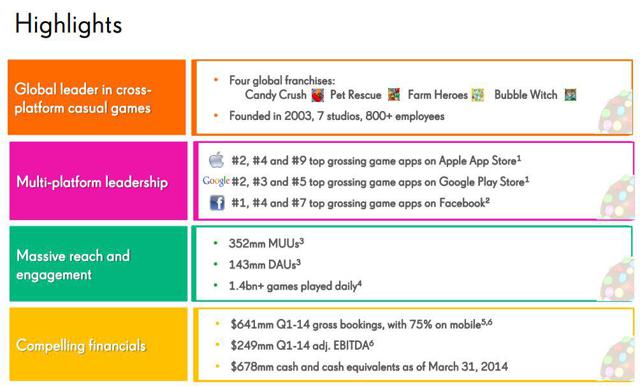 Source: Investor Presentation
1st Quarter Results
King was trading at a 52-week low, but reported positive earnings which propelled the stock to its current level. The most vital takeaway from the earnings release was that Candy Crush gross bookings dropped, but overall gross bookings were up on the quarter. The percentage of gross bookings that Candy Crush represented dropped to 67% from 78% a quarter ago. King is successfully diversifying its revenue stream. Revenue for Candy Crush Saga dropped 13% over the quarter, but deceleration may slow more than analysts are projecting due to the announcement of a localized version of the game for the Chinese market.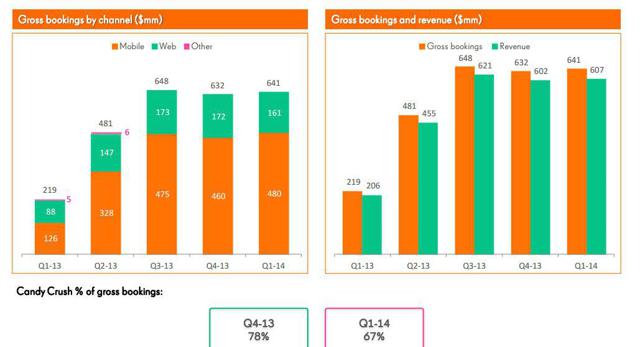 Source: Investor Presentation
Further diversification is expected as King releases new games to the market. King recently released Bubble Witch Saga 2 which is an update of an earlier game that did well on Android and iOS platforms in 2011. Diamond Digger Saga was released on Facebook in April and should be accretive to next quarter's earnings. Evidence of its ability to have success with other games can be seen with its strong active user growth while Candy Crush is consolidating. It is also worth mentioning the breadth of reach that KING currently enjoys which is conducive to cross-selling. To put it into perspective, KING has 352 million average monthly unique users which far exceeds Twitter's 255 million and even LinkedIn's 300 million.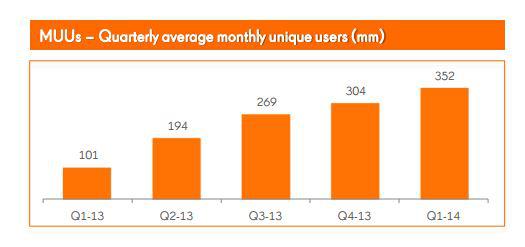 Source: Investor Presentation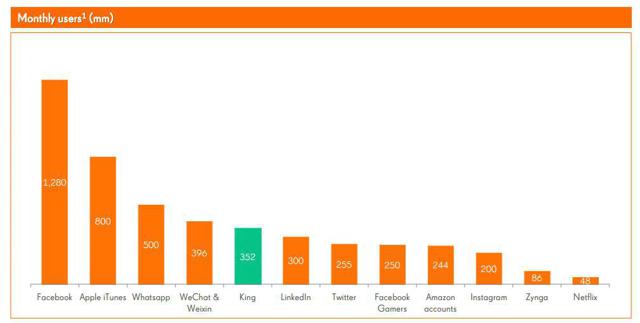 Source: Investor Presentation
The user growth would be essentially useless if KING was not able to monetize it. Paying for eyeballs was an investing technique that many learned their lesson from in the early 2000s. On a positive note for King's investors, this is far from the case as the monthly gross average bookings per paying user grew at a steady rate once again this quarter. In Q1 of 2014 this figure stands at $18.02 compared to $15.92 a year ago.

Source: Investor Presentation
Unwarranted skepticism is even further clear when looking at the strong cash flow of KING. Unlike many nascent companies that have recently come public such as Zynga (NASDAQ:ZNGA), KING is a cash cow. Over the first quarter, KING generated $164 million in cash compared to $28 million in the same period a year ago. This robust cash flow allows flexibility for KING. If a compelling acquisition target is available it will be able to snatch it up. If that situation does not materialize, KING may institute a dividend or share repurchase program to release its cash hoard.

Source: Investor Presentation
Valuation
KING trades at a very low level compared to other internet companies. The closest competitor to KING is Zynga. Zynga trades at a forward price to sales ratio of 3.26 compared to KING's 2.29. Moreover, Zynga does not currently have any profits so you cannot compare the trading multiple based on PE ratio. Twitter interestingly enough trades at a much higher premium with a forward price to sales of 15.68. Although KING must reinvent itself in order to grow revenues and Twitter has a much more stable revenue stream, I believe this degree of divergence is unjustified.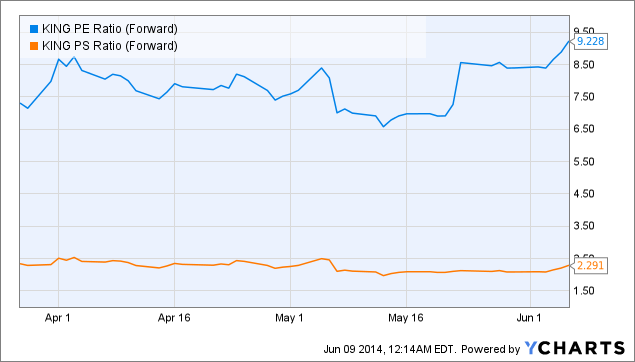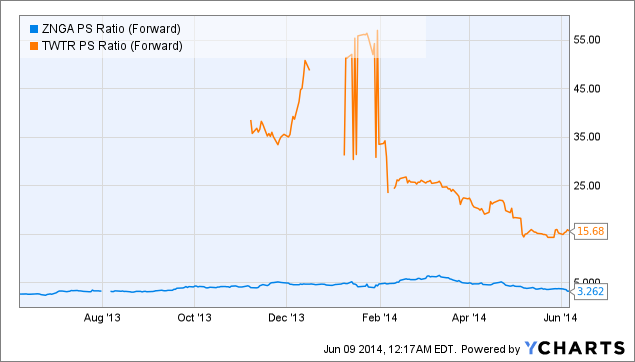 Risk Factors
An analysis would be incomplete without discussing the risks to an investment in KING. The first risk on the horizon would be if Candy Crush revenue dropped precipitously and KING was unable to create new successful games. However, by trading at such a low valuation, KING does not need a wildly successful game to replace this cornerstone of the business. If it creates a few games with moderate success, it should become a profitable investment.
The second risk factor that will be coming in late September is the infamous share lockup period expiring. Twitter and Facebook famously languished to 52-week lows as these periods occurred. Once again, however, the risk of a large decline has been mitigated with the current depressed trading level. Although the supply of new shares will most likely pull the stock down for a few days, I'm confident that KING will be trading at a level much higher than this by that time.
Final Remarks
Everyone in the investing community has been made aware of the risk of investing in KING. This hyper-level of awareness has left this cash cow unloved and undervalued. The low comparative valuation, strong cash flow, steady user growth and further diversified revenue stream makes this a compelling high-upside, low-risk investment.
Disclosure: I have no positions in any stocks mentioned, but may initiate a long position in KING over the next 72 hours. I wrote this article myself, and it expresses my own opinions. I am not receiving compensation for it (other than from Seeking Alpha). I have no business relationship with any company whose stock is mentioned in this article.