As drybulk shipping continues to improve, investors should begin to reconsider the valuation of DryShips, Inc. (NASDAQ:DRYS). DryShips was formerly a pure-play on the drybulk shipping sector heading into 2007. However, with the addition of several controversial acquisitions in the midst of a rough market for shipping, the company's name now serves more as a misnomer. Following the acquisition of Ocean Rig (NASDAQ:ORIG) in 2008, DryShips became a diversified shipping company with a majority interest in ORIG.
The company now boasts a young drybulk fleet and tanker fleet. It also owns multiple drilling rigs through its subsidiary of Ocean Rig. According to the company's Form 20-F as of February 2014, DryShips owned 12 Capesize, 24 Panamax, and 2 Supramax vessels in its drybulk fleet for a combined value of 4.1 million deadweight tonnage [dwt] with an average ship age of 9.7 years. Additionally, it owned 10 tankers with a total of 1.3 million dwt.
Through Ocean Rig, DryShips controls a combined fleet of 9 drilling rigs and drillships. It also owns and controls four newbuilding rigs expected for delivery in 2015-2017. Altogether, Ocean Rig carries a revenue backlog of $5 billion with a deployment extending out to 2021. The status of this fleet can be seen in the graphic below. With one of the youngest fleets on the market, Ocean Rig stands as a key investment for DryShips. This is especially the case considering the market's high day rates and long-term charters, which provide an extended revenue ramp for the company.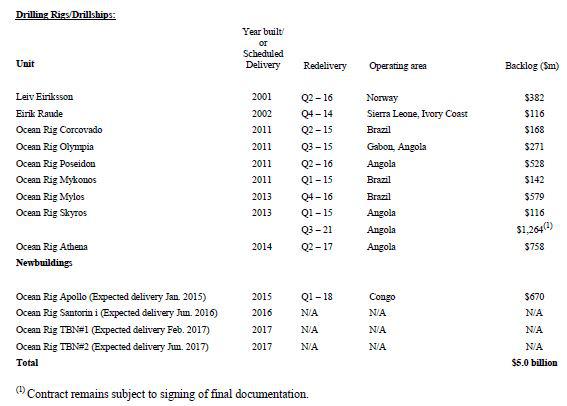 Historically, DryShips has leveraged the liquidity of its holding in Ocean Rig. The company has previously sold shares in its subsidiary in order to improve the financial position of the parent company. In the present, it is also pledging shares of ORIG in order to cure a shortfall in the security cover ratio regarding its existing bank loans. However, DryShips is now beginning to recognize the additional benefits for its multi-year pursuit of this drilling fleet. In May 2014, Ocean Rig initiated its first common stock dividend. Based on its existing ownership, DryShips is expected to receive approximately $14.8 million per quarter.
The following are three key things to like about DryShips now:
Increasing Value-to-Loan. Historically, one of the largest problems for DryShips has been the overall declining market value of its assets. In light of its consistent breaches of various loan-to-value covenants in the past, the company has had to consistently raise capital in order to satisfy its debtors. However, over the past year the overall value of its shipping fleet has continued to increase. As seen in the graphic below, the company's shipping value has increased 63% since December 2012. (Source Link)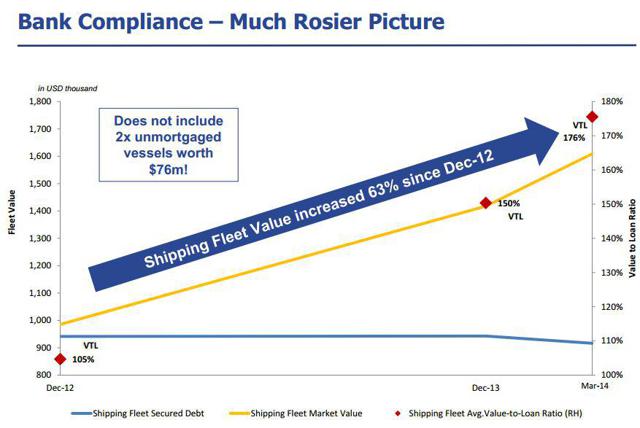 Improvements To Drybulk Supply & Demand. Due to poor economic conditions, an overestimation of market demand, and a lengthy construction process, drybulk shipping has seen an extended oversupply for more than half a decade. However, conditions for growth have finally begun to emerge starting in 2013. Global trade growth outpaced fleet growth as seen in the graphic below. Drybulk deliveries have also significantly slowed allowing for better market conditions going forward.
DryShips is particularly sensitive to improving market conditions as the majority of its fleet is currently on the spot market. Only 36% of the company's drybulk fleet now has charter coverage for 2014. The amount of charter coverage drops to 21% in 2015 and 15% in 2016. The high exposure to spot market prices over the next few years places DryShips in an ideal position as the overall market for drybulk shipping continues to improve.
Tanker Outlook Remains Positive. While drybulk shipping has just begun to improve, the market for tankers continues to remain in good shape. Demand has continued to outstrip the supply, and the number of deliveries have remained poor. As seen in the worldwide number of tanker orders, it appears that market conditions will continue to remain favorable for DryShips in the immediate future. This should help to further solidify the company's near-term outlook as it stabilizes its financial condition. It also helps to balance out the volatility still ongoing in the drybulk shipping market.
A Look At The Company Now
DryShips now trades with a market capitalization of $1.37 billion based on the closing price of $3.16 as of June 8. The company trades with a significant discount to book value as it currently carries a price-to-book ratio of 0.52. Additionally, it trades with a significant discount to its sales as seen in the low price-to-sales ratio of 0.85. However, much of these conditions have been ongoing in light of the poor market environment surrounding drybulk shipping. As seen in the chart below, spot rates have been at record lows over the past few years although conditions appear to have slightly improved heading into 2014.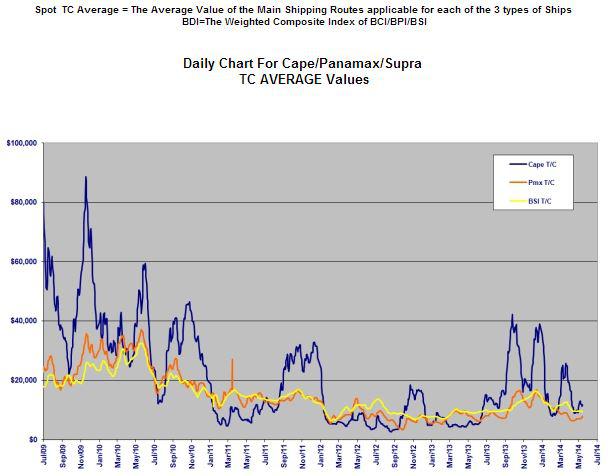 As a result of these conditions and due to its ambitious expansion plans, DryShips has historically diluted in order to meet its loan-to-value covenants. Ship values had significantly declined over this period requiring the company to raise capital. The result of this dilution placed DryShips at a significant discount to its book value. While the company's share price suffered, the overall market capitalization remained rather stagnant.
However, investors might want to reconsider DryShips now in light of improving market conditions. It remains questionable if the discount to book value will remain as large as it has in the past if the company's markets continue to improve.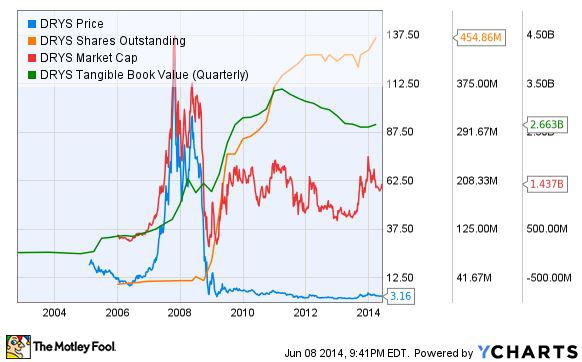 Over the past few years, the company's total revenue has consistently improved. For 2011, 2012, and 2013, DryShips saw revenue of $1.08 billion, $1.21 billion, and $1.49 billion in revenue respectively. However, the company experienced net losses of $74.6 million, $246.8 million, and $223.1 million over the same period respectively.
As of March 2014, the company held total assets of $10.7 billion. Of this amount, total debt and other liabilities totaled $6.8 billion. The company held total cash and cash equivalents of $887.6 million. Investors should note that shareholders' equity fell from $3.15 billion in 2011 to $2.61 billion in 2013. However, this is still far above the latest market capitalization of $1.37 billion.
Final Thoughts
Historically, DryShips has been a tragic story of aggressive fleet expansion during a period of poor market conditions at the cost of investors. As a result of this, the company's share price has lingered and often traded well below book value. It remains to be seen if the market is willing to reconsider its valuation of the company in light of improving market conditions. After all, the market appears to finally be turning around after many years of stagnation.
Nevertheless, DryShips stands to benefit in light of its existing business model. The company's high exposure to spot market prices at a time of improving market conditions makes it one of the most likely to benefit. Additionally, the company has begun to receive a dividend from Ocean Rig, which should continue to aid in stabilizing the company's financials.
Investors should consider DryShips as an aggressive play on valuation. It goes without saying that while the DryShips' conditions are significantly improving, the company retains a significant amount of risk to investors. This is especially the case in light of the ongoing dilution and concerns over debt. It remains to be seen if the large market discount to book value will begin to retreat to a more fair valuation.
Disclosure: I am long DRYS. I wrote this article myself, and it expresses my own opinions. I am not receiving compensation for it (other than from Seeking Alpha). I have no business relationship with any company whose stock is mentioned in this article.