Zynga (NASDAQ:ZNGA) is a gaming company named in honor of Zinga, former founder Mark Pincus' deceased dog. Its logo is a red dog. Its headquarters is known as "The Dog House".
Zynga's stock will continue to be a "dog", as in underperforming, until it has a Top 10 mobile hit game. Someday the stock might get out of the stock dog house, but not soon as evidenced by app store data presented below.
Zynga has been late in launching a mobile version of its FarmVille franchise - called FarmVille 2: Country Escape [FV2] as native app for smartphones downloaded from iOS Apple store and Google Play.
With much anticipation, Zynga formally launched FV2 on April 17, 2014.
On Wednesday June 4th, CEO Don Mattrick gave a presentation at a Bank of America Merrill-Lynch investors conference that was not well received.
The stock tanked 9.8% the next day. There were a couple of comments that Mattrick made that we want to analyze more closely using app store data.
One comment was about the performance to date of FV2,
"Yes, look I'm happy with what the team has achieved. We have the ability to identify consumers. We've charted depending on which device and form factor in top 30 and above even 15-ish. So, it's a good start for six weeks into market."
Contrary to what Don Mattrick says, a Top 30 or even a Top 15 is NOT a good start for FV2. It needs to be in the Top 10 in order for Zynga to meet its FY14 revenue guidance.
We start with a review of Zynga's revenue for the last 4 quarters. It needs one or more new game launches to contribute $100M in 3Qs just to meet guidance and $200M in 3Qs to beat guidance.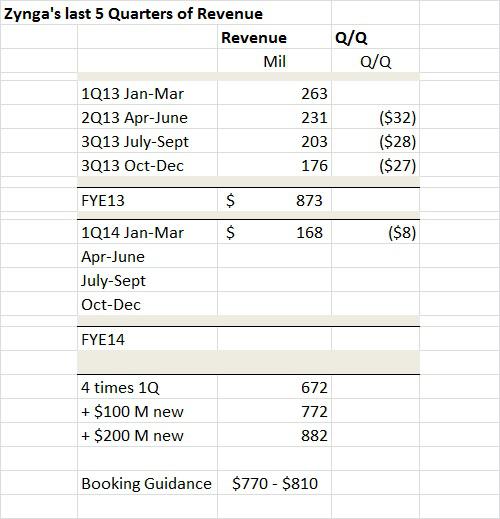 There are two pieces of data used

to estimate FV2's revenue contribution: (1) app store revenue ranking charts provided by data analytics company App Annie; (2) a mapping of 2014 revenue run rates against App Annie revenue rankings.
Below is our latest effort at this mapping. It is a work in progress. It represents a combination of a few data points disclosed by publicly held companies of specific game revenue set in a more general "power function" relation developed by Think Gaming, Inc.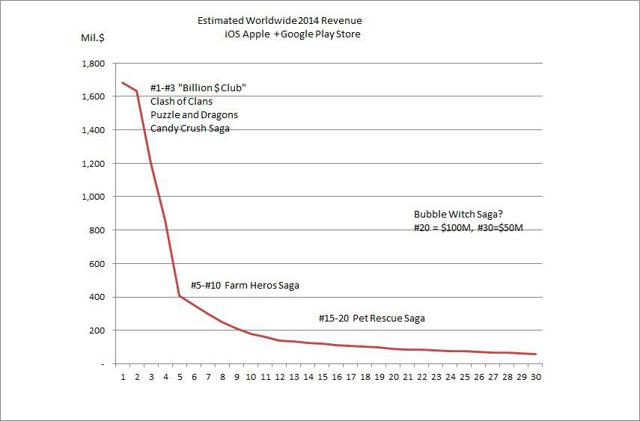 Click to enlarge
The one well known example of a power function is the half-life relation. Another less well known example is the Zipf function named after a 1930's linguist who mapped out word count in literature as a function of rank.
I like to characterize the top three global ranking games - Clash of Clans, Puzzle and Dragons, and Candy Crush Saga --as the "the-of-and" of mobile game revenue ranking. BTW, the last phrase is meta-Zipfian.
Given a mapping of revenue to revenue ranking, we now turn to charts of Zynga games, especially FV2, to show that it does not have a game ranked in the Top 10 that would give it a needed $100M boost in the next 3Qs.
The first game we look at is Zynga Poker - Texas Hold'em. It is a solid revenue-producer, but it does not represent an incremental boost in 2014 because it has been available in app stores before 2013.
It has been a Top 18-20 in 2013, but has actually fallen a bit to 22-25 in 2014.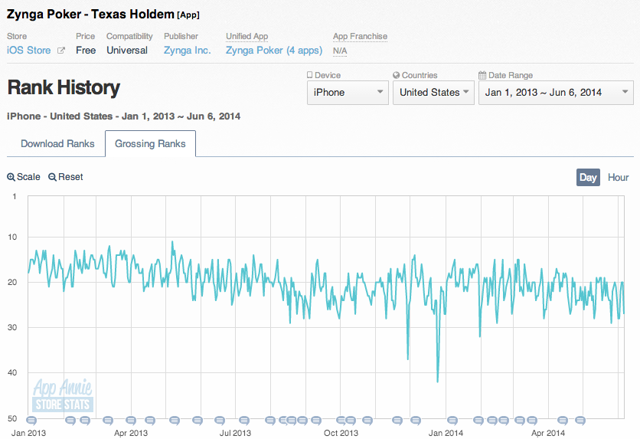 Click to enlarge
(Source: App Annie)
One of Zynga's more high touted releases in 2014 has been Hit it Rich! - Casino Slots. It was released on March 12, 2014. In 7 weeks since launch, its revenue ranking has hit a wall at #50 with an annualized run rate of less than $50M. It will not get Zynga out of the dog house this year.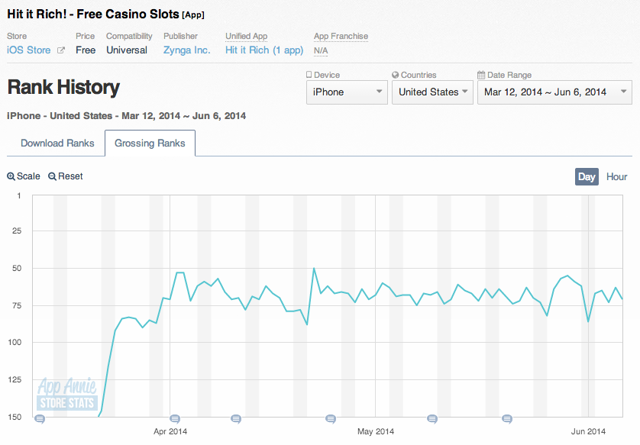 Click to enlarge
(Source App Annie)
Another highly touted game has been the first mobile version of Zynga's Words with Friends (WWF). So far, it has had a soft launch in Canada. Traditionally, this game was a paid game downloaded to your PC. But that business model has proven inferior for mobile. The preferred model for mobile is free-to-pay with in-app purchases.
Zynga seems undecided at this point as to how best to monetize this game on mobile. For its Canadian soft launch, Zynga has chosen no monetization, using the soft launch to concentrate on other variables.
At launch, WWF download ranking raced from #200 to #3 in two days between April 28-30, 2014. This was likely due to a short term promotion. But, WWF started to die 3 days later and its download ranking now is at #250.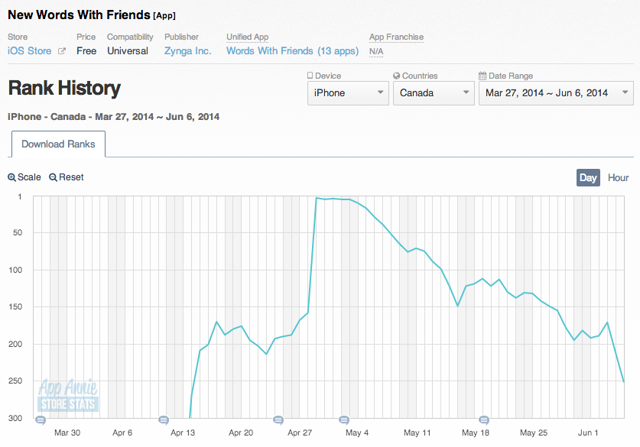 Click to enlarge
The graph above represents publicly accessible data on the performance of game managers. It was obvious that by mid-May, the game manager of WWF - Travis Boatman -- was on the hot seat. Sure enough, his name was on the list of departing managers disclosed last week.
We add one chart for CRS Racing by Natural Motion, the company Zynga just bought. This game was launched in 2012 and is probably still managed by CRS without Zynga marketing money and tools. It probably is the game that will be launched sometime later under Zygna's name. Still, I know there will be people who want to know, so here it is. The game's revenue ranking has been fading badly a while and now rank #91.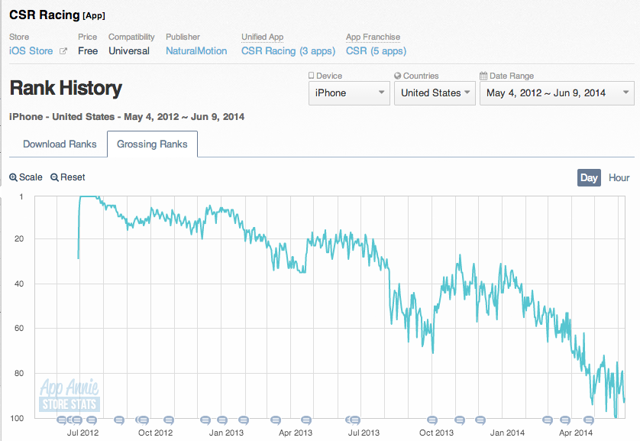 Click to enlarge
(Source: App Annie)
Before we get to the charts for FV2, we want to examine the revenue ranking of a similar "farming game" for mobile called Hay Stack released almost 2 years ago by Supercell. This is game that Mattrick was referring to in his now famous "eating our lunch" quote.
We repeat it here:
"Look the fact that we didn't have a mobile version of FarmVille is what created the opportunity for Hay Day. So we're just detangling and doing the obvious things. Imagine we went to the schoolyard, left our lunchbox unattended, someone was eating it. We're just kind of picking up our lunch now."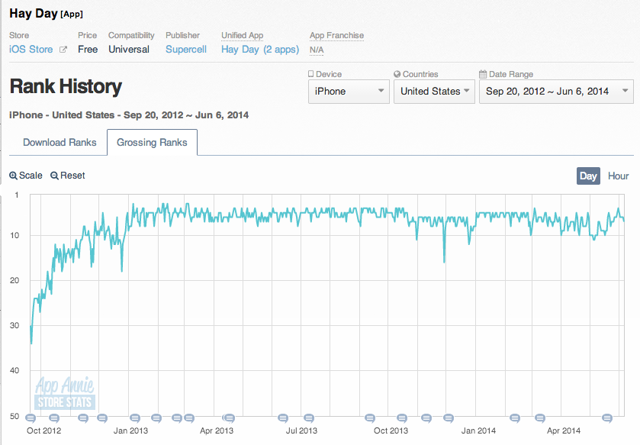 Click to enlarge
(Source: App Annie)
Hay Day now is a solid #6 revenue ranking game with an estimated annualized run rate of $300M.- $350M. How much of that is Zynga's lunch is hard to tell, but there is no question that Hay Day's has hurt the prospects of FV2.
FV2 was first tracked in the U.S. by App Annie on April 17, 2014. By April 28, 2014, it topped out at #14 on the iOS revenue ranking charts. Since then, it has faded to #28.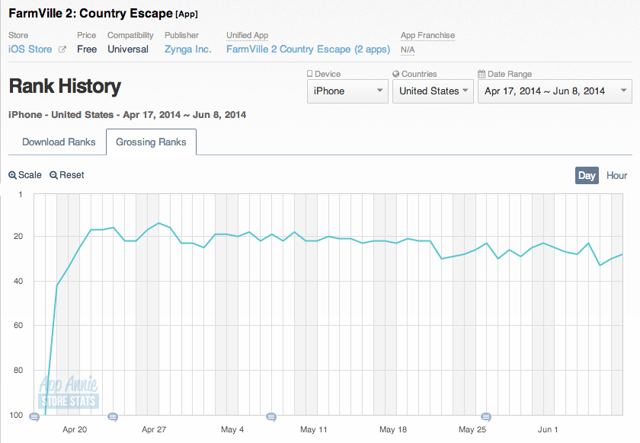 Click to enlarge
(Source: App Annie)
FV2 has done better on Google Play -- U.S. reaching a high of #12 on May 1, 2014 and only fading to #15 today. Roughly game revenue from iOS is three times that than Google Play.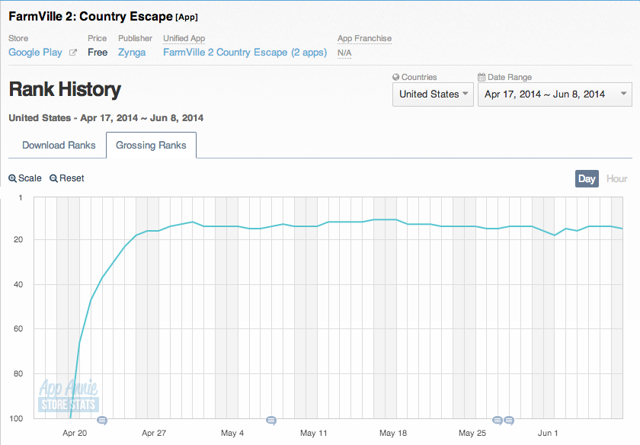 Click to enlarge
(Source: App Annie)
It might not seem that there is a big difference between #10, #20, and #30 on the revenue ranking charts. But, this is a power function relation where #10 has an annualized run rate is around $200M, #20 around $100M and a #30 around $60M. FV2 now at #30 has an annualized run rate around $60M.
What's can Mattrick do? First, never underestimate the marketing strategy of a gaming executive. Mattrick hinted at laying low at FV2 launch, allowing Supercell to fire the first salvo of Hay Day ads.
His plan might be to fake defeat as evidenced by the #30 ranking, only to rise up later in the year with a big ad spend for FV2. Here is a quote from Mattrick's presentation a few days ago,
"…we have a product coming on Android and iOS and candidly because we modeled that competitors would probably spend just at our launch window and we believe that we were launching something and building a product and experience over a prolonged period of time, multiple years. And that's what we've been doing is starting to scale, starting to ramp that stuff up."
Acquisition is an option for Zynga. Palo-Alto based Machine Zone might have been a great acquisition a year ago, but now it has a #3 hit with Game of War - Fire Age which we estimate is enjoying a $700M run rate, about the same at Zynga.
You ask, "How many employees at Machine Zone?"
Machine Zone has reportedly 150 employees with a run rate of $700M versus Zynga's run rate of $672M with 1,991 employees.
Is Zynga a dog? I would say so.
Disclosure: I have no positions in any stocks mentioned, and no plans to initiate any positions within the next 72 hours. I wrote this article myself, and it expresses my own opinions. I am not receiving compensation for it. I have no business relationship with any company whose stock is mentioned in this article.