Leggett & Platt (NYSE:LEG), located in Carthage, MO, designs and produces a wide range of products worldwide. This company was started over 130 years ago and is still going strong.
Below is a small sample of the products LEG offers across the world:
Residential:
mattress springs, bed frames, carpet cushions
Industrial:
steel wire, fabricated wire, aerospace products, tubing
Commercial:
store fixtures, office furniture
Specialized:
bedding manufacturing machinery, commercial vehicles
wireless charging like this
So is LEG worth purchasing now?
The stock is currently trading around $34.71/share. It has traded in a pretty narrow range over the past year and is near its 52 week high. Here is the chart: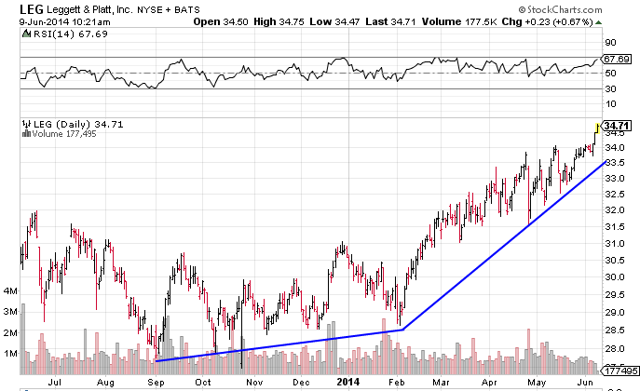 It is above its 50 and 200 day SMA and has good relative strength, all good signs.
In 2007, LEG adopted a new strategy of using Total Shareholder Return as the key financial measure of long term success. The goal was to be in the top third of the S&P 500 in this metric over a rolling three year basis. They attempt to accomplish this through revenue growth, margin expansion, dividends, and share repurchases. The long term goal is a consistent 4-5% profitable growth. They were not in the top third for the period ending December 2013, but were in the top half.
Let's evaluate LEG on these metrics:
The most recent earnings announcement on 4/24 showed Q1 2014 sales of $919M versus $933M in Q1 2013, a 1% decrease. This was attributed to same location sales declines and weather related weakness. Management was pleased that margins remained good despite the weather, and that sales were off to a good start in Q2. Because of this, they raised guidance on the lower end of the earnings and sales forecasts.
Leggett is projecting full year sales of $3.85B to $4.05B, or 3-8% growth, and earnings of $1.70-$1.85/share.
Across the segments, Residential and Specialized Products sales increased by 2% and 6% respectively, while Commercial Fixturing and Industrial Materials decreased by 22% and 5% respectively. These results were mainly driven by sales volume decreases or increases. The Commercial unit decrease was anticipated.
Here is a long term look of the EPS and revenues of LEG: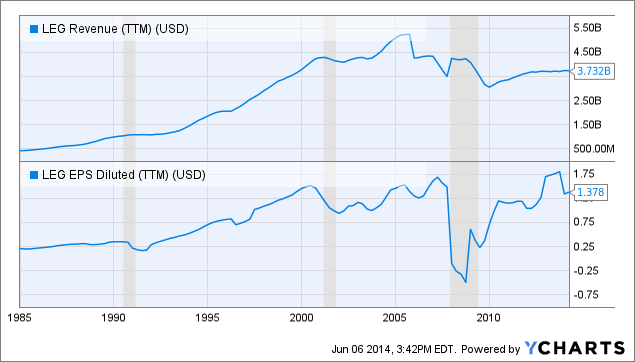 LEG Revenue (TTM) data by YCharts
We see a nice upward trend, but a clear correlation with EPS/revenue decreases during recessions. It can almost be used as a leading indicator based on the nature of the business. Revenue and EPS growth have been positive but too inconsistent.
LEG has a dividend yield of 3.49% with a 70% (90% trailing) payout ratio. It has grown its dividend an impressive 43 years in a row with a compound annual growth rate of 13%.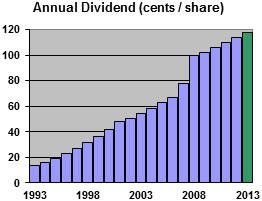 This is one of the higher dividend yielding stocks, and with a payout ratio of 70% (although higher than normal and others), leaves some room for continued dividend increases. Below we see a fairly consistent dividend yield (minus the spike in 2008-2009) and a payout ratio in the 30-60% range. The dividend payout target according to management is 50-60% of earnings. They have done a good job of that. At a current payout ratio of 70%, that is above range. We are comfortable that increased earnings will bring it back down to the target range.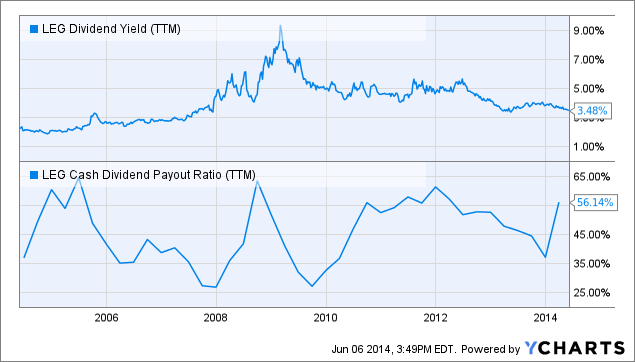 LEG Dividend Yield (TTM) data by YCharts
In addition to the dividend, in Q1 2014 LEG repurchased 1.5 million shares of its stock at an average price of $30.25, but issued 1.0 million new shares. Net result was 500,000 decrease in shares outstanding. They are authorized to repurchase up to 10 million shares per year, but may or may not year to year. The total cash on the balance sheets has decreased over the past quarter and year.
Margins remained strong and that should continue as weather related weakness in many areas will be resolved. As shown below, over the past 5 years margins have not only stabilized, but increased by a healthy amount.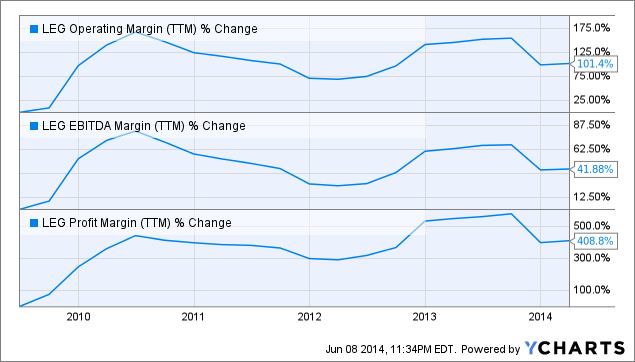 LEG Operating Margin (TTM) data by YCharts
LEG currently trades at a trailing twelve P/E of 25.03 and a forward P/E of 19.83. On a forward P/E basis, this is a reasonable if not slightly overvalued stock. On a trailing twelve basis, LEG is trading much higher than it has historically. We credit this higher valuation to investors seeking yield from reliable dividend payers, and LEG is one of the best.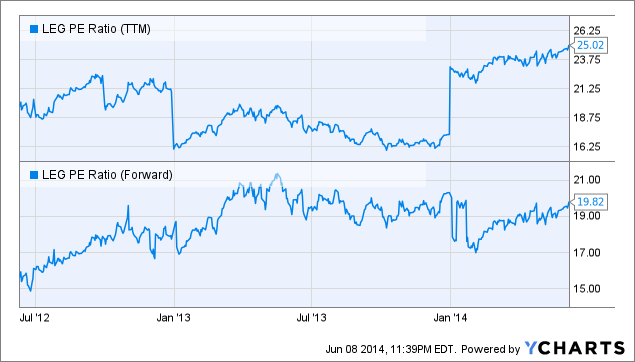 LEG PE Ratio (TTM) data by YCharts
Despite the high P/E, LEG can still deliver strong shareholder returns as long as:
interest rates stay low as an alternative to bonds and/or
LEG delivers solidly on future earnings (8%+)
As mentioned earlier, the goal of management is to be in the top third of total shareholder return via dividends, share repurchases, margin expansion, and revenue growth. They are clearly shareholder focused. Additionally, management is compensated based on the total shareholder return.
Management projected 3-8% revenue growth over the next year. If LEG can also generate 8% per year in earnings growth and consistently do it over 5 years, we estimate a 5 year average annual return of only 5.3% per year, and that includes the 3.49% dividend yield. This is based on the above earnings forecast and a reversion to an 18 trailing twelve P/E. Over the past 30 years, there have only been four times LEG traded over a 25 trailing PE. Below is a chart from Nasdaq.com showing the P/E increase in LEG over the past two years.
| | | | |
| --- | --- | --- | --- |
| Date | 12-mos Rolling EPS | Dividend | P/E Ratio |
| 03/2014 | 1.33 | 0.300 | 24.54 |
| 12/2013 | 1.29 | 0.300 | 23.98 |
| 09/2013 | 1.78 | 0.300 | 16.94 |
| 06/2013 | 1.75 | 0.290 | 17.77 |
| 03/2013 | 1.71 | 0.290 | 19.75 |
| 12/2012 | 1.68 | 0.290 | 16.20 |
| 09/2012 | 1.24 | 0.290 | 20.20 |
| 06/2012 | 1.10 | 0.280 | 19.21 |
We believe most of the total return over the next 5 years will be in the form of dividends, and will be positive provided management can grow earnings at a 6-8% rate. It is possible that the returns could be better due to multiple expansion, but it has rarely happened in the past.
Additionally, any type of slowdown or recession should impact this company more than others, as it has in the past, making those earnings targets harder to hit.
What we have in LEG is a solid company with a long history of delivering solid shareholder returns. It has a relatively inconsistent history of earnings results over the past 10 years, but an extremely impressive dividend growing period and shareholder friendly management. It's a good company. But, like several others, this one has run up faster than its earnings, and we don't believe the future earnings growth can justify the current valuation.
Because of this, we would sell LEG at this price, despite the very attractive dividend. Everything else being equal, we might look to buy this on a 15-20% pullback in the $28.50 range, but not here.
Better opportunities for shareholder return in the Dividend Aristocrat arena would be CB, TROW, and KMB.
Disclosure: I have no positions in any stocks mentioned, and no plans to initiate any positions within the next 72 hours. I wrote this article myself, and it expresses my own opinions. I am not receiving compensation for it (other than from Seeking Alpha). I have no business relationship with any company whose stock is mentioned in this article.