Two of the most confidence-inducing things a company can do to support its share price and endorse its long-term business proposition are: 1. The announcement of share repurchases; and 2. The announcement of insider buy transactions. Both share repurchases and insider buy transactions signal to investors that management and insiders believe the shares of the company are undervalued and that they bet on the long-term prospects of the company.
Moreover, insider transaction carry a huge amount of credibility, since company executives and insiders usually have better information about the earnings prospects of a business and can more reliably estimate a company's intrinsic value.
In a related article about Kinder Morgan, Inc. (NYSE:KMI) I have pointed out, that insider transactions are linked to abnormal returns -- at least in the short term. In Kinder Morgan's particular case, I judged the recent endorsement of another billionaire investor as a positive sign for the shares.
However, the dynamic works both ways. To me, nothing convinces me more to stay away from a company than consistent and even accelerating share dispositions by company executives and large shareholders. This, unfortunately, is the case with Facebook, Inc. (NASDAQ:FB).
Just about two weeks ago, I have highlighted increasing insider sales of Facebook shares in the article "Why Facebook Is A Sell". The article has received some criticism (which is fair enough), but the bottom line remains the same: An increasing amount of investors and company executives are using the current high share price for Facebook to ditch their stock.
Just consider the following overview, which highlights the consistency of recent insider sales at a Facebook share price at around $60.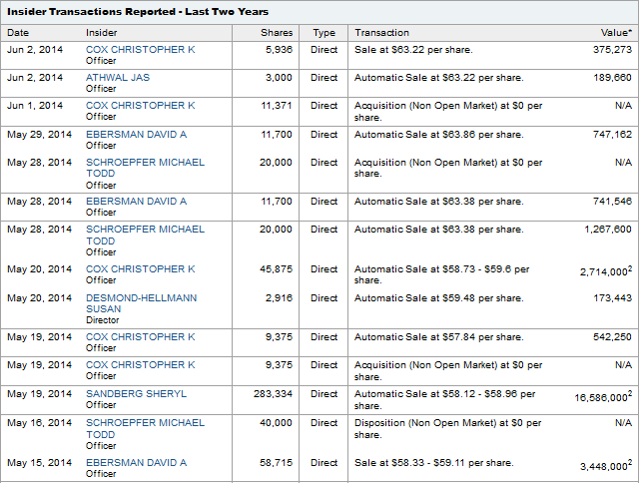 (Source: Yahoo Finance)
Sheryl Sandberg, chief operating officer of Facebook, is taking the lead in dumping her generously awarded share package. Bloomberg already reported in July 2013 that Sandberg had divested a good chunk of her shares and sold into the Facebook rally at the time.
Even though Sandberg's divestment program is automated, meaning she sells at fairly regular intervals, insider sales remain insider sales; and the current share price of Facebook is obviously a good enough price to justify divestiture.
On June 6, 2014, Facebook announced another batch of sale transactions by Sheryl Sandberg. In these transactions, the COO sold another 283k shares for a total consideration of approximately $18 million. After the recent dump, Sandberg owns about 8 million Facebook shares, which I expect will continuously be sold down going forward.

The Financial Times also reported on April 1, 2014 that Sandberg's sales of Facebook shares have cut her Facebook share package in more than half since the company went public in 2012:
Ms Sandberg has sold about 10m shares worth some $400m since Facebook made its stock market debut in May 2012, according to filings with the Securities and Exchange Commission. The sales were made under the "blind" trading plans that corporate executives use to spread their disposals out over a period of time, reducing the risk of being accused of trading on privileged information.

She also sold nearly 16m shares in late 2012 to settle a tax bill that fell due when restricted stock she had in the company vested to become ordinary shares. Mr Zuckerberg likewise sold $2.3bn worth of shares at the time to settle his tax bill.

Ms Sandberg's overall stake in Facebook is now down to 17.2m shares, restricted stock units and options. At the time of the IPO, she held about 41m shares, most of them in the form of restricted stock units
Sheryl Sandberg's massive Facebook sales transactions since the beginning of the year can be seen here.
Conclusion
While my earlier article about insider sales of Facebook's stock largely centered around early-stage investors, this article highlights that Facebook's executives are conducting wide-ranging insider sales (whether they are automated or not is of little importance). While it is unclear what the motivation for Sandberg's insider sales is and whether she intends to leave the company, insider sales are first and foremost a sign that an insider is cashing out, which in itself, is a bearish sign.
Investors are well advised to question if the widespread sale of Facebook shares is a shining endorsement of Facebook's current market valuation or value proposition. Facebook presently trades at 34x forward earnings, which I deem to be excessive.
History has shown over and over that investors should be very careful when top executives and other insiders are selling; they usually have a good reason for it. After all, why should investors be buying when well-informed insiders are departing the ship in the first place? Sell.
Disclosure: I have no positions in any stocks mentioned, and no plans to initiate any positions within the next 72 hours. I wrote this article myself, and it expresses my own opinions. I am not receiving compensation for it (other than from Seeking Alpha). I have no business relationship with any company whose stock is mentioned in this article.