Seeking Alpha is an excellent resource to learn about dividend growth investing. For those just tuning into the DG (Dividend Growth) channel, you buy stocks with a history of annual dividend increases with the goal of having a stalwart income stream at some future date.
No investing style is perfect, dividend growth investing included, and I encourage combining numerous and diverse strategies in a portfolio so if one should lag, another can lead. For instance, you may have a dividend growth model, a market neutral strategy and an ETF sector rotation system combined.
A little over a year ago I decided to build an automated dividend growth model that the public could follow. I used the powerful Portfolio123 stock screening engine to test and implement this model. Now my personal slant on dividend growth investing is a little different than some of the other authors, as you will note in the comment section of the articles I write. Here are my beliefs that I incorporated into the model…
My Dividend Growth Principles
1. Dividends - when taken in isolation - carry no information regarding company fundamentals and do not generate net returns
Is a stock with 3% dividend growth better than 5% or 10%? Unless you look at the fundamentals, you have no idea. Does the company have positive earnings, growing earnings, and sustainable income growth? Yield does not explicitly tell you such information. Receiving dividend payouts is similar to moving cash from your tax sheltered savings account to your checking account. It says nothing of your underlying investment. Dividends, when looked at in isolation, do not generate net returns.
2. Locking in a capital gain is just as good or better than a dividend
The key here is the differences between tax rates. If you short-term capital gain tax rate is equal to dividend tax rates, what difference does it make? Some might say that you can re-invest dividends in the same company. But if the share price fell by the same amount as the dividend - so you do not produce a net gain based solely from transferring equity to income and back to equity again. Capital gain means you have a net positive return. A dividend payout does not tell you if your net return is positive or not. Some dividend investors will disagree and feel free to post your comments in the appropriate section below.
3. Valuation will indicate when to buy and sell
Sensible dividend investing is closely linked to valuation. Shares with a price to earnings ratio of 50 can only sustain a dividend yield of less than 2%. Shares with a P/E ratio of 10 have the potential of a 10% yield. In addition to current valuation, you can also consider historical valuation. A stock may have risen 50% in 5 years but does that make it overvalued? Not if earnings and revenue have risen 100%. The stock now has lower valuation than before despite the price appreciation and can be short-listed for further accumulation.
4. Fundamental growth indicates sustainability
Although a stock may be perceived as having excellent value - an investor needs to balance this with fundamental growth - or lack there-of. Valuation is merely a snapshot in time comparing fundamentals to market capitalization. But valuations change based on either fundamentals or market capitalization changes. A stock with a P/E of 10 may look like a buy, but if earnings are falling off a cliff and you expect the trend to continue with next year's earnings only being half of what it is today - then you will either have a stock with a P/E of 20 (provided share price does not fall) or share prices can fall by 50% if the P/E ratio is to hold at 10. Thus, valuation is only part of the equation and fundamental growth is the other.
Ranking Dividend Growth Stocks
So what is my process for building a strategic system for dividend growth investing? I begin with the CCC list compiled by David Fish. All stocks in this list have a minimum of 5 consecutive years of dividend increases. Some of the other rules are:
Of this list of stocks - only the highest yielding quintile will be considered for holding in the portfolio
Average 60 day liquidity (average share price x average daily volume) must be more than $500,000
Stocks are ranked on 5 simple valuation ratios: price to earnings trailing, forward P/E, PEG ratio, price to sales and price to free cash flow
15 stocks are held and every month that a stock is held it is re-evaluated to see if it is still in the top 15 stock rankings
Out of Sample Model Performance
The out of sample performance so far is just over one year. The model is made freely available and includes reasonable slippage assumptions that varies with the liquidity of each stock bought and sold.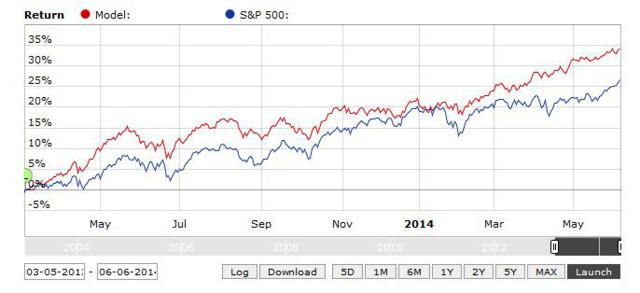 Below are some of the statistics for trading such a model. I have included these because I realize that many dividend investors will look at turnover realize that this type of dividend growth strategy is not for them. These stats are a mix of in and out of sample since 2003.
Average days held: 85
Average annual portfolio income yield: 5.41%
Average return winners (losers): 9.69% (-6.32%)
Average return: 5.29%
Winning trades: 72.55%
Market cap: 46% large, 40.5% mid, 13.5% small
Sectors: 70% of the portfolio comes from the financial, telecom and energy sectors
Below is the chart representing in and out of sample performance since 2003.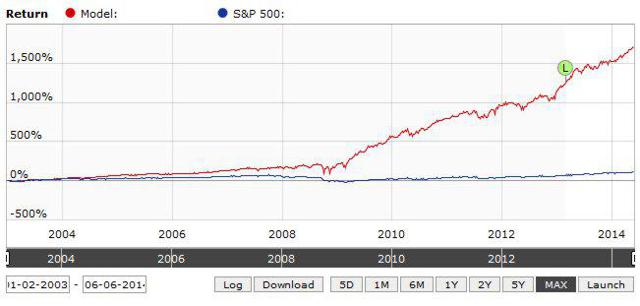 Largest 3 Model Picks
The biggest 3 model holdings (market capitalization) are Verizon (NYSE:VZ), China Mobile (NYSE:CHL) and AT&T (NYSE:T).
Verizon is listed in the David Fish CCC list as having 9 consecutive years of trailing dividend increases. The yield is at 4.3% with the payout ratio at 47%. The trailing P/E ratio is around 11. Since this stock was included in the portfolio 116 days ago, the return has been 6% including dividends.
China Mobile is listed as having 8 years of consecutive dividend increases with a projected 3.8% yield. The payout ratio was 41% which allows more room to boost the dividend if necessary. Trailing P/E is just over 10. This stock has returned 4.5% over the past 46 days since it was included.
AT&T has been included in the portfolio for over 400 days and has resulted in a small loss of 3.2%. It has a long 30 year history of consecutive dividend increases. Trailing P/E is just over 10, forward yield is listed at 5.2% with payout ratio at 53%.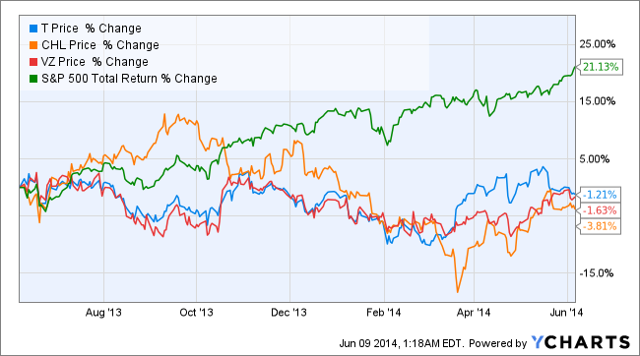 As you can see, these companies have not kept up with the market. Performance would look a little better if dividends were included in the stock returns. Does recent trailing stock performance mean this strategy is substandard? No. Investing is not about looking in the rear-view mirror and buying stocks after big run-ups. That sort of hindsight bias typically results in buying high and selling low. Valuation will help us to determine if a stock is a good buy whether share prices have recently risen or fallen. As you can see in the overall strategy performance of this model - the value principles work even when long-term individual stock performance seems lackluster.
Final Thoughts
Investing in dividend growth stocks is one of the many strategies that can be used to make up a diverse portfolio. My twist is to combine value ranking, high yield and historical growth to determine which stocks need replacing and when.
There are many strategies being used with dividend growth stocks - and by no means is this one being promoted as superior to all the rest - it is simply another flavor that might be better suited for a certain type of investor.
Feel free to tell us your dividend growth investing style below, or ask any questions you may have about this strategy.
Disclosure: I have no positions in any stocks mentioned, and no plans to initiate any positions within the next 72 hours. I wrote this article myself, and it expresses my own opinions. I am not receiving compensation for it (other than from Seeking Alpha). I have no business relationship with any company whose stock is mentioned in this article.
Additional disclosure: I typically do not invest in any of my publicly disseminated models or those used by other investors.