DryShips (NASDAQ:DRYS) would make a perfect case study for a behavioral finance class, or for an economics class and how the market deals with overcapacity and investor negativity.
DryShips is a shipping company operating both dry bulk and tanker segments and has lived through hard times over the last five years. As a consequence of the financial crisis in 2008 and contracting trade volumes, shipping companies have been battling with falling spot rates and oversupply ever since.
Economic uncertainty and debt-financed fleet expansions also contributed to a depressed earnings outlook for the shipping industry. However, every market consolidation comes to an end and a rebound in shipping volumes will occur.
George Economou, Chairman and Chief Executive Officer of DryShips, has repeatedly voiced his belief that charter rates will see an upward bounce in the near term.
Michael Bodouroglou, Chairman and Chief Executive Office of Paragon Shipping Inc. (PRGN), also came to a similar conclusion recently arguing that iron ore shipments could support higher charter rates:
The dry bulk market is bound for a recovery in the coming weeks, as the market will be better balanced, said Mr. Michael Bodouroglou, Chairman and CEO of Paragon Shipping, in an interview with Hellenic Shipping News Worldwide. Mr. Bodouroglou attributed the lackluster performance of the market since the start of the year to a high level of newbuilding deliveries and a slowdown of grain and iron ore trade.
After years of depression in the shipping market, I think it is time for investors to accept the positive long-term outlook for the shipping industry: Increasing dry bulk trade volumes, a lower level of new ship deliveries and an increasing average fleet age actually favor a long-term investment in a dry bulk shipping business such as DryShips.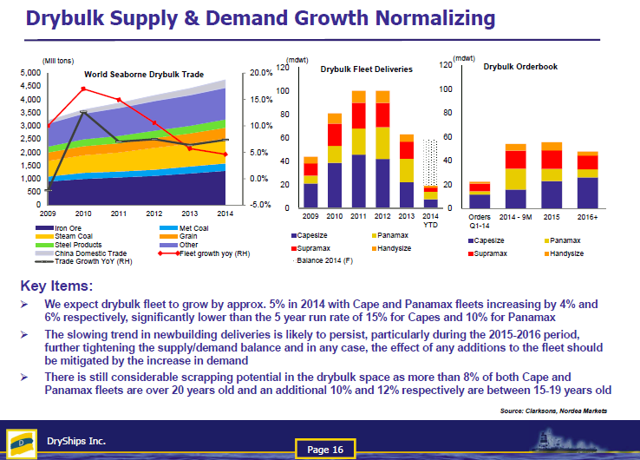 Click to enlarge
(Source: DryShips First Quarter Investor Presentation)
Background
The dry bulk shipping market has fallen off a cliff in 2008 and at the worst possible time for shipping companies. Taking on leverage and expanding supply just when the market collapsed was very unfortunate.
Dry bulk shipping companies went through a brutal consolidation phase over the last five years and shipping rates have not recovered at all yet. The Baltic Dry Index still quotes below 1,000 and is far away from the peaks it reached in 2007.
The Baltic Dry Index serves as an indicator of how shipping rates for dry bulk commodities such as iron ore, grain or coal develop. An uptick in shipping rates certainly would reflect a better short-term supply/demand outlook and higher short-term profitability for shipping companies such as DryShips or Diana Shipping (NYSE:DSX).

Click to enlarge
(Source: Wikimedia Commons)
Don't extrapolate
Investors, unfortunately, often make the mistake to project the status quo into the future, which must lead to disappointing investment results down the road. Whether investors extrapolate the status quo in a boom or a bust makes little difference. Too often, investors sell their stocks at the bottom and buy at the peak - this is particularly true for highly volatile stocks.
Since the Baltic Dry Index still quotes well below its peak levels and has not meaningfully rebounded from its bottom of around 1,000, anti-cyclical investors in shipping companies retain the full potential of a cyclical recovery.
In addition, I think boom markets are often identified by a high level of volatility whereas the ending of a bear market is characterized by very low levels of volatility - in other words, the market needs time to correct its excesses and prepare itself for the next cyclical upswing.
I have previously recommended DryShips at around $3 after the stock appeared to have bottomed in May 2014. I continue to be bullish on DryShips not only because of a favorable industry outlook for grain and iron ore exports to China, but also because of DryShips' 59.4% majority stake in Ocean Rig (NASDAQ:ORIG), an attractive offshore drilling business with strong revenue growth. In fact, I believe DryShips' shareholders would benefit from increased market visibility and a higher valuation of Ocean Rig if it is either being spun off to shareholders or, more likely, being transformed into a master limited partnership.
Chart situation
DryShips' stock has lost 55% of its value over the last five years. However, investors should also realize that DryShips has gained 74% over the course of the last twelve months in a powerful display of resurging strength.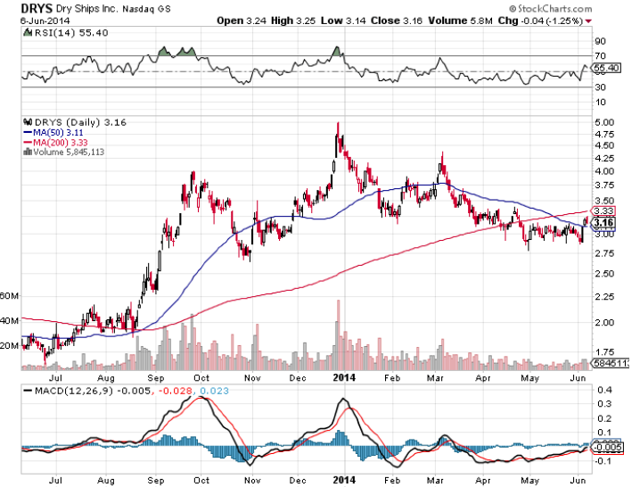 Click to enlarge
(Source: StockCharts.com)
Final assessment
Investing is a difficult business. Too many investors lose belief in an impending recovery and it doesn't really matter if a recovery relates to markets, asset classes or specific securities. Stock prices forever swing from fear to exuberance and back. Economies and industries will forever swing between boom and bust. And this time will be no different: With a variety of industry CEOs being upbeat about the rebound prospects in the dry bulk shipping industry, patient investors could consider DryShips as a contrarian investment.
Investors cannot reasonably expect that the shipping industry will turn around in an instant after years of overcapacity kept the lid on the sector. But with an optimistic short-term industry outlook and a potential catalyst from a higher public market valuation for Ocean Rig, DryShips is an interesting investment for investors who like to act anti-cyclically. Strong Buy.
Disclosure: I have no positions in any stocks mentioned, and no plans to initiate any positions within the next 72 hours. I wrote this article myself, and it expresses my own opinions. I am not receiving compensation for it (other than from Seeking Alpha). I have no business relationship with any company whose stock is mentioned in this article.