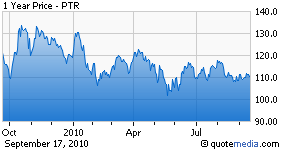 Contrarian Buy-recommended PetroChina (NYSE:PTR) offers unlevered appreciation potential of 38% to a McDep Ratio of 1.0 where stock price would equal Net Present Value (NPV) of $150 a share. First half 2010 results released on August 26 exceeded our estimate from five months ago for unlevered cash flow (Ebitda) and earnings. Exploration and production matched expectations. Downstream (other) recovered more strongly. Natural gas growth continues strong at 8% for the second quarter. Oil production remains the most valuable business at 72% of estimated NPV. Debt is low at a 0.14 ratio to present value. Dividend yield at 3.9% a year is meaningful in a low interest rate environment. Though stock price below the 200-day average of $116 may signal near-term caution, long-term value looks attractive. Growth looks good, too, for the largest company in the rapidly growing market in the world's largest energy economy.
Like many financial measures in the uncertain times approaching mid-term elections in the U.S., the near-term trend in oil and gas price is down as measured by futures prices for the next six years compared to the 40-week average. At the same time, McDep Ratios below 1.0 signal undervaluation in our framework
Originally published on August 31, 2010.