I have covered Arena Pharmaceuticals (NASDAQ:ARNA) for a couple of years now. I tend to try to think and write as realistically as possible. This frustrates some readers, while others have a growing appreciation for my work. I tend to put a lot of "dots" on the paper. Some readers are able to connect these dots more quickly than others. Sometimes I go ahead and connect the dots for you. This will be one of those occasions.
This Wednesday, the FDA will likely make a determination about the Orexigen (NASDAQ:OREX) entry (Contrave) into the anti-obesity space. This is both good news and bad news for investors in Arena Pharmaceuticals. It is good news in that it will bring another anti-obesity treatment onto the playing field, from which doctors can use. It is good news in that it will help to raise awareness of pharmacological solutions as a treatment for obesity. It is good news in that Orexigen's partner Takeda will send reps in the field to educate doctors. It is good news in that another player in the game makes insurance companies pay even more attention, and perhaps helps pressure them to offer better coverage and better tiers of coverage.
The bad news is that Orexigen may take away a little market share from Vivus (NASDAQ:VVUS) with Qsymia and Arena with Belviq. It is bad news in that, as a compound of two generics, there may ultimately be a very inexpensive solution on the market in a short period of time. The Vivus formulation is already being challenged. It is bad news is that Arena's Belviq has had a slower-than-anticipated sales rate, and the proverbial clock is ticking in more ways than one.
In the past few weeks, I have been saying that I think that more bullish analysts will revise sales estimates downward. Of course, me saying this led to a slew of criticism from some readers. There were other readers that said, "So what... We wait another year to get to $600 million in gross sales... I can be patient". Well, here is why I am watching this so keenly.
Bullish investors in Arena LOVE to talk about the pipeline and that it can have great potential value. The fact of the matter is that the pipeline CAN have great value, but to unlock that potential a lot of studies need to be done. Studies cost money. When enough studies are done, the concept is that Arena would seek out partners on pipeline drugs. If you want to seek out a partner, you want to be in the best possible negotiating position when that time arrives. None of this is rocket science, but it does require some thought.
The best-case situation was that Belviq sales were huge out of the gate, hit $200 million by March 31st of 2014, and were well on their way to $600 million, $750 million, and blockbuster at $1 billion in one year. Had that happened, the company would be flush with cash. Costs of studies would not be a worry, and Arena would be in the driver's seat in negotiating partnerships for its pipeline.
The big step for Belviq is getting to $250 million in net sales in 1 year. This event would trigger tens of millions in milestone payments and price adjustments, as well as trigger a better share of the net sales. For perspective, it takes about $455 million in gross sales to get to $250 million in net sales. Had Belviq sales hit the initial Eisai estimates of $200 million by March 31st of 2014, it would pretty much be a given that the world of bonuses would have come into play in 2014 or early 2015. Think forward a year. The way things are currently, the company will have about $125 million in cash and will be a year away from bonuses. If sales were quicker, the company could have over $200 million at this point next year and have incoming revenue that could nearly eliminate cash burn. Would you rather negotiate your pipeline as a company that is in need of cash, or one that is flush with cash?
This is where the ticking clock and Contrave can hurt Arena. The deal between Arena and Eisai has a 7-point "bonus scale". The company has not given out a lot of information regarding the deal, but it has shared small pieces. I have always looked at the 7-point system in this manner. The first 3 bonuses are expected. The 4th is a bigger jump, and the 5th, 6th, and 7th are levels that are so big that, if reached, make Arena and Eisai massive successes in terms of Belviq. Essentially, Eisai placed a bet of an additional $330,000,000 on the table, knowing that if reached, the money would begin to get to massive levels that would have everyone cracking champagne. For perspective, peak sales of Viagra were about $2 billion. If you refer to the chart below, you will see that the $2 billion in gross sales level is the 4th bonus.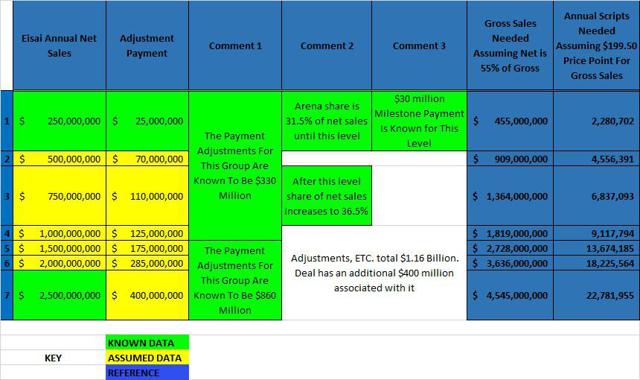 In one sense, the anti-obesity space is struggling to find its sales niche, and would welcome a big player to help boost the story. On the other, a big player may impact sales timing and delay things that could impact Arena in a very material way. This piece is not written to scare you as an investor. It is written to get you to think about your own expectations, how you see the company valued, and to get you to think about how the street will be looking at the sector, as well as the company.
Let's be aggressive for a moment and outline $150 million in gross sales for 2014. The net sales would be $82.5 million, and Arena share would be about $26 million. That is a great start, but as yet, the revenue story is not really helping to advance the pipeline or put Arena in a strong position. Now, if sales can triple in 2015, the gross sales will be $450 million and on the cusp of about $75 million to $100 million in bonus payments. In fact, the company would be well within striking distance. The current pace is $100 million this year. Triple that for 2015, and we get to $300 million, well shy of any material revenue changes. This is the very real and very distinct reason why I state that tracking to $100 million is neutral-to-a slight positive, while tracking to $150 million is an indication that can take this equity to $10 as a foundation. The difference in revenue share alone between $300 million and $450 million is $26 million. Adjustments and milestones add another $75 to $90 million. Many readers connected these dots weeks ago, when I began outlining the importance of pace. Other readers will have an epiphany with what I have just written.
Currently, it could be argued that the pipeline is a liability of sorts, or perhaps better defined as an expensive child in its infancy. Part of the potential value of the pipeline rests in the ability of Arena to negotiate a great deal. The negotiating position of Arena is very much impacted by its own financial situation. I often hear investors say that the company has over $200 million and that is enough for 2 years. Yes, the company has over $200 million, but no, that is not really enough for 2 years. The company needs to maintain cash on hand to move the pipeline forward. The company needs to be able to finance human studies, and human studies require that the company be solvent enough to do them. If Arena can advance studies on its own, it can gain great value at the negotiating table. Getting to milestones is imperative. Waiting another year to get there is not as easy as it may seem.
In my opinion, the possible arrival of Contrave is a double-edged sword. It is almost a "necessary evil" from the Arena perspective. The anti-obesity sector needs awareness and traction, and Contrave can help. I see the keys as this. Eisai (OTCPK:ESALY), Arena's marketing partner, needs to be able to go toe-to-toe on the marketing front with the bigger Takeda (Orexigen's partner). If Eisai can do that, then it could buy some time for a few wild cards to play out. Wild cards include pending applications in other countries, which trigger milestone payments and added sales, a monetized model for Belviq and phentermine, and a possible new indication for use as a smoking cessation drug.
Is there potential? Yes. Is it time to crack the champagne? No. Be wise with your thought process and understand the dynamics at play. Stay Tuned!
Disclosure: I am long ARNA. I wrote this article myself, and it expresses my own opinions. I am not receiving compensation for it (other than from Seeking Alpha). I have no business relationship with any company whose stock is mentioned in this article.
Additional disclosure: I have no position in Orexigen, Vivus, or Eisai
Editor's Note: This article discusses one or more securities that do not trade on a major U.S. exchange. Please be aware of the risks associated with these stocks.