The market has made new highs again. Lots of investors were saying that the market has topped, but the market fools us all sometimes. A lot of stocks have been setting up nicely after the latest run, and a stock that I have added to my buy list is SunPower Corporation (NASDAQ:SPWR). The company has had a nice run in 2013, but I believe the potential to make new highs is there. This article will explain the bullish case for this company.
Company profile for SPWR
SPWR is a leading global energy services provider and the 5th largest publicly listed company in the world. With a history of pioneering breakthrough technologies, the company continues to design and deliver solar cells and solar panels that are unmatched in long-term reliability, efficiency and guaranteed performance. SunPower designs, manufactures, installs and provides ongoing maintenance and monitoring services to residential, commercial and utility customers worldwide. Its proprietary all-back contact Maxeon® solar cells perform better than traditional solar technology and are tested more extensively, driving continuous technological improvements for maximum return on investment. Efficiency rates are cited up to 24%. The company was founded over 30 years ago.
SPWR has a number of products and services that they offer. These include:
Solar power products: Including solar panels, balance of system components and invertors.
Solar power systems: Including roof-top and ground mounded systems and utility systems which are able to track the sun's movement throughout the day.

Click to enlarge
(Adapted from us.sunpower.com)
Latest earnings and the future
The latest earnings over the last few quarters have been very very strong. As the table below shows, analyst estimates have been beaten easily. Estimates have also been rising going forward in 2014 and into December 2015.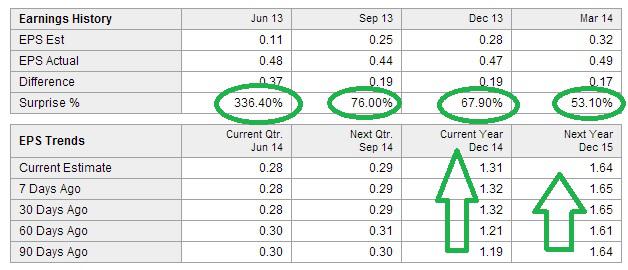 (Adapted from finance.yahoo.com)
If we look further in the latest earnings report, a few things caught my eye. These are some bullish statements that impressed me
SunPower panels produce over 50% more energy than conventional solar systems in the first year of operation. By year 25, this advantage will grow to 100% due to superior reliability and much lower performance degradation rates. The bottom line is that SunPower customers generate over 75% more energy over the lifetime of their systems.
If we delve into some numbers we can observe that earnings guidance was raised to $1.10 to $1.40. Furthermore, factories ran at full utilization, another bullish sign.
Some fundamentals for SunPower are as follows.
Currently valued at around $4.4 billion.
The company has $1b in debt and around $745m in cash.
Revenues are expected to be $2.88 billion in 2015.
A large 65% of outstanding shares is owned by insiders.
Float is considerably small at around 51 million shares with over 27% of the float being short.
If one has to compare other solar companies, one can observe why SPWR is the better option here. The massive debt in some other solar companies raises the risk of a secondary offering of shares.
SunEdison Inc (SUNE) has around $465 million in cash and over $3.95 billion in debt.
Canadian Solar (NASDAQ:CSIQ) has around $365 million in cash and over $1billion in debt.
Trina Solar Limited (NYSE:TSL) has around $463 million in cash and over $900 million in debt.
Technical analysis
The weekly chart looks very strong. Price has been consolidating in 2014 but I expect a breakout in the next few months. Volume has also been decreasing in the last few weeks, another bullish sign. Keep an eye on volume as this would suggest institutions are starting to buy. The price is also being supported by the 40 day moving average, another bullish sign.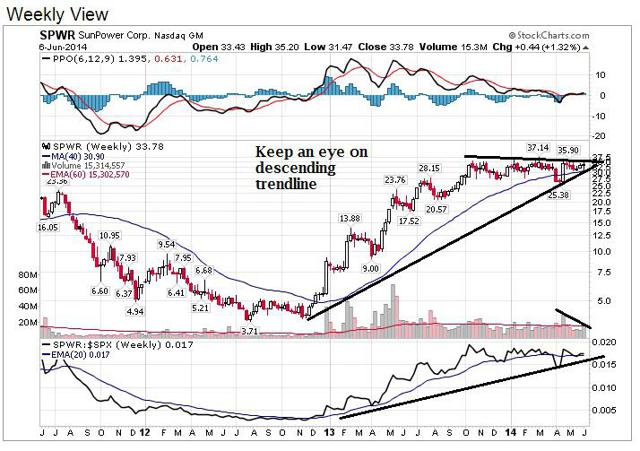 Click to enlarge
(Adapted from stockcharts.com)
The monthly chart is also something I often use the make my picks. If we look at the monthly, we can see a beautiful bullish flag forming. There is a gap all the way to $60 and I believe prices can continue higher into 2014 and 2015 to fill this gap.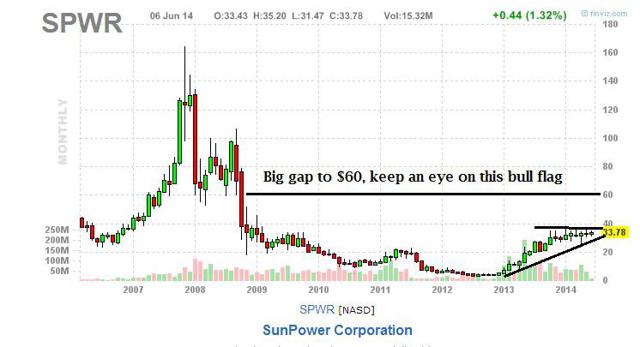 Click to enlarge
(Adapted from finviz.com)
Risks and conclusion
Every investment carries risk. As discussed, 65% of outstanding shares is owned by insiders, so one would ask what will happen to the price if insiders start to unload their shares? Further, over 25% of the float is short, so do the shorts know something we don't? This can also be bullish as the high percentage of shorts can cause a shorts squeeze.
Having mentioned all this, I remain bullish on SunPower. As always, I only risk 1% of my portfolio on every stock I invest which helps me sleep better at night. Risk management is key in every position that I take. I have made mistakes before as seen in my last article on CALL read here, however, by risking 1% of my portfolio my damage has been mitigated.
Disclosure: I have no positions in any stocks mentioned, but may initiate a long position in SPWR over the next 72 hours. I wrote this article myself, and it expresses my own opinions. I am not receiving compensation for it (other than from Seeking Alpha). I have no business relationship with any company whose stock is mentioned in this article.