Many people don't buy biotech stocks just because they want to make profits. Often a side interest is that they want to feel they are contributing to the betterment of their environment. They want to get a "warm and fuzzy" feeling from at least some of their investments. For those who want that feeling without giving up on profits, Gilead Sciences (NASDAQ:GILD) may be the stock for you.
GILD's most recent new drug, Sovaldi, had $2,274,349,000 in sales in Q1 2014. This income was all new year-over-year. GILD's antiviral product sales were $4,508,497,000 in total for Q1 2014. In other words, Sovaldi was approximately 50% of antiviral sales in Q1 2014. Total revenues were $4,998,956,000 for Q1 2014. Sovaldi's Q1 2014 sales represented 45.5% of total revenues.
If Sovaldi is that high a percentage of sales, how fast can GILD grow? What rate can it grow at? How many quarters has Solvaldi been selling? With regard to the last question, Sovaldi was approved for sale in the US on December 6, 2013 for the treatment of chronic hepatitis C (CHC) infection as a component of an antiviral treatment regimen (see below). It had only $139,435,000 in sales in Q4 2013.
The recommended regimens and treatment duration for Sovaldi combination therapy in HCV mono-infected or HCV/HIV-1 co-infected patients follows:
Treatment Duration
Genotype 1 or 4 Sovaldi + peg-interferon alfa
+ ribavirin 12 weeks
Genotype 2 Sovaldi + ribavirin 12 weeks
Genotype 3 Sovaldi + ribavirin 24 weeks
The European Commission granted market authorization for Sovaldi on January 17, 2014. On June 2, 2014 Quebec became the first Canadian province to provide access to Sovaldi. In other words, Sovaldi has been on the market only really for Q1 2014; and it still has a lot of markets to get approval in. Hence, its use will likely grow over the next few years. With an estimated 150 million infected worldwide and 3.2 million infected in the US, there is a huge upside for Solvaldi sales. If all the infected individuals in the US were to seek treatment with Sovaldi, the costs ($84,000 for a 12-week regimen) would exceed $300B; and that is only in the US. Physicians are already requesting a $150,000 combination treatment of Sovaldi and JNJ's (NYSE:JNJ) recently approved drug, Olysio (simeprevir). Of course, many insurers are already against this.
Based on the Q1 2014 sales results and the known demand for Sovaldi, many analysts have upped their FY2014 sales targets for it. Citigroup (NYSE:C) estimated sales at $9.5B. Barclays (NYSE:BCS) estimated sales at $10B; and these were before CMS (Centers for Medicare and Medicaid Services -- a program for 50 million Americans) announced on June 3, 2014 that it would cover the cost for hepatitis C virus screening. This is expected to further increase Sovaldi sales.
Since GILD had only $139,435,000 in Sovaldi sales before Q1, one is inclined to just add in all Sovaldi sales as new revenues for FY2014. GILD had total revenues of $4,998,956,000 in Q1 2014. Of these, $2,227,410,000 were from Solvaldi. If you simply multiply GILD's Sovaldi Q1 2014 revenues by four, you get approximately $9B in sales for FY2014. Some analysts are estimating $11B or more in FY2014 sales of Sovaldi. The current average analysts' revenue estimate for GILD for FY2014 is $21.69B. GILD had only $10.80B in product sales in FY2013, yet for FY2015, its total revenue average estimate is $25.35B. The average analysts' EPS estimate for FY2014 is $6.22 per share. For FY2015, it is $7.72 per share. Non-GAAP diluted EPS for FY2013 were $2.04 per share.
That's quite an improvement; but the Sovaldi sales seem to more than justify it. All this means that GILD should see its PE drop from 30.51 as of the close on June 6, 2014 to 13.25 or lower by the end of 2014 (including Q4 2014 earnings results), assuming a constant stock price. Hence, with relatively guaranteed Sovaldi sales that may be even higher than currently estimated, GILD is a buy. Many are now expecting it to exceed the peak yearly sales of Lipitor, which were $13.7B. GILD is no longer expensive. Greater than say $14B per year would be another 40%-50% in revenues growth. GILD could be selling at a 2015E PE of 6-9, which would be far too cheap. The stock price would have to go up another 50% or more in the next year and one half, and it might go up even more. When you take GILD's great pipeline into account, you have to think of an even higher stock price.
However, roughly 50% of its revenues will come from Sovaldi by the end of 2014, and that percentage will likely go up the next year. That probably is not good. It makes GILD too much of a one-trick pony; and GILD should trade at a lower PE for that reason. Who knows when the next hepatitis super-drug will be approved? An effective new one could hurt Sovaldi sales substantially. One or both of the two lawsuits filed against Sovaldi could do substantial damage, if successful. However, sky seems to be the limit on Sovaldi for the near term, barring any lawsuit success by Idenix (NASDAQ:IDIX). It is unclear how these will turn out, but at least one analyst thought they lacked value.
As for possible competitors, AbbVie (NYSE:ABBV) has had great results with its HCV treatment. Combined 96% of the pre-treated patients achieved SVR12. Bristol-Myers Squibb's (NYSE:BMY) HCV combination is designated by the FDA as a breakthrough therapy for treatment of patients with HCV genotype 1b. BMY, in April 2014, announced the submission of an NDA (new drug application) for this. BMY filed a second application for the use of the daclatasvir half of the combo in combination with "other agents" for multiple HCV types. Investigators are even investigating the possibility of daclatasvir and Sovaldi in some patient populations. Merck (NYSE:MRK) also has a two-drug combination HCV treatment that has been producing positive clinical data. All of the above should be of concern to GILD and to GILD's investors. All could take market share from Sovaldi in the near future.
The above competition is a negative; but GILD also has a slew of new drugs in its pipeline. The nearest to marketability of these include: Cobicistat (HIV/AIDS), Elvitegravir (HIV/AIDS), a fixed-dose combination of ledipasvir and sofosbuvir (HCV infection), Idelalisib (Indolent non-Hodgkin's Lymphoma), and Idelalisib (Chronic Lymphocytic Leukemia). There are a number of others that are still in Phase I-III trials. These are iffier; but at least some of those in Phase III trials are bound to become approved drugs in the not-too-distant future. I have only found revenue forecasts for Idelalisib. These assert peak sales of $700 million per year. Expected approval dates for the two indications are September 11, 2014 and August 6, 2014 respectively. It seems probable all of the above drugs together will bring in more than $1B in new revenues; and there are several times this number of possible new drugs less far along in GILD's pipeline.
In sum, GILD is a buy at its current valuation. The stock price could conservatively see a 50% price rise over the next year and a half. The above-mentioned competitor drugs may start appearing in 2015, but they will not destroy Sovaldi sales. They will just cut into them. The Sovaldi sales seem relatively guaranteed for the 2014, if not significantly underestimated. In the longer term, GILD could see competition for Sovaldi; but this might only keep Sovaldi sales from growing faster. Many analysts are still expecting Sovaldi to grow nicely, regardless of the competition.
Investors will have to pay attention to the news in this area. However, with a great first quarter of Sovaldi sales under GILD's belt, there can be little doubt about reaching the current revenue estimates for FY2014. Exceeding them seems more likely. This puts GILD's PE at 13 or below by the end of 2014; and it gives GILD's stock price room to grow.
The two-year chart of GILD provides some technical direction for a trade.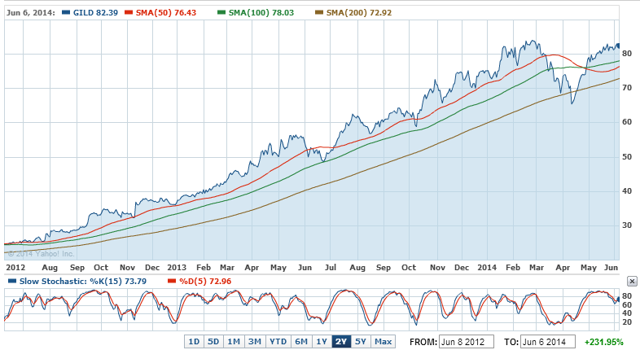 The slow stochastic shows that GILD is near overbought levels. The main chart shows that GILD has put in a valley recently -- possibly as part of an uptrend. From here, GILD could continue its uptrend, or it could fall as it puts in a double top. The clear reason for the recovery has been the great Q1 results for Sovaldi. These results should also be a good reason for the GILD uptrend to continue. It would seem that the 2014E PE should be able to get to at least 16. In other words, GILD may conservatively have another 50% upside to its stock price by year-end 2015; and that is without even considering the likely increase in the estimates for Sovaldi sales for FY2014.
I would normally have tagged GILD with a higher multiple given its growth. For instance, Amgen (NASDAQ:AMGN) has an approximate multiple of 19. However, Sovaldi does make GILD a bit of a one-trick pony. Therefore, investors would not want to put all their money in it; nor would they want to count too heavily on its behavior. If you can live with a little risk, GILD should do well. It is a buy. The average analysts' recommendation is 1.8 (a strongish buy). Plus, the stock will help to give you that warm and fuzzy feeling about your investments.
NOTE: Some of the fundamental fiscal data above is from Yahoo Finance.
Good Luck Trading.
Disclosure: I have no positions in any stocks mentioned, but may initiate a long position in GILD over the next 72 hours. I wrote this article myself, and it expresses my own opinions. I am not receiving compensation for it (other than from Seeking Alpha). I have no business relationship with any company whose stock is mentioned in this article.