Xerox (NYSE:XRX) has reentered the Victory Formation system's Top 10 buy ideas in the past few days. While only a small number of investors were interested in Xerox's business future and steady cash flows during 2012, the last 18 months have witnessed a strong rise in the stock price and investor curiosity. With a stock quote climbing from the dead in 2012 (and absurdly low fundamental valuations), more and more smart investors are realizing Xerox's stable and growing cash flows per share, in fact, are worth owning.
Some of the world's largest and most successful hedge fund companies have been increasing their Xerox ownership stakes in 2013-2014, including the likes of Bridgewater Associates (Ray Dalio), Citadel (Ken Griffin), Tudor Investments (Paul Tudor Jones) and Gotham Asset (Joel Greenblatt).
I wrote about Xerox's unloved cash flow in a Seeking Alpha article earlier in the year here. The story explores a list of stock investments with plenty of upside potential for long-term value hunters. Xerox's strengthening balance sheet, growing business reach, leading brand name products in high-speed copiers and database, digital document, and information technology (IT) management are worthy of investor consideration.
Beside the world-class leading Xerox copier and printer business, Xerox has been aggressively moving into IT, digital document storage and higher growth service-focused divisions for many years. For example, Xerox units are gaining business from Obamacare and other government healthcare initiatives by processing Medicaid documents for the states of California and New York, and workers compensation related data for the insurance industry. Xerox has 140,000-plus employees worldwide selling copiers and related servicing of machines, paper, ink, toner and the like. Digital operations include healthcare payer and pharmaceutical services, provider solutions for doctors and hospitals, human resource, finance, accounting and procurement services, transactional services for retail, travel and insurance companies, and more. The company also manages databases, networks, digital infrastructure, data backup, system platforms and devices, cloud storage, and centralized print services for thousands of other organizations and businesses.
Potential Stock Price Double
The Xerox stock price to cash flow number is arguably much lower than common sense would dictate. At the present $13 share quote, Xerox is trading at 5.5x annual cash flow and a little over 6x free cash flow. Compared to the trailing company specific 10-year averages of 6x cash flow and 7.5x free cash flow, new and existing shareholders are still receiving better than typical rates of money creation at the operating level. In addition, free cash flows available to business owners should rise nicely in coming years, especially on a per share basis with aggressive stock buybacks continuing during 2014, without any pickup in overall revenues.
Reviewing other financial ratios and metrics, total liabilities are roughly equal to current assets, long-term liquid investments and 18 months of cash flow generation, based on March 2014 quarter results. The steady move toward a tangible book value the last three years is noteworthy as underlying liquidation values will give investors a better margin of safety, long-term, and the business more flexibility for capital reinvestment.
We can use the mid-2007 peak stock valuation as a guide for potential upside improvement in Xerox. The 2007 experience witnessed a company valued at 1.2x "trailing" sales, 2.5x book value, 11x cash flow, 13x free cash flow and 18x earnings per share. Highlighting the potential for shares going forward, an equivalent low-$20s equity price projection is not out of the question for 2015 when measured against Wall Street's estimated 2014 financial results. Wall Street consensus is projecting 2014 numbers for sales per share of $18.50, book value of $11.00, cash flow of $2.30, free cash flow of $2.00, and earnings of $1.10.
At the current late stage of the economic cycle overall globally, I feel the biggest risk to Xerox owners is a slowdown in economic progress or a recession. However, it is entirely possible the stock price would either outperform any bear market in stocks generally, or be one of the first to start a rebound from an even lower valuation point. The management team assembled the last 3-4 years is doing an admirable job of keeping capital spending restrained, while buying accretive, complimentary businesses. Xerox has been intelligently using its ongoing cash flows to pay down debt and buy back shares, increasing its underlying value on a per share basis. The company raised the dividend payout last year for the first time since 2008.
The mispriced stock after decades of investor neglect and stagnate business leadership will definitely take time to rise to a realistic valuation zone. Another large technology company like International Business Machines (NYSE:IBM) or Hewlett-Packard (NYSE:HPQ) could acquire Xerox, but its nearly $15 billion market capitalization seems to make this outcome a less likely possibility. Honestly the stock price today is only slightly above the 2001 reading, and well below the 1999 all-time peak of $60 or 2007 high of $20 per share.
Conclusion
A forgotten and written off for dead business focus on physical printing and copiers has been quietly morphing into an integrated digital-based powerhouse story. The robust rise in the Xerox stock quote from its $6 low in 2012 is slowly garnering attention by Wall Street. You can review Xerox's stock price and trading activity progress on the chart below. My work and the Victory Formation system suggest further gains are a real possibility in 2014-15. Please don't forget to include Xerox on your stock research list. It may continue its metamorphosis from an ugly gray cocoon hidden on a faraway tree branch into a brilliant, star-studded butterfly winner that everyone can appreciate in another year or two. And yes, $2.5 billion in annual cash flow, growing nicely into the future, is a headline rate thousands of publicly-traded enterprises can only wish to achieve.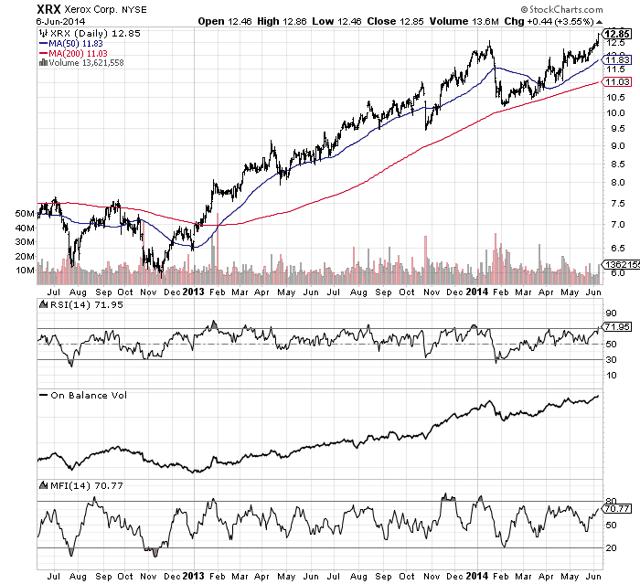 Chart courtesy of StockCharts.com
Disclosure: I have no positions in any stocks mentioned, but may initiate a long position in XRX over the next 72 hours. I wrote this article myself, and it expresses my own opinions. I am not receiving compensation for it (other than from Seeking Alpha). I have no business relationship with any company whose stock is mentioned in this article.