Take Two Interactive (NASDAQ:TTWO) is a New York based developer and publisher of interactive gaming for consumers around the globe. They develop and publish products through two wholly-owned labels Rockstar Games and 2K.
TTWO is undervalued and is worth a buy here at $19.87.
TTWO is trading at a trailing P/E of 9.1 and a forward P/E of 13.8. The forward P/E is worth investigating, because this is the difference between being undervalued and overvalued. According to Fidelity.com, there are 13 analysts making projections:
For period ending March 2015, there are 18 analysts covering, with a consensus EPS estimate of $1.00. The high is $1.16 and the low is $.75.
For the period ending March 2016, there are 13 analysts covering, with a consensus EPS estimate of $1.44. The high is $2.70 and the low is $1.05.
Using these numbers, at $19.85/share, we have a this year P/E range of 17.1 to 26.4. We have a next year P/E range of 7.35 to 18.9. These are huge ranges and it makes sense, as earnings have been a little erratic and there are issues like timing of new releases.
We feel TTWO will be on the higher end of these EPS. They have beaten analysts forecasts for seven quarters in a row and have a low bar to hit next quarter (July) at a projected loss of $.26/share.
Sales of Grand Theft Auto and NBA 2K remain strong this year and new releases are scheduled to make big impacts later this year in Evolve and Borderlands.
TTWO currently has a market cap of $1.9B. It has revenues of $2.4B and $1.1B of cash. The cash increased last quarter by 16%. With a P/S ratio of .827 and a P/B ratio of 2.45, these are very reasonable and in the lower 40% of the industry.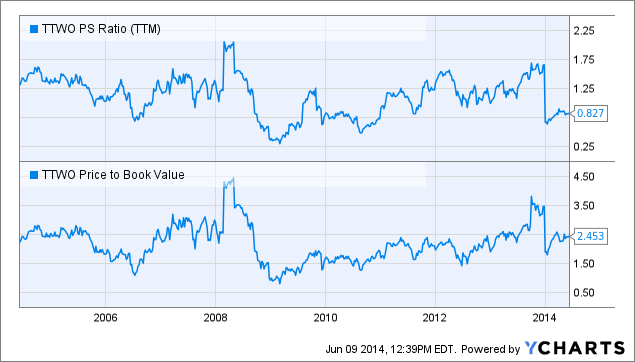 TTWO PS Ratio (TTM) data by YCharts
The margins are very strong and have been improving. Currently they are as high as they have been over the past 10 years.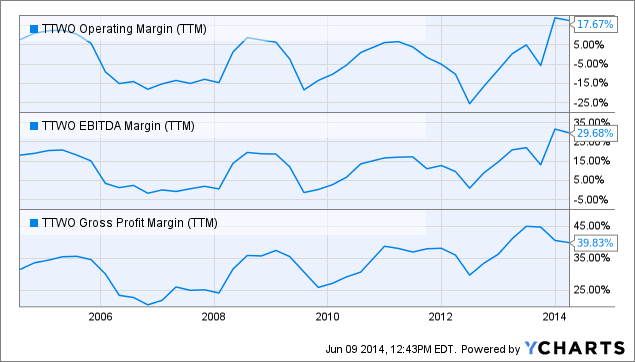 TTWO Operating Margin (TTM) data by YCharts
The Total Debt to Equity (trailing twelve) is a reasonable 69%, and the current ratio is 2.9.
TTWO has been operating very effectively and we have no reason to believe that shouldn't continue with their creative teams and new product releases. As shown below, these numbers have been improving.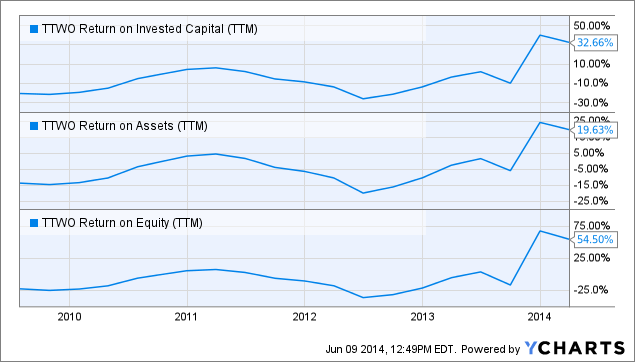 TTWO Return on Invested Capital (TTM) data by YCharts
Looking at the stock chart, TTWO does have some headwinds: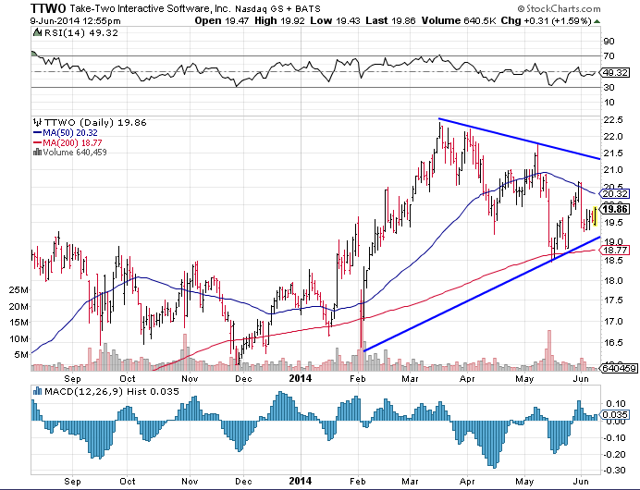 The 200 day SMA is positive, and has acted as support. We would look for that to continue. The 50 day SMA is higher and decreasing. This is negative. We believe TTWO will continue to trade in this consolidating range, and a breakout above the decreasing trendline would be strong.
For a long term position, we believe the current price at under $20 is a good entry point. Based on a DCF analysis, using a 9% market benchmark and earnings forecast growth of 14.75% (via analysts), a conservative current fair value is $24.69.
With a strong product pipeline, healthy balance sheet, impressive margins, and above average operation efficiency, TTWO is a buy.
Disclosure: I have no positions in any stocks mentioned, but may initiate a long position in TTWO over the next 72 hours. I wrote this article myself, and it expresses my own opinions. I am not receiving compensation for it (other than from Seeking Alpha). I have no business relationship with any company whose stock is mentioned in this article.