The share price of CenturyLink (NYSE:CTL) has appreciated by 20% over the past 3 months, outperforming a gain of just 4% for S&P 500 Index. Based on current annualized dividend of $2.16 per share and 10% cost of equity, the Gordon Growth Dividend Discount Model suggests that the current share price of ~$37 has priced in a dividend growth rate in between 3.5% and 4.0% (see chart below). In this article, I will provide readers some perspectives on whether CTL can deliver the dividend growth expectation in the next few years.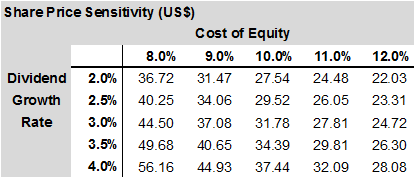 I performed free cash flow projections to gauge CTL's capacity for future dividend growth. My calculation started with consensus revenue estimates which predict a flattish trend from 2014 to 2016. The company maintained a fairly steady operating cash flow margin trend in the past 5 years. Hence, I assumed a flat operating cash flow margin of 30.4% through 2016, which is consistently with its 5-year historical average. For capital expenditure, I used management's guidance of $3B for 2014 and assumed the figure to stay flat through 2016. Based on those assumptions, free cash flow was projected to increase just slightly from 2014 to 2016 at about $2.5B. Given my projected steady free cash flow trend, CTL can sustain a flat dividend payment such that its free cash flow dividend payout ratio would stay almost unchanged at ~52% over the forecast period. As such, in Scenario 1, I assumed CTL to maintain flat dividend spending of $1.3B from 2013 to 2016. In this case, the company would have approximately $1.2B excess free cash flow in each year (see chart below).

Given management's commitment to return capital to shareholders through share buybacks, I assumed 90% of the excess free cash flow to be spent on share repurchase from 2014 to 2016 (the other 10% is to account for dilution impact from equity issuance and other corporate purposes). Assuming the buyback price increases by 10% per annum starting from $37, I estimated that average share count will reduce from 601M in 2013 to 529M in 2016. Based on my flat dividend spending projection, dividend per share was projected to grow by 4.4% CAGR from $2.16 in 2013 to $2.46 in 2016. However, by factoring into consensus EPS estimates from 2014 to 2016, my dividend per share forecasts imply that earnings dividend payout ratio will increase notably from 89% in 2014 to 95% in 2016 (see chart below). Further, given that CTL's consensus long-term EPS growth rate is just 1.02%, a 4%+ annual growth for dividend per share is not sustainable over a long run.

For Scenario 2 (see charts below), I assumed dividend per share to stay flat at $2.16 through 2016. Everything else being equal, CTL's annual dividend spending will decrease from $1.2B in 2014 to $1.1B in 2016 as continued share buyback reduces total share count. In this case, the free cash flow dividend payout ratio will reduce from 50% in 2014 to 45% in 2016 and the earnings dividend payout ratio will stay somewhat flattish over the period. Hence, while the risk of a dividend cut is unlikely in the next few years thanks to the solid free cash flow coverage, I believe management would refrain from a dividend hike as free cash flow and EPS are still expected to grow slowly.


In conclusion, the share valuation has priced in an optimistic dividend growth scenario as CTL will likely continue to maintain the current dividend level due to sluggish growth.
All charts are created by the author, and historical data used in the article and the charts is sourced from S&P Capital IQ, unless otherwise specified.
Disclosure: I am long CTL. I wrote this article myself, and it expresses my own opinions. I am not receiving compensation for it (other than from Seeking Alpha). I have no business relationship with any company whose stock is mentioned in this article.