The FIFA World Cup Brazil kicks off on June 12 in Sao Paulo with the first match between Brazil and Croatia. The Super Bowl of Soccer is a huge event​: ​a tournament that spans an entire month​,​ compared to the scant two weeks of the Olympics​,​ but similarly happens every four years. While there are arguments that long-term economic benefits directly attributable to the World Cup could be net zero, none can deny that the event is happening and money is being spent. So who stands to gain from this? Certainly money will be spent on event tickets as well as all the food, lodging, and other regalia that one would expect from an influx of tourists. Brazil's Institute of Tourism is estimating $11bn will be spent. I would like to present two very different candidates that may not show up on the initial radar​: Banco Bradesco (NYSE:BBD) and Petroleo Brasileiro (NYSE:PBR).
After that first match in the truly impressive new Arena de Sao Paulo, the next match in that city is a full week later. Where are the next matches? In 11 other locations spread throughout a country roughly the size of the U.S. west of the Mississippi! This is going to create a tremendous amount of travel​.​ ​I​t is "only" 522 miles between Curitiba, Sao Paulo and Rio de Janeiro​,​ and these are three of the closest host cities. Of course many people are only going to make it to a handful of events, but still t​here will certainly be a significant influx in travel within the country​,​ not just international arrivals. Brazil's government has spent $15bn on transportation infrastructure and new stadiums. There are frequent flights, trains and buses between the various host cities​,​ and some people may just be crazy enough to drive 34 hours from Recife the minute stoppage time ends in Italy v. Costa Rica to Rio to get there for the start of Belgium v. Russia.
Bottom line​: ​it equates to a lot of fossil fuel being burned​,​ which cannot be bad for the leader of the Brazilian oil industry.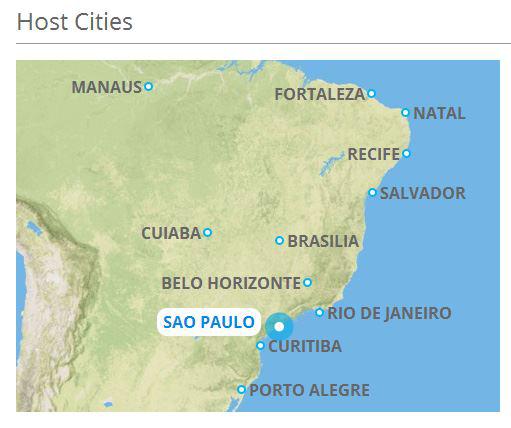 PBR has completed a large correction from its 2008 high and done so in a clearly corrective pattern. Off the recent low in March​,​ it has made a nice impulsive move up and is now in the middle of a smaller corrective retrace from the May high. Ideal entry for both intermediate swings and long-term holds is 13.25-12.35, however a strong break out over 16 would make that "c wave" down far less likely. A third wave from the 13 region projects to 22-25. One of the Elliott Wave "guidelines" (this one is not a "rule") is that the move following a "diagonal" will head toward the origin of that diagonal. The large "C" down from November 2009 was a very clear "Ending-Diagonal" so longer term price will target the 40-60 region again. Also​,​ even longer term​,​ the corrective nature of the entire correction from 2008 means a new ATH over 77 is highly probable, with more conservative targets projected to 330s over the next 6-10 years. Based on the sentiment potential I see displayed in the charts​,​ I think PBR has a good chance of realizing one of its goals of becoming a global top 5 integrated energy company by 2030.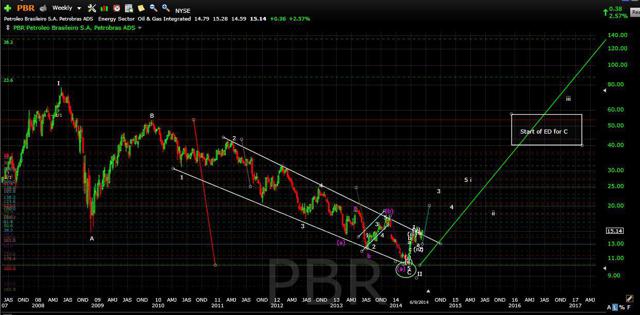 Click to enlarge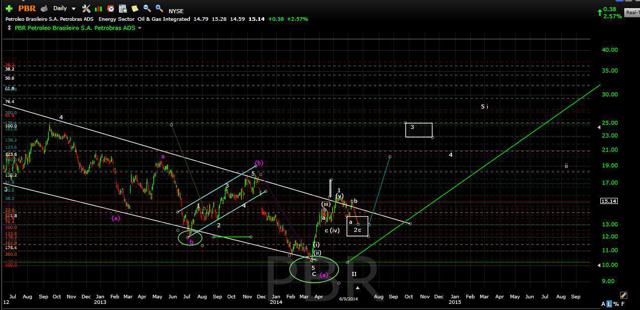 Click to enlarge
I know what you are saying, "Ok Zac, but what about the ATM fees? I mean Banco Bradesco is not even one of the Brazilian sponsors of the World Cup." True, Banco Itau (NYSE:ITUB) is one of the "official" sponsors AND generates $1.3bn more in annual income. You are right​.​ Itau certainly seems to be bigger and stronger than Bradesco​,​ but they are neck an​d​ neck in market cap​,​ and there is one area I think BBD trumps ITUB and where it could benefit significantly during the World Cup. BBD has almost double the number of ATMs with 48,295 (including the 11,600 Banco24horas that most Brazilian retail banks include in their numbers) compared to only 28,000 from ITUB. With tens of thousands of international tourists visiting Brazil for the World Cup​,​ BBD stands to see a very healthy up-tick in their transaction fee income​,​ particularly those charged against foreign banks and for currency conversion. BBD is also an official sponsor of the Rio2016 Olympic games and I am sure they will make sure everyone visiting for the World Cup knows that.
While similar to PBR topping in 2008, BBD also bottomed in 2008 for its entire correction of that degree and then completed a smaller degree impulsive move up into the 2010 high for the start of a much larger long term bullish move. A nice long corrective retrace from there has played out along with the larger "C" wave down in PBR mentioned above and BBD too has a strong impulsive move up from its February 3rd low and is in the middle of the retrace from that. Ideal entry here is just under 13, but similar to PBR​,​ a strong break out over 16 will make a small "c wave" down far less likely and we will have to count the May low as all of the retrace. Also similar to PBR,​​ the target for this next move in the pattern on an intermediate/swing time horizon is 22-25 into early 2015. The larger 3rd wave off the February low project​s​ to the 40-50 region and much longer term is projected ​to ​well over 300.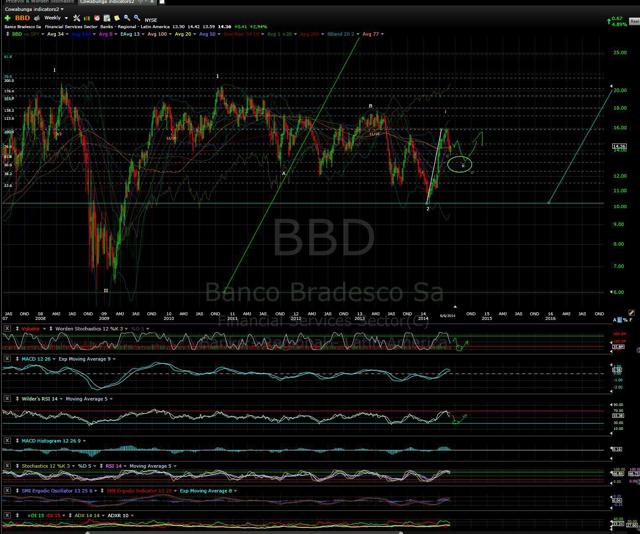 Click to enlarge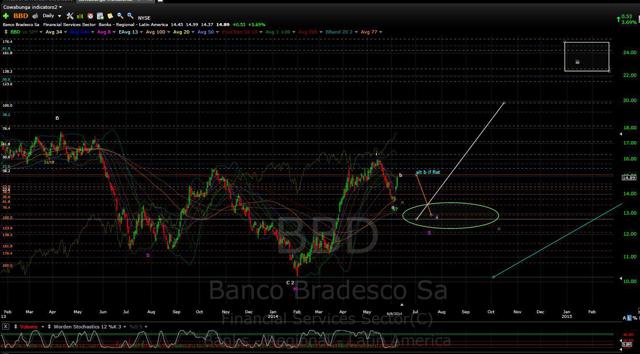 Click to enlarge
Truth be told​,​ my colleague Garrett Patten, who heads up the World Markets service at Elliottwavetrade.net, ​and I are very bullish on Brazil as a whole. EWZ has an extremely similar pattern to PBR ​and BBD​,​ and similar lofty projected targets long term, as well as the same approaching setup for a more intermediate term swing move projected to be upwards of 55% into next year. The entry targets mentioned for PBR ​and​ BBD should hold as support​,​ and I will be following these throughout their moves in my StockWaves service​,​ moving up support regions along the way and updating resistance and targets for future moves. The current patterns invalidate if under their respective March and February lows,​ ​10.20 ​and 10.23. ​If PBR were to fall under this, then negative sentiment could take over,​ extending it much lower, and if BBD were to lose its 10.23 low​,​ the next support could be as low as 6.00.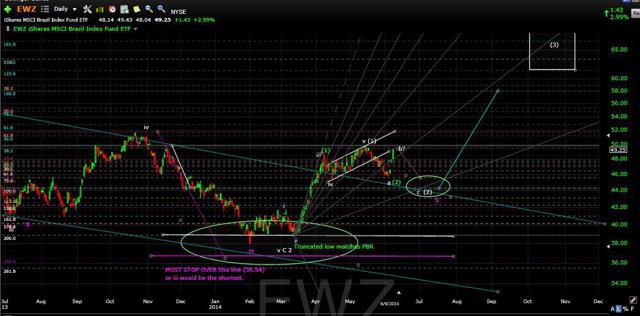 Click to enlarge
Disclosure: I have no positions in any stocks mentioned, but may initiate a long position in PBR, BBD, EWZ over the next 72 hours. I wrote this article myself, and it expresses my own opinions. I am not receiving compensation for it (other than from Seeking Alpha). I have no business relationship with any company whose stock is mentioned in this article.