A divestiture, which can come in the form of a spin-off or asset sale, creates value when an outside investor is willing to pay more than the intrinsic value of the asset or business unit. Corporate managers typically avoid divestitures for two reasons. First, the divestiture may signal to investors that the company is admitting a mistake. However, admitting this mistake often rewards stockholders. Second, divestitures usually dilute corporate earnings. However, this is merely an accounting phenomenon and does not inherently destroy value. It is important to note that value creation is anything that increases cash flows for a company.
Divestitures usually result from outside pressure. This pressure may result from the asset or business unit underperforming over several years or even economic, technological, or regulatory shocks. Regardless, divestitures should be a proactive approach to creating value for shareholders. This is exactly what Johnson Controls (NYSE:JCI) is doing, and I believe that an investment in this company will outperform over the long run.
Chief Executive Officer Alex Molinaroli announced in mid-May that JCI would spin-off its auto-interiors business into a joint venture with Chinese supplier Yangfeng Automotive Trim Systems Co. JCI retains a 30% interest in this new entity, but this is a signal to investors that company management is focusing on higher margin businesses. The automotive segment, particularly the interior seating part, has narrower profit margins relative to the company's other core business segments.
The company's stock jumped 4% following the announcement and has appreciated relative to the stock market since then, despite a year-to-date underperformance relative to the S&P 500. Below is JCI's stock performance in the last three months. Notice the sharp increase in the stock since the middle of May. It is up approximately 12% since the announcement.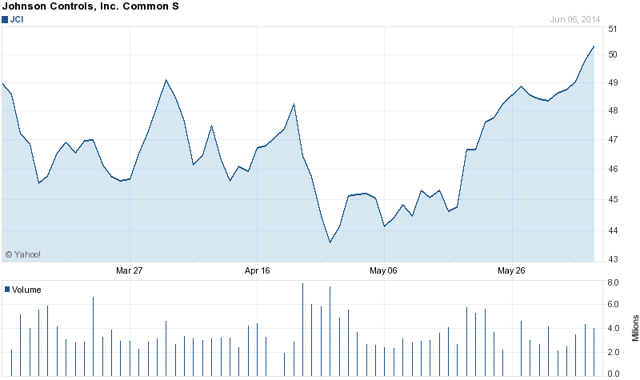 Click to enlarge
Margin Analysis
As mentioned in my previous article on JCI, the company has three core segments: building efficiency, automotive, and power solutions. Given that these three core segments all produced between 30-40% of total operating income in 2013, JCI is a very well-diversified firm. Digging into each segment's financials will allow us to explain why JCI is divesting part of its automotive segment and why this strategic move will create value for shareholders. The figures in the chart below are in millions.
| | | | |
| --- | --- | --- | --- |
| Core Segment | 2013 Sales ($) | 2013 Income ($) | Operating Margin (%) |
| Building Efficiency | 14,591 | 988 | 6.78 |
| Automotive | 21,781 | 1,299 | 5.96 |
| Power Solutions | 6,358 | 1,006 | 15.8 |
Notice that the automotive segment has the lowest operating margin. Clearly, the automotive segment is the least efficient of the three. This makes sense because the automotive industry tends to be very costly, cyclical, and capital-intensive. The management team at JCI noticed this phenomenon and decided to proactively address the issue by divesting the lowest-margin business within the automotive segment. By focusing on higher-margin segments, JCI can improve the bottom-line even if revenues struggle. This creates value!
A final, deeper look into the automotive segment illustrates how divestitures at JCI create value. Not only did JCI spin-off its automotive-interiors business last month, but it also sold its entire automotive-electronics business this past January to Visteon Corporation (NYSE:VC) for $265 million. This electronics unit was also producing low profit margins, so JCI decided to sell it as a way of avoiding low-margin businesses. As the following data show, the effects of this asset sale within the automotive segment are outstanding (figures in millions).
| | | | | | |
| --- | --- | --- | --- | --- | --- |
| 2013 Sales | 2012 Sales | Change | 2013 Income | 2012 Income | Change |
| $ 21,781 | $ 21,334 | +2% | $ 1,299 | $ 803 | +62% |
Notice how a modest revenue growth of 2% still produced operating income growth of 62%. Additionally, take note of the significant improvement in operating margins from 2012 to 2013.
2012 Automotive Operating Margin = (803 / 21,334) = 3.76%
2013 Automotive Operating Margin = (1,299 / 21,781) = 5.96%
The operating margin from 2012 to 2013 nearly doubled. This illustrates the power of divesting inefficient businesses and committing to shareholder value.
Conclusion
Divestitures often occur because outside investors put pressure on corporate executives when certain assets or business units are struggling. This is not the case for Johnson Controls. CEO Alex Molinaroli has focused on proactive movements toward higher-margin businesses, and the financial results illustrate the subsequent success. I expect JCI to continue to take advantage of these opportunities when they arise, and therefore I expect the stock to outperform over the long term.
Disclosure: I have no positions in any stocks mentioned, and no plans to initiate any positions within the next 72 hours. I wrote this article myself, and it expresses my own opinions. I am not receiving compensation for it (other than from Seeking Alpha). I have no business relationship with any company whose stock is mentioned in this article.