The S&P 500 (NYSEARCA:SPY) is now up over 185% since troughing in March 2009 and it has been almost 3 years since the market experienced a 10% correction.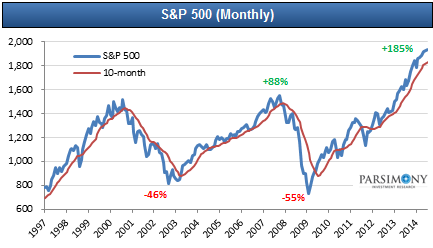 As shown in the chart above, each of the major rallies over the past 15 years have been followed by a significant correction. This roller coaster has certainly taken a toll on most investors and many are just recently getting comfortable with the idea of holding stocks in their portfolio again.
However, now investors are feeling the full impact of fear and greed. On one hand, many investors fear missing out on future gains if this rally continues (especially if they missed out on most of the current rally). On the other hand, greed certainly rears its ugly head when investors are sitting on big gains and they don't want the fun to end.
Is a Correction Coming In 2014?
Most folks define a correction as a stock market decline of 10% or more and we haven't seen one in quite awhile. In fact, it has now been almost 3 years since the last 10% pullback. Historically, market corrections happen approximately every 2 years on average, but the million dollar question is… will we finally see one in 2014?
Even though the correction bandwagon seems to get louder every day, there have been much larger correction droughts historically. Since 1928, there have been 5 periods with correction gaps that were longer than the one that we are currently in. The record drought was 1,767 market days (from October 1990 to October 1997) and the second largest drought was 1,153 days (from March 2003 to October 2007), both of which occurred in the last 25 years. Basically, this tells us that a market correction won't necessarily be a self-fulfilling prophecy and that we shouldn't be surprised if stocks continues to chug along in 2014.
But what about current valuations? The S&P 500 is currently trading around 19 times trailing earnings (vs. an average multiple of 15.5x since 1871)! Again, history is littered with examples where above average P/E multiples were sustained for prolonged periods of time. In fact, during the last bull run (2003-2007), stocks spent more than a year trading north of 20 times earnings.
Bottom line is that none of us know when (or if) a correction will occur in 2014 and the best we can do is stick to our investment plan. We recently wrote some articles highlighting several option strategies that will protect your capital if a major correction occurs.
This article highlights a cash-secured put selling strategy. We often use a cash secured put strategy to generate income while we patiently wait for the "Buy Zones" on high-rated stocks that we are stalking (i.e., stocks we would love to own at a cheaper price).
Generating Income in a Down Market
We think that selling cash-secured puts on high-quality dividend stocks is a great strategy for an income investor in a down market. It allows investors to generate income while mitigating downside price risk. Cash-secured puts essentially act as a limit order for dividend stocks you want to add to your portfolio (but you get paid to put the order in!).
If you sell a put, you have an obligation to purchase the stock at a predetermined price (strike price) on or before the expiration date (if the buyer of the put option wants to sell you the stock). Clearly, the risk is that the stock drops significantly below the strike and you are forced to buy the stock at a price well above market.
Here are our two risk management rules of put selling:
Only sell put options on stocks that you want to own at the price you want to own them - With a put selling income strategy (focused on out-of-the-money puts), you get paid to wait for the price you want on a stock. If the price never drops to your strike, you get to keep the premium (income) as a consolation prize. Your downside is owning the stock at the strike price (keep that in mind as you analyze the ideas below).
Don't sell "naked" - Just because options offer you leverage, it doesn't mean that you have to use the leverage. We recommend securing your short put position with cash (i.e., don't sell on margin). If you aren't willing to risk the cash to back it up ... don't sell the put!
Great Put Selling Candidates
As DIY dividend investors, it is getting harder and harder to put new money to work in the current market environment. Why? Most of the great dividend stocks have all rallied significantly and are currently trading at very high valuations.
We have written several popular series over the past month that have highlighted some stable, high-quality dividend stocks to keep on your radar:
While these lists are by no means exhaustive (there are literally hundreds of decent candidates out there), it should give you a great start on your diligence. As discussed above, the downside to a put selling strategy is owning the stock at the strike price. So we only sell puts on stocks that we want to own! Note that not all stocks are "optionable," but most mid and large capitalization dividend stocks are.
Choosing the Right Strike
Choosing the right strike price in a put selling strategy, like any investment decision, comes down to risk and reward. All else being equal, as your margin of safety (your cushion between the current stock price and your strike price) decreases, your premium yield increases (because the risk that your option will be exercised increases).
Ideally, we like to choose a strike price where the break-even price of the option trade will be close to or in our "Buy Zone" for that stock. In addition, we prefer utilizing options with expiration dates that are at least 2-4 months out to reduce trading costs. Note that the annualized option premium yield can oftentimes be approximately equal to the dividend yield on the stock. So you can essentially generate the same income without the downside risk. Let's look at a couple of examples:

Click to enlarge
Our "Buy Zone" for Verizon Communications (NYSE:VZ) is currently $44.00-$47.00. As such, we recommend selling the Oct14 $47.00 put, which equates to a $45.90 break-even price (i.e., net purchase price if exercised) and a premium yield of 2.4%. This trade has a margin of safety of 7.4% and you can collect income equivalent to ~56% of VZ's 4.3% dividend yield in ~4 months.

Click to enlarge
Our "Buy Zone" for McDonald's Corp. (NYSE:MCD) is currently $90.00-$96.00. As such, we recommend selling the Sept14 $95.00 put, which equates to a $94.09 break-even price (i.e., net purchase price if exercised) and a premium yield of 1.0%. This trade has a margin of safety of 7.2% and you can collect income equivalent to ~31% of MCD's 3.2% dividend yield in ~3 months.

Click to enlarge
Our "Buy Zone" for Target Corp. (NYSE:TGT) is currently $56.00-$60.00. As such, we recommend selling the Oct14 $55.00 put, which equates to a $53.52 break-even price (i.e., net purchase price if exercised) and a premium yield of 2.8%. This trade has a margin of safety of 7.1% and you can collect income equivalent to ~93% of TGT's 3.0% dividend yield in ~3 months!! Note that even though TGT is currently in the "Buy Zone," the cash secured put trade has more income potential and less downside risk than purchasing the stock in the near term.
Summary
We titled this article The "Great" Correction of 2014 because corrections CAN be "great" if you have properly prepared for them. A market pullback is the best time to buy great stocks on sale. In our opinion, the best way to prepare for a market correction is to make sure you have a list of stocks you want to buy as well as the price you want to buy them. If you have properly diligenced these stocks (and Buy Zone prices), you'll be prepared to "buy the dip" when it eventually happens.
Disclosure: I am long TGT, MCD. I wrote this article myself, and it expresses my own opinions. I am not receiving compensation for it (other than from Seeking Alpha). I have no business relationship with any company whose stock is mentioned in this article.