Lockheed Martin (NYSE:LMT) generates around 85% of its revenue from the U.S. government, including 61% from the U.S. Department of Defense, or DoD. Last year, the reduction in U.S. government spending, called sequestration, negatively impacted Lockheed's financial performance. However, the projected cost to develop and produce Lockheed's F-35 fighter increased 1.9% last year, or $7.4 billion, to $398.6 billion. Going forward, the DoD will purchase around 2,443 Lockheed F-35 jets by the late 2030s, which will strengthen the company's long-term growth potential. It is expected that the DoD will further increase its spending budget in the next five years ending in 2019. The U.S. DoD's budget is forecasted to have additional funds of around $115 billion compared to the authorization under sequestration.
| | | |
| --- | --- | --- |
| Year | DoD Budget (in billions) | Comment |
| 2015 | $498 | Pentagon reduce total budget by around $43 billion |
| 2016 | $535 | $35 billion more than the sequestration level |
| 2017 | $544 | $31 billion over the cap |
| 2018 | $551 | $27 billion over the cap |
| 2019 | $559 | $22 billion over the cap |
Lockheed will benefit from this increase in the DoD defense budget as the U.S. government will allocate these funds to its top priority area, and the F-35 fighter jet program is part of this priority program. For achieving its long-term growth target the company is raising its F-35 jet production rate. It is expected that by 2018-2019 the F-35 program will account for 25% of the company's total revenue compared to 16% in the fourth quarter of 2013 and 14% in 2012. This will help Lockheed improve its long-term growth outlook.
Signing contracts to build its earning base stronger
Lockheed received contracts worth a total of $875 million or around 84% of the total contracts signed by the DoD in the first-quarter of this year. This includes the largest order of $698 million, in which the company will provide the long lead parts, material, and components that are required for the production of F-35 jets. The company is expected to complete this order through May 2015. The F-35 Joint Strike Fighter will be a long-term credit positive for the company.
With its wide experience in developing fighter jets, Lockheed also signed a contract of $54.6 million with the DoD. In this contract, the company will provide manufacturing and technical support to the U.S. Navy, Air Force and other international partner governments related to the production of F-35 jets. Lockheed will complete this contract by the beginning of next year. Recently, 11 countries across the globe are expected to buy the F-35 fighter jets from Lockheed Martin under $398.6 billion weapons program. This will increase its F-35 jet sales and also support the company in achieving its expected international sales from 17%, or about $8 billion to 20% in the next year or so.
Apart from the F-35 program, the company also signed a long-term contract of $245.8 million with an option for additional "Global Positioning System III, or GPS III SV 07, and 08. GPS III satellites will have three times better accuracy and eight times improved anti-jamming capabilities, which will increase the spacecraft usable life by 25% compared to the previous GPS block. The company will complete this contract in April 2018 for SV 07 and October 2018 for SV 08.
Recently, Lockheed has won a government contract of $915 million to build a space fence in the Marshall Islands in the Pacific Ocean. The company will build a high-frequency radar system, which by 2018 should be able to track 200,000 orbiting objects. Astronomers will be then able to track space debris, tag it, and monitor it as it passes through the radar. Analysts will then inform the Air Force to warn operators to move space-craft before possible collisions. It is very likely that Lockheed could also be contracted to build another phase of the space fencing in Australia at some point in the future.
In addition, Lockheed has also signed three contracts with the U.S. DoD of more than $606 million as shown in the following table: -
| | | |
| --- | --- | --- |
| Value of contract | Lockheed's task | Contract will remain in force |
| $452 million | To re-entry system/re-entry vehicles (RS/RV) subsystem support. | Through June 4, 2022 |
| $134.2 million | Provide highly specialized services supporting Ballistic Missile Defense System flight tests at several contractor-owned facilities and government test sites. | Through Dec. 8, 2018 |
| $20 million | To perform engineering work on the U.S. Navy's Consolidated Automated Support System family | June 2019 |
All these contracts will support Lockheed's top-line and boost its future growth prospects.
Continuous cost-cutting measures
Over the past five years, Lockheed has continuously taken cost-cutting measures to face the defense spending pressures. The company is making strategic changes in its operations like reduction in headcount and plant consolidations to enhance its operating margins. The company has massively reduced its headcount over these years from 146,000 to 115,000, and will continue it this year too. Lockheed reduced its facility footprint removing around 7.2 million square feet since 2008. Last year, the company eliminated 2.1 million square feet of facility space through its plant consolidation strategy.
Lockheed's first-quarter results also gained from these cost-cutting measures. In the first quarter, Lockheed expanded its segment operating margins to 13.4%, from 10.1% in the prior year period. Margins rose across four of the company's five segments. In order to continue strengthening its margins, Lockheed will vacate its leased facilities in Goodyear, Arizona and Akron, Ohio as well as shut down its owned facilities in Newtown, Pennsylvania and Sunnyvale, California by mid-2015. The company will consolidate 2.5 million square feet by next year. These facility consolidations will reduce around 4000 headcounts by 2015. Savings from these cost-cutting measures allowed Lockheed to enhance its 2013 operating margin by 50 basis points annually to 9.9%.
| | | | |
| --- | --- | --- | --- |
| Year | Net Operating Profit (In million) | Net Sales (In million) | Operating Margin |
| 2012 (NYSE:A) | $4,434 | $47,182 | 9.4% |
| 2013 | $4,505 | $45,358 | 9.93% |
| 2014(NYSE:E) | In range of $5,175- $5,325 | $44,000-$45,500 | 11.76%- 11.70% |
Source: Company Data
In the light of cost-cutting measures, Lockheed expects its 2014 EPS to grow in the range of 16%-19.5% year over year to $10.50 to $10.80 per share.
Strong FCF and Dividend
Lockheed has strong free cash flow. It generated strong cash from operations, or CFO in 2013 ($6.8 billion before $2.25 billion of pension contributions). During the first-quarter it again reported strong CFO of $2.1 billion. Free cash flow (CFO less capital expenditures and dividends) was $2.2 billion in 2013. According to Fitch Ratings, Lockheed's FCF will be fairly steady in the next few years, with higher net pension recoveries offsetting higher capex and dividends.
For dividends, Lockheed maintained a consistent strategy of returning at least 50% of FCF to shareholders. Dividends now exceed $1.5 billion annually, and Fitch expects these to rise at double digit rates. For second quarter of 2014, Lockheed announced dividend of $1.33 per share. With its decent dividend payout ratio of nearly 52% in 2013, Lockheed provided long-term growth opportunities to growth investors. The company has increased its year-over-year dividend by around 15% in the last two years, and it is expected that with the dividend payout ratio of 52% for 2014, the company may declare a dividend of around $5.32 per share for this full year.
Dividend History of Lockheed Martin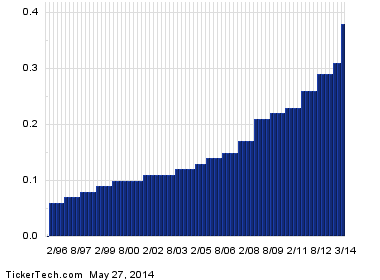 Conclusion
The improvement in U.S. defense spending and the series of contracts from the DoD for the maintenance and development of its F-35 program are the revenue drivers for Lockheed Martin. Also, developing the new GPS III satellite and other contracts will generate long-term growth opportunities for the company. Along with these contracts, its cost-cutting strategies will help Lockheed to further enhance its operating margins. The company also has strong free cash flow and robust dividend history. All these points suggest that Lockheed Martin's stock has bright growth prospective for long run.
Disclosure: I have no positions in any stocks mentioned, and no plans to initiate any positions within the next 72 hours. I wrote this article myself, and it expresses my own opinions. I am not receiving compensation for it (other than from Seeking Alpha). I have no business relationship with any company whose stock is mentioned in this article.