Facebook (NASDAQ:FB) is a Buy. The mobile advertising giant has won over David Marcus to help Facebook develop its e-money transfer efforts. Marcus is PayPal's President and he will resign his position on June 27 to join Facebook as head of the Messenger product. PayPal's parent company, eBay's (NASDAQ:EBAY) dropped 2.3% during the after-hours trading yesterday.
I discussed Facebook's active e-commerce platform in a previous article. Amazon (NASDAQ:AMZN) and eBay are already losing business from the e-commerce conducted through Facebook. The money transfer license in Ireland is just a prelude towards monetizing the online trade going through Facebook's website. Third party companies like Shopify, Bigcommerce, and Ecwid are helping millions of individuals and firms sell goods on Facebook.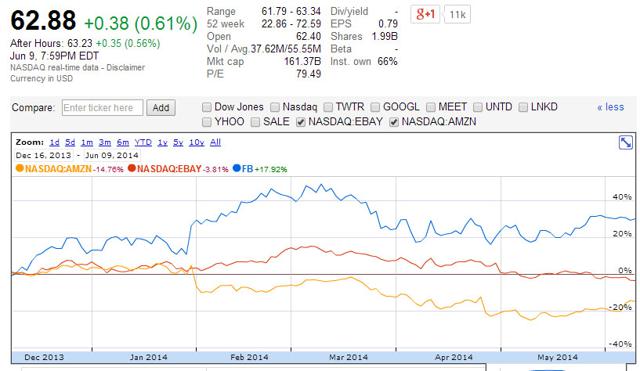 Facebook Can't Rely Forever on Advertising
The primary focus of Facebook is still growing its digital advertising business. Facebook is expanding the advertising program of Instagram to other countries. The ad rollout will initially be introduced in Canada, Australia, and United Kingdom. Instagram's 200 million users around the globe are a rich source of advertising eyeballs.
However, ad revenue will eventually peak. The company will have to rely on e-commerce and mobile payments to sustain its growth. Facebook is besting Google (NASDAQ:GOOG) in mobile advertising but it will still take many years before Facebook can match Google's annual ad sales. Facebook has no equalizer to Google's mighty search advertising machine.
Facebook's new app-centric Audience Network platform for third-party advertisers and app developers exploits mobile apps' dominance over browsers on smartphones and tablets usage. However, Google is also aggressively adapting its mobile advertising to go beyond browsers. Google is enticing app developers to join its app indexing campaign so Google's search engine can crawl them for advertising purposes.
Google is also aggressively protecting its core advertising cash cow. There will come a time when Facebook's hyper grown in mobile ads will come to a halt. Zuckerberg's poaching of Marcus is therefore a big step towards making Facebook less reliant on advertising.
Marcus' Role
Facebook wants David Marcus to speed up the company's nascent money transfer service. Marcus' official job title will be as head of Facebook Messenger. However, Marcus will definitely get his hands dirty pimping up Facebook's online and mobile payments. Facebook has a blemished record of previous failed currency transfer implementation.
Facebook Credits was a disaster. Facebook Gifts was another failed experiment. Marcus' intimate knowledge of PayPal's system should help him build a working strategy to use Facebook Messenger as conduit for money transfer. Marcus helped PayPal process $27 billion in mobile payments last year.
Marcus got employed by PayPal when it bought his start-up company Zong in 2011. Marcus founded Zong in 2008 as a pioneer in mobile payments technology. PayPal paid $240 million for Zong whose carrier-billing approach to mobile payments also had extensive international support.
Marcus also launched Zong+ in 2009 that allows users to charge online microtransactions to their debit, credit, and prepaid cards. Zong+ was touted as a potential PayPal killer. PayPal judiciously bought Zong.
David Marcus has the experience and network of contacts to make Facebook's money transfer service work. Facebook used Zong+ in 2009 to process payments for Facebook games. I believe that if Facebook had the money five years ago, it would have bought Zong. PayPal's dominant leadership in mobile payments today is due in part to the Zong acquisition.
PayPal is currently the leader in digital wallets. PayPal contributed 41% to eBay's 2013 revenue. Facebook's strong performance in mobile advertising should not necessarily mean it could also immediately make an impact as a mobile payment service provider. Marcus will probably focus first on the 200 million Facebook Messenger users. After which, he will roll it out to the 500 million users of WhatsApp.
Conclusion
I look forward to Facebook Messenger getting an update that allows users to directly send money to their Facebook friends. David Marcus' extensive experience in mobile payments makes him the perfect general to lead this attack against his former employer, PayPal.
PayPal can now add Facebook to Google, Amazon, and Apple (NASDAQ:AAPL) in its list of potential mega-cap rivals in payments processing. With David Marcus inside Facebook, Braintree's clients might be prey for future poaching too.
Facebook is a Buy. It is a mobile advertising leader. Facebook is also already hosting millions of e-commerce transactions. Marcus will help Zuckerberg find a way to profit from these trades on the company's website. Facebook, the company that killed most of its social networking competitors, will also soon become one of the key leaders in e-commerce and digital wallets.
Twenty-eight other analysts at BarChart share my bullish sentiment over Facebook.

Source: BarChart.com
Disclosure: I am long AAPL, FB, GOOG. I wrote this article myself, and it expresses my own opinions. I am not receiving compensation for it (other than from Seeking Alpha). I have no business relationship with any company whose stock is mentioned in this article.