Ford Motor's (NYSE:F) stock price has been on fire since the beginning of May. Just a few weeks ago, when Ford Motor's shares were bottoming in the $15 region, I pushed hard to make the case for the car manufacturer in light of its apparent undervaluation. In my article,"Should You Load Up The Truck At $15?" I aggressively recommended Ford Motor to long-term investors due to the unwarranted sell-off in Ford Motor shares in April.
I have written repeatedly about Ford Motor and often pounded on the strikingly low valuation based on both absolute and relative valuation metrics.
Add to that, Ford Motor presented first-quarter results in April which largely disappointed investors. The company reported an adjusted EPS of $0.25 whereas analysts expected consensus earnings of $0.31. Though the company beat on revenues, investors didn't like what they were seeing, especially the earnings slide in the United States.
Correspondingly, Ford Motor's share price has been trading weakly in April and May. However, investors who didn't give in to short-term uncertainty and negativity (regarding first quarter results) are now looking to come out on top.
Ford Motor shares have gained 10% since May 7, 2014 and shares have gained about the same percentage since the above referenced article was published on April 11, 2014.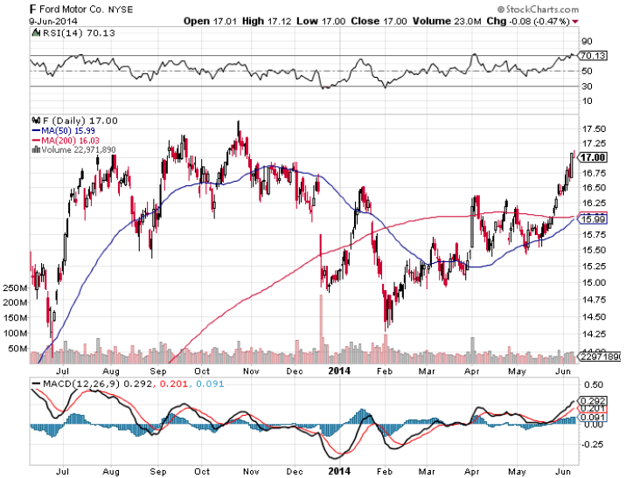 Click to enlarge
(Source: StockCharts.com)
Compelling value proposition
Ford Motor has a low valuation based on both earnings and cash flow and Ford's management has maneuvered the auto company much better through the recent recall fiasco than General Motors' (NYSE:GM) management.
After the company presented first-quarter results, I have slightly updated my discounted cash flow valuation model for Ford Motor which ultimately spit out an intrinsic value of $36+.
Looking at Ford Motor's earnings valuation, one can immediately see how undervalued the car manufacturer still is: Based on estimated earnings for fiscal year 2015, Ford Motor trades at just 8.9x forward earnings which equates to a whopping earnings yield of more than 11%. And, let's not forget the dividend yield of approximately 3%; a nice little yield for investors to take home while they sit back and wait for a higher market valuation of Ford Motor's equity.
Ongoing sales momentum
In another article about Ford Motor I have pointed out, that investors should not always expect a company to present one record quarter after another. While this, of course, would be comforting and good for the stock price, it is rarely realistic. Every company will experience occasional setbacks that will cause the stock price to take a breather once in a while. Instead of immediately resorting to doubt and pessimism, investors should adopt a more constructive, forward-looking mindset and envision how Ford Motor will look 10 or 15 years down the line.
In that regard, I pointed out that the Chinese auto market will increase in importance for Ford Motor going forward and will drive Ford Motor's incremental sales and earnings growth (see my original thesis here).
At the beginning of June, Ford Motor released another set of sales updates indicating strong y-o-y sales growth in the important Chinese auto market (Source: Ford Motor press release):
SHANGHAI, China, June 6, 2014 - Ford China sales grew 32% in May with 93,323 wholesales sold compared to 70,449 wholesales in May 2013. Year-to-date sales were up 39 percent, with 461,473 wholesales sold compared to 332,308 wholesales sold in the first five months of 2013.

Passenger car sales for Ford China-which include imported cars-grew 35% in May with 71,981 vehicles sold compared to 53,392 in May 2013. Ford has sold 347,547 passenger cars so far in 2014, up 46% from 238,100 vehicles sold during the same period last year.

Changan Ford Automobile, Ford's passenger car joint venture, sold 67,454 vehicles in May, up 32% from 51,008 sold during the same period last year. Year-to-date sales reached 330,771 vehicles, up 43% compared to the first five months of 2013.

Featuring great fuel-efficiency, safety, quality, and smart technologies, demand for both the Ford Mondeo and the Ford Focus continued to increase last month. Ford Mondeo nameplate sales were up 90% with 10,395 vehicles sold in May while Ford Focus nameplate sales reached 33,341 vehicles, up 22% compared to May 2013.

Jiangling Motors Corporation, Ford's commercial vehicle investment in China, also continued to turn in steady growth, with sales rising 25% in May, selling 21,342 vehicles compared 17,057 sold in May 2013. JMC's year-to-date sales were up 21% with 113,926 vehicles sold, up from 94,208 in the first five months of 2013.
With high double-digit growth rates in sales, China is one of the most attractive auto markets for Ford Motor in the entire world. Though Ford Motor also reported strong sales results in its domestic core market -- the Ford Fusion and Ford Escape achieved all-time monthly sales records -- China clearly is where the action is.
Conclusion
If anything, Ford Motor has become more attractive as an investment over the last months. Ford Motor has shown once again, that it can sustain crucial sales momentum in China and deliver record domestic sales results for its Fusion and Escape models. Ford's valuation, however, does not reflect the underlying strength of the auto maker and the sales success the company repeatedly achieves at home and abroad.
At less than nine times forward earnings and with a meaningfully higher intrinsic value based on a discounted cash flow basis, Ford Motor still offers investors a remarkable margin of safety. If Ford Motor continues to deliver strong y-o-y sales growth in the coming months and manages to stay out of the headlines in terms of recalls, I wouldn't be surprised if the stock marches straight through the $20 mark in the near term. Strong Buy.
Disclosure: I am long F. I wrote this article myself, and it expresses my own opinions. I am not receiving compensation for it (other than from Seeking Alpha). I have no business relationship with any company whose stock is mentioned in this article.