One thing to remember about the world economy is that, as economic growth accelerates, so does energy demand in general. After all, it is not accident that the biggest reduction in developed world CO2 emissions occurred over the financial crisis of 2008-2009, when the G7 economies suffered an unprecedented slump in growth. So the converse is also true, that stronger economic growth points to higher energy demand - which should be good for oil demand, as car and aircraft mileage is still fueled by petrol, diesel and kerosene.
So it is indicative to see that the US Oil ETF (CODE: USO) has indeed started to break a new high in the past few days (Figure 1), moving back above the $38 mark.
1. US OIL ETF MOVING HIGHER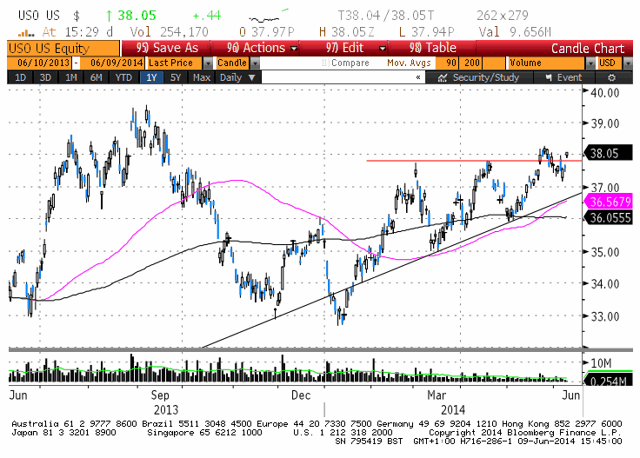 One way to get some exposure to this theme in your portfolio is via oil & gas sector ETFs, which provide a basket of oil & gas stocks in one fell swoop. The two major oil & gas sectors, the STOXX Europe Oil & Gas sector (SXEP; green line in the chart below) and the US S&P 500 Energy sector (IYE; black line), are both posting impressive upwards trends at the moment (Figure 2).
2. EUROPEAN AND US OIL & GAS SECTORS IN A BULLISH TREND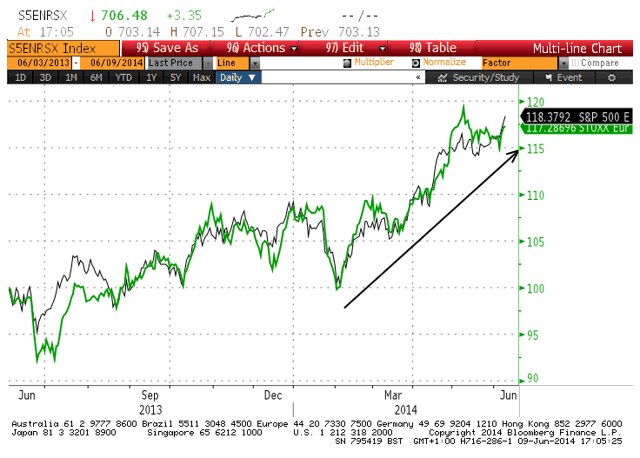 In Europe, were you to buy the Lyxor STOXX 600 Oil & Gas sector ETF (CODE: OIL), you would be buying a listed fund that has 24% exposure to the French Total integrated oil giant, 15% in Royal Dutch Shell, 14.4% in BP and over 10% in BG, plus smaller stakes in other integrated oil and also oil exploration and oil service companies.
A key attraction of the European Oil sector is its high dividend yield, which currently stands at over 4%.
But What About Individual Oil Stocks?
Of course, you can always look at individual oil stocks - I have in the past extolled the virtues of Royal Dutch Shell (RDS.A : UK code RDSA.L; three-stocks-to-profit-from-a-value-rotation), which has certainly performed well so far this year, rising from around 2150p to 2367p currently. Despite this strong price gain, RDSA is on course to deliver a 4.7% dividend yield this year, which is certainly not to be sniffed at given the near-zero cash deposit rates on offer from the banks.
But if you want better leverage to upwards movement in the oil price and the world economy, then I would recommend looking at oil service stocks - i.e. those companies providing the picks, shovels and expertise to oil exploration and production companies. Currently they are able to command high prices and thus push up their profitability as the US shale oil & gas bonanza continues. UK-listed companies that could be worth looking at now include:
Lamprell (OTCPK:LMPRF; UK code LAM.L): provides construction and engineering services for oil and gas rigs. Valuations remain reasonable, and the price chart shows that Lamprell has just broken out of a multi-month sideways trading range pattern to hit 174p today.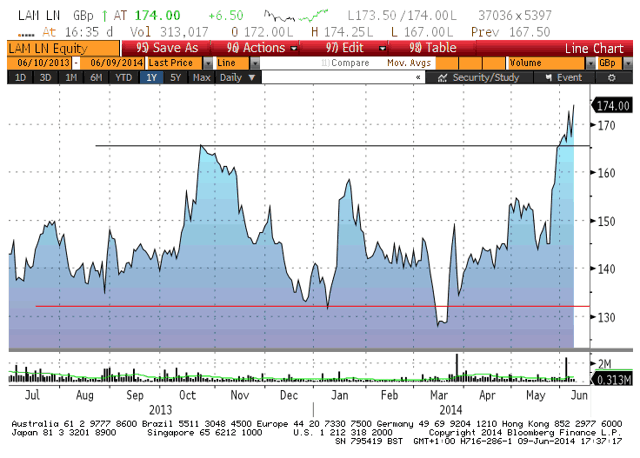 Wood Group (OTCPK:WDGJF; UK code WG.L): is an international energy services company providing services and products to the oil, gas and power industries. This is also showing signs of breaking out from an important resistance level, now at 804p. Still only at 13.3x forecast P/E and 9x EV/EBITDA, which seems eminently reasonable for this high-quality company.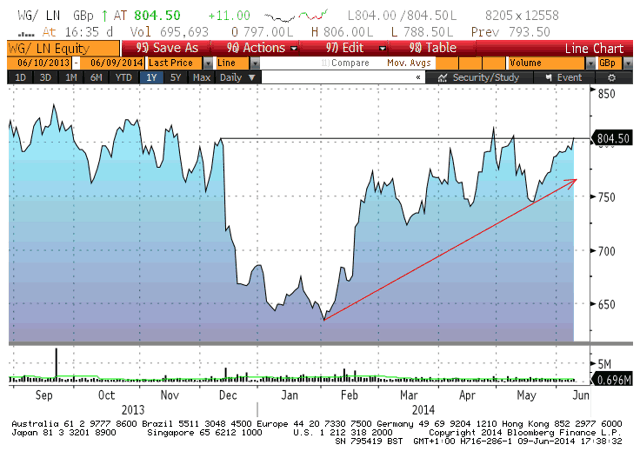 AMEC (OTC:AMCBF; UK code AMEC.L): provides consulting, engineering and project management services to the energy, power and process industries. Trades on 14x forecast P/E and offers a decent 3.6% dividend yield too. AMEC has just broken to a new multi-year high of 1262p - and remember, new highs tend to be followed by further price gains, so don't let this fact put you off investing!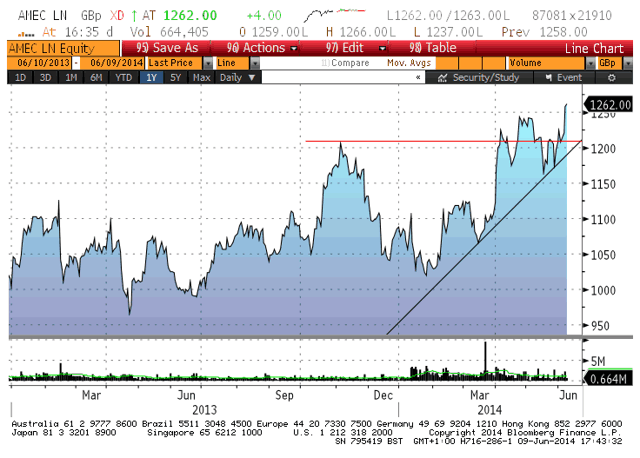 These European-listed oil service stocks are all global in terms of business reach, and so will benefit from the ongoing boom in US shale oil & gas production, not to mention burgeoning oil & gas exploration and production in the Middle East, Gulf of Mexico and European shale too.
Disclosure: I have no positions in any stocks mentioned, and no plans to initiate any positions within the next 72 hours. I wrote this article myself, and it expresses my own opinions. I am not receiving compensation for it. I have no business relationship with any company whose stock is mentioned in this article.
Editor's Note: This article discusses one or more securities that do not trade on a major U.S. exchange. Please be aware of the risks associated with these stocks.