Another winning week for stocks - the third in a row, though this one definitely pushed the limits. While there's an off chance the market could continue higher now that the tide of economic news has tipped in favor of the bulls, the calendar as well as some big technical resistance suggests at least a short trip lower is needed before we can continue the bullish march. Where will the landing be? We've got an idea below.
Economic Calendar
It was a busy week on the economic front, and on a net basis, a positive one. Though not without a couple of dings, we heard more good news than bad news.
Take unemployment claims for instance. Though not yet to multi-month lows, the 4.48 million ongoing claims as well as the 450K new unemployment claims were both at the very low end of the recent range. And, improvements on the employment front bled - slightly onto the retail sales front; consumer spending was up 0.4% with cars, and up 0.6% without autos.
It wasn't just better employment news though - the nation's factories are still pretty busy too. Though not the expected 75%, capacity utilization was up from 74.6% t to 74.7%. Industrial production rose 0.2%, just shy of the forecasted 0.3% increase.
The most noteworthy news, however, was Wednesday's producer inflation rate, and Thursday's consumer inflation rate. Remember the deflation chatter from a few weeks ago? We said it then and we'll repeat it now... beware of charter. In fact, the louder the chatter and more certainty there is behind it, the less likely it is to come to fruition. We've yet to see anything close to deflation. As of last month, the consumer inflation rate is 1.15%. Producer inflation is up 3.1% on a twelve-month basis.
Economic Calendar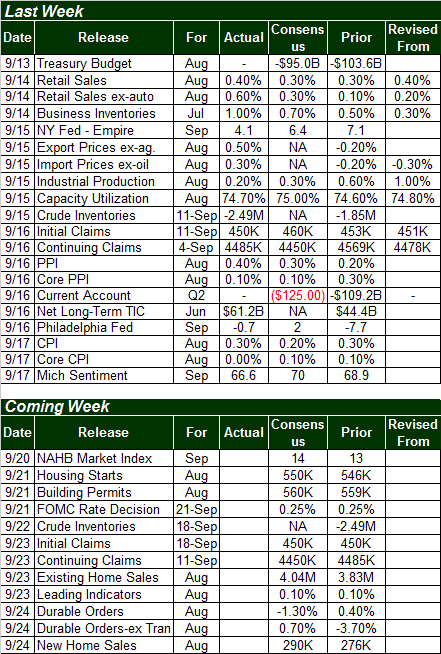 As for the coming week, it's a big one for the construction industry. Tuesday's housing starts and building permits are expected to be flat. The same goes for Thursday's new and ongoing unemployment claims - flat.
The end of the week, however, should cast a little optimism on the construction front. Thursday's existing homes sales are anticipated to move up from 3.83 million to 4.04 million. On Friday, new homes sales should have pushed off last month's multi-year low annual rate of 276K to 290K.
S&P 500 Index
Want to know the most alarming part about Friday's trading? It wasn't the fact that the SPX stalled right at a known resistance level of 1130 (though that is alarming). It was the fact that we saw an inordinate amount of volume, yet practically no progress.
Yes, Citigroup (NYSE:C) was a big reason.... tons of volume. It wasn't just Citigroup though - a bunch of stocks saw volume surges. You could even blame expiration day for the volume spike. Still, the kind of volume we saw on Friday was well beyond something we could just chalk up to one of those two reasons.
The implication is transition.... lots of activity, but just as much selling as buying (hence the doji bar and minimal progress on the same day). Given that we saw it happen the third time the key resistance line was hit is just too much of a coincidence to overlook.
The other troubling red flag lies in the fact that the VIX still hasn't broken under the floor at 21.50. A couple of days is understandable - a couple of weeks (which it's been) is a problem.
If the S&P 500 has indeed left it hanging here a little too long, and has set up a dip as a result, a move under the 200-day moving average line at 1116 will mark the beginning of it. Likewise, a move above 1130 may rekindle the uptrend, though that move would be very tough to sustain from this already-overbought level.
click to enlarge
NASDAQ Composite
Not a lot to add about the NASDAQ. It's also hitting a big resistance level at 2324, where it peaked in June, and pretty much where it peaked in July. Like the other indices, volume was through the roof on Friday, indicating the same likely pivot... to the downside.
To the composite's credit, the VXN did slide under its prior floor of 22.90, but really hasn't pushed significantly under that level. In fact, it's stayed well within range of just sliding back above it at any time.
One thing we didn't mention for the S&P 500 that we can mention here (it applies to all the indices at this point in time) is where the NASDAQ's pending pullback may stop. It's a little less precise, but all of the key moving averages are starting to converge. They'll probably all melt together around 2236, sooner than later. So, let's not jump to any wild bearish conclusions unless the 20 and 50-day moving averages actually buckle as support.
And just so you know, the S&P 500's mess of moving averages is/will be at 1100.
Sector Performance
There was one clear winner last week.... a sector that has otherwise been a serious laggard most of the year - technology. With as much ground as there is to make up here, coupled with the surprisingly-strong reports we got from some major tech names, that's an emerging trend to believe in.
On the flipside, utilities have lagged again. Last week's weakness wasn't a problem, but to see it two weeks in a row now suggests there's more to it. Whether the sector continues to lag or s revived again will have a great deal to do with whether or not the overall market weakness here (see above). A weak market will likely push investors back into a safer haven like utilities.
Industry Performance
Just for good measure, a look at last week's industry performance. The office electronics group and computers group led the tech sector higher, while the three biggest losers all came from the construction group (walking lower, hand in hand). Both are trends that have some longevity in front of them, not to mention some momentum behind them.
The most compelling arena, however, is the strong rebound from the education stocks. The group was unduly punished a few weeks ago, but is on a fast road to recovery.
Industry Rank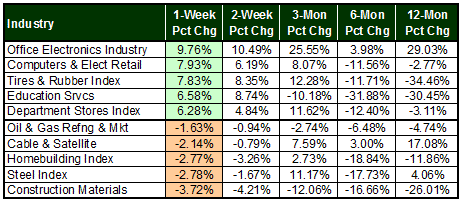 Disclosure: No positions.