On June 5, Apple (NASDAQ:AAPL) patent no. 20140152632 was revealed.
Intro: What Are Light Sensors?
If you have an iPhone, pick it up and face it towards a bright light source. If you look closely, you should see a dark blue shape.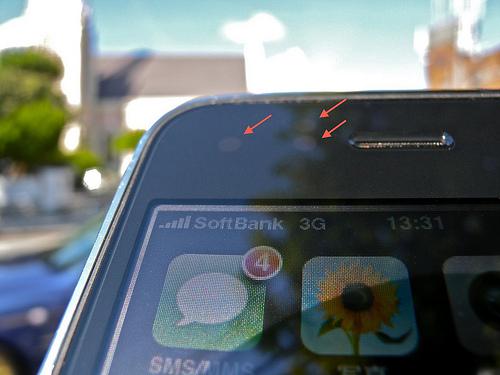 These are the ambient light sensors (the two on the right are the proximity sensors and the one on the left is the light sensor). There are actually three different kinds of sensors: one to sense the intensity of light, one to sense the wavelength (RGB sensor), and one to sense infrared light, which is used by the proximity sensor (it emits infrared light, and when an object is close enough, it senses the infrared light that bounces back from this object). If you own a MacBook, it has an ambient light sensor as well: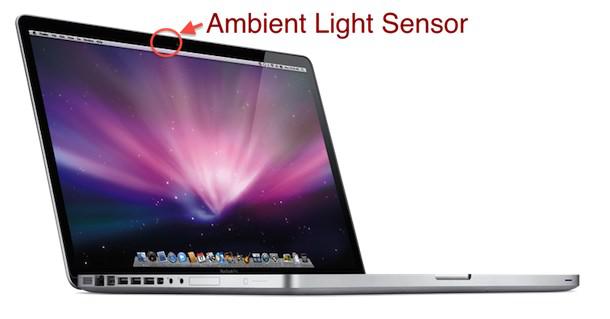 The ambient light sensor enables your electronic device to adjust its screen brightness in response to the amount of light that falls on the screen.
The RGB (red, green, blue) light sensor is used to further improve the way your screen's white balance is adjusted in response to different light environments.
Bezel-free
Why would you even want to change the current, chip-based light sensor solution? The answer is bezel-free screens. Moving these sensors to be embedded in the screen itself will enable Apple (and other manufacturers) to offer bigger screens by reducing the height of the bezel.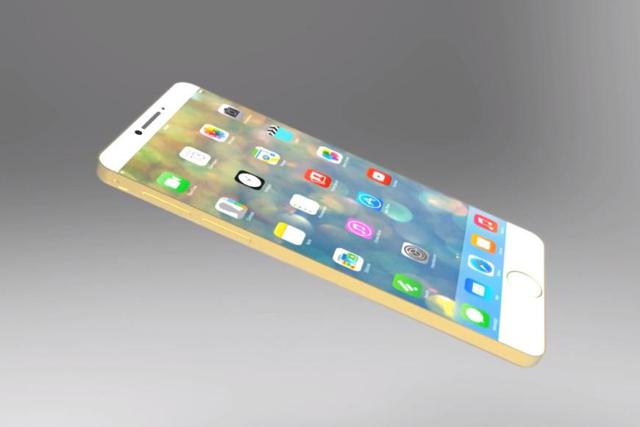 Apparently, that reason was enough to send Apple engineers to research alternatives for light sensors, which could be built into the screen itself. On December 4, 2012, Apple filed a patent called: "Solar Cell Ambient Light Sensors for Electronic Devices."
Solar Cells as Light Sensors
The beauty of solar cells is that they sense light and can be configured to sense different wavelengths.
When a solar cell receives an input (photons), it outputs electrical current. By measuring that current, Apple says it can figure out the light intensity that falls on the solar cell/screen.
Solar cells could be configured to sense other wavelengths and thus output not only the intensity of the light it is receiving, but also the wavelength of the light.

Different wavelengths in the visible spectrum mean different colors. But solar cells can be configured to respond to wavelengths outside of the visible spectrum. That means the solar cells could sense infrared, ultraviolet, and more.
The patent talks about embedding those solar cells light sensors in many various electronic devices: smartphones, wristwatches, tablets, laptops, TVs, pendant devices (?), headphone/earpiece devices, and more.
I believe this is an elegant solution that gets Apple one step closer to a bezel-free iPhone, as well as bezel-free future devices. Each device will need a very small cell to act as a sensor, and even if Apple uses several cells, each configured to sense a different wavelength, this solution won't be very expensive to manufacture. As you read these lines, a solar cell is selling for about 37 cents per watt.
Of course, as the patent abstract says, the voltage created by the cells, which won't be sampled to create light sensor data, could be used to charge up the battery.
The Meaning for the Solar Industry
First of all, let me say this is not a game changer in respect to solar demand. Don't expect to see immediate GW-scale demand for solar cells coming from the light sensors in consumer electronics. Although it is very hard to quantify the amount of MW Apple might need to use in its products, I think it is safe to expect a few hundreds of MW.
In the past 12 months, Apple shipped about 265 million units (Macs, iPhones, iPads, and iPods). If each device will consume 1 watt of solar cells, Apple will need 265 MW of solar cells. Of course, this is just a thought as it is way too early to estimate the size of solar cells needed in each device.
In its patent, Apple mentioned a thin-film solar cell. The only company that really has the scale to supply Apple with enough thin-film cells is First Solar (NASDAQ:FSLR).
First Solar currently operates 28 manufacturing lines, each capable of producing about 2,500 modules per day. That equates to about 25.55M modules per year, which according to First Solar reports is 2.2 GW of annual production capacity.
First Solar operates 4 production lines in its Ohio facility, and 24 lines in its Malaysian facility. Assuming all lines are about the same size, First Solar's U.S. capacity is about 315 MW, or just under 15% of total capacity, and its Malaysia capacity is 1,885 MW. That said, thin-film solar cells are just the raw material for these light sensors.
As of yet, it is unclear who will design and configure these light-sensing solar cells, as it clearly will have to be a customized solution, very different from the current configuration of solar cells that are coming out of current production lines.
Conclusion
Although this new application for solar cells does not change the global demand picture much for now, I think it is a great example of Apple's innovation and shows that consumer electronics could one day represent a decent part of total global demand for solar, not just for the obvious application of generating electricity.
Disclosure: I have no positions in any stocks mentioned, and no plans to initiate any positions within the next 72 hours. I wrote this article myself, and it expresses my own opinions. I am not receiving compensation for it. I have no business relationship with any company whose stock is mentioned in this article.