All the pieces are in place for a significant top to form and a potentially devastating reversal to begin. To wit, stocks have spiked up over major resistance at 1,131 on the S&P 500 just as the RSI nears an overbought reading.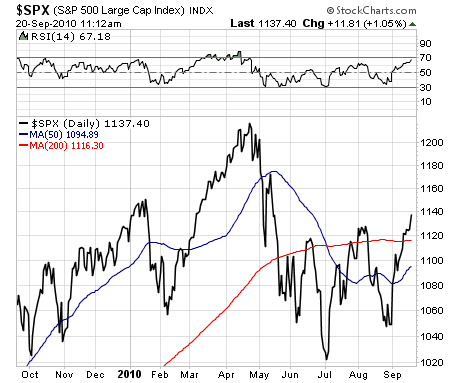 Meanwhile investor sentiment has swung by to wildly bullish with the Daily Sentiment Index showing 83% of investors bullish on the S&P 500 while the AAII survey shows 50% of investors bullish and only 24% bearish. We also have corporate insiders dumping shares as fast as possible to cash out of the market.
With most of the rally of the last few weeks coming from short-covering and Fed pumps (more on this in a second), the ball is now officially in the bulls' court if this is going to prove to be the start of something bigger. So far volume has failed to confirm the rally. Indeed, the volume of these last few weeks has been the weakest of the year.
However, there is one issue, actually three issues which could result in the market holding up… those three issues are the Fed's three POMO dates for this week: Monday, Wednesday, and Friday.
As I write this, the Fed has just closed its first POMO of the week, a record $5 billion. Stocks, as one would expect, have exploded higher as the Fed Primary Dealers find themselves with $5 billion in new capital with which to leverage up and gun the market higher.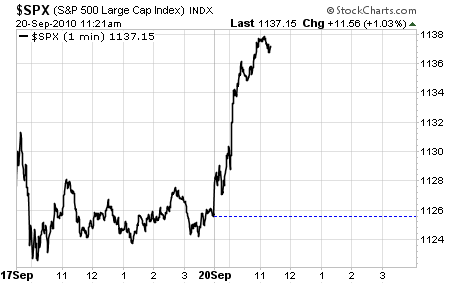 This charade continues several times a week into the November election, as the Fed desperately tries to keep stocks afloat. It might just work seeing as the Primary Dealers essentially ARE the Fed and obey the Fed's "stocks must go up to reflect a strong economy" thesis.
On that note, the NBER has just announced that the recession officially ended in June 2009. I'm sure the 40 million Americans on Food stamps and the 17% of the work force that is unemployed or underemployed will be thrilled to hear this.
Of course, this marks the first time in over 100 years that a recession "ended" without GDP besting its previous peak. Seeing as the NBER got the whole term wrong to begin with (we're in a DE-pression, not a RE-cession), I'm not putting much faith in their claims. After all, the US GDP number has enough holes in it to drive a truck through and is constantly being revised lower after the fact.
Regardless, investors are getting bullish, economic data is worsening, the election looms, and the Fed is pumping the market for all it's worth. If the bulls decide to take us to absolute Looney Tune Land like they did from Feb-April '10, then the next lines of resistance are around 1,152 and 1,166. Support, should stocks roll over, is at 1,130, 1,120, and 1,110. These are the key lines to watch.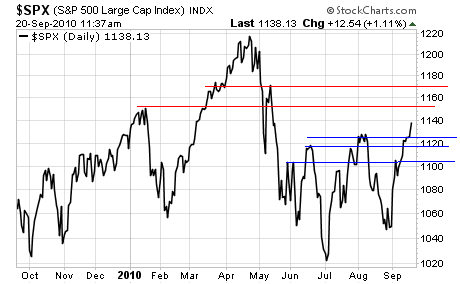 Personally, I think we're going to see a final spike (which is likely already occurring) before stocks roll over and give way to a sharp reversal. This rally has done all it needed to in terms of converting investors back into bulls. And you must remember that tops are formed with good news, not bad news.
It's clear the underlying fundamentals of the US economy are worsening. Europe is now a domino game with Ireland toppling after Greece and other countries soon to follow. Investors are fleeing the stock market, having pulled some $50+ billion funds over the last 19 weeks straight. And even investing legends are closing up shop (Druckenmiller to name one).
In plain terms, this environment is ripe for a massive reversal, something to catch everyone off guard and kick off a reality check for the market. I think it could start this week.
Disclosure: None