Good leadership by CEO Doug Suttles
Since controlling the steering of Encana (NYSE:ECA) in June, 2013, CEO Doug Suttles has taken massive restructuring and strategic decisions for the benefit of the struggling company. The decision to cut massive workforce, dividend reduction, more focus on selling off natural gas assets has started reaping profits for the company, as observed in its first- quarter earnings for 2014. Since Suttles announced the new strategy in November 2013, Encana has added $4.75 billion to its market capitalization.
Encana has removed around 20% of its workforce, consolidated offices in Calgary and Denver while closed its Texas branch. Overall the company has cut 800 jobs this year. The company took this step to refocus its capital investment on six profitable oil and liquid-rich resource areas in North America (Texas Eagle Ford, the Alberta Duvernay, the British Colombia Montney, the Colorado DJ Basin, the New Mexico San Juan Basin and Tuscaloosa Marine Shale) instead of operating in 30 different places.
Encana, which has maintained a quarterly dividend of $0.20 since 2009, slashed its dividend by 65% (now $0.07) to preserve cash.
Sharp focus on liquid-rich asset
First thing which comes in our mind is - Why there is a shift from Natural gas to oil-rich natural gas liquids?
According to Economist Edward- The industry standard for natural gas and oil, on an equivalent basis, is about 6,000 cubic feet of natural gas equals one barrel of crude oil. The price of 1,000 cubic feet of natural gas currently is about $4.80. Therefore, the price of 6,000 cubic feet (6 x $4.80) is $28.80. The price of oil, which has been rising significantly over the past year, is just above $99 per barrel. Hence, it is easy to understand that there is a straight incentive for oil and natural gas liquids over natural gas.
Encana's continued focus on its liquid-rich core assets is proving beneficial for the company. During the first-quarter earnings for 2014, Encana's oil and liquids production achieve a strong average production of 67,900 barrels per day, or bpd up by 56.1% year over year. It was also supported by a significant improvement in output from the resource plays of the USA and Canadian divisions. Moreover, to meet its projected 30% growth in liquid production this year, the company has divested some of its natural gas asset in Wyoming's Jonah field for $1.8 billion and some in Leon and Robertson counties of East Texas for $530 million.
Strong growth opportunity with DJ Basin
Encana's DJ Basin is one of the core liquid-rich assets that will help the company meet its long-term target of generating 75% of its 2017 upstream operating cash flow from liquids. This basin is centered in eastern Colorado in the U.S. and extending into Wyoming and Nebraska. Currently, the DJ Basin has more than 20,000 producing oil and gas wells. This Basin is expected to produce around 4.6 billion barrels of oil equivalent, including other natural gas liquids. Encana holds around 49,000 net acres in this area and has a 50% working interest in it. As estimated, the company can achieve higher liquid and condensate production of around 70% from this asset. The company primarily focuses on Niobrara, Codell and J sand geologic formation in this play for its oil and gas production. Among these three formations, Niobrara formation is one of the most organic-rich shale plays and promising for daily production.
The Niobrara, which sprawls across Wyoming, Nebraska, Kansas, and Colorado, is producing more than 300,000 barrels per day of liquids. According to Energy Information Administration's Drilling Productivity Report for October 2013- Niobrara will reach 400,000 barrels per day of oil production by 2015. Instead of vertical drilling, almost all the wells in Niobrara site are horizontal ones. Drilling cost for each vertical well is $500,000 to $1 million or even more. Drilling cost for horizontal wells is $4 million to $5 million a pad site. However, horizontal drilling allows multiple wells to be drilled from the same pad, thus making the drilling more cost-effective.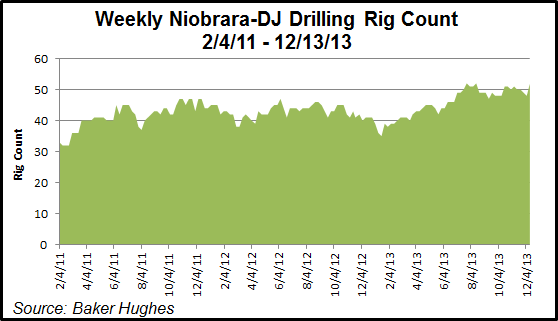 Looking at the promising growth opportunity in this basin, Encana has decided to invest between $250 and $300 million this year. With the investment Encana expects to produce oil and field condensate of around 8,000 bpd to 8,500 bpd this year. Apart from that this formation, the company is also expected to produce natural gas liquid of around 4,200 bpd to 4,600 bpd and around 40 million cubic feet per day, or mmcfpd to 50 mmcfpd of natural gas during the same period. While looking at the potential, the company will divert its projected investment toward drilling new wells in this area. It has total well inventory of around 700, in which Encana will drill around 40 to 50 wells this year. The company has already added a sixth rig in this basin during the first-quarter and is evaluating feasibility of maintaining six rigs for the rest of the year.
Drilling a higher number of wells will help the company to increase its total liquid production and enable it to realize higher margins this year. The DJ basin well performance continues to exceed Encana's expectations with current 30-day initial production rates in the range of 330 barrels per day. Accordingly, each of these DJ Basin wells will have ultimate recovery of about 325,000 to 425,000 barrels of oil equivalent, which should ensure a long-term stable production rate for Encana. The company will continue with the cost-effective hydraulic fracturing process in this play. The hydraulic frac process uses slick water completion fluids and Zipper frac techniques. Slick water increases the flow of the fluid used inside the well during drilling, improving the future production rate in the wells, and the Zipper frac technique allows the company to fracture two wells simultaneously. Using this zipper frac technique, Encana reduced the total drilling days from 13 to nearly 8, which in turn enabled the company to maintain a lower well completion cost of around $340,000 per 1,000 feet on an average lateral length of 6,800 feet.
Selling natural gas assets will support liquid production growth
While Encana is poised for increasing liquid production, the company is concentrating on selling its non-core natural gas assets to reduce its exposure in dry gas and strengthen its focus on liquid-rich assets. The company through its wholly owned subsidiaries has reached an agreement with TPG capital to sell some of its natural gas properties in the Jonah field in Wyoming. This divestment is expected to unlock value from this mature high-quality asset and will help the company to focus on its core liquid and oil-rich growth assets. The company's Jonah field in Wyoming has developed producing areas of around 24,000 acres. Along with this developed acreage, this sale also includes 100,000 undeveloped acres. Last year, Encana achieved a total production rate of around 323 mmcfpd of natural gas in this field, representing 12% of the company's total natural gas production last year.
As per the agreement, Encana will receive around $1.8 billion upon closure of this deal, which is expected in the second half of this year. Encana is expected to reduce its long-term debt obligation of $6.12 billion (at the end of first-quarter of 2014) with these proceeds along with its strong cash and cash equivalents base of around $2.6 billion. Apart from reducing its debt level, it could also use the remaining funds in future liquid-centric growth projects, which in turn will strengthen its operating cash flow.
Apart from this, Encana also made a $3.1 billion acquisition of Eagle Ford Properties. The deal will enhance Encana's oil and liquids production weight to 18% in 2014 and 25% in 2016, while increasing the number of the company's oil and liquids plays to six.
Healthy Balance sheet
Encana ended the first- quarter with about $2.2 billion in cash and cash equivalents on its balance sheet. The company paid $768 million of its May 2014 $1 billion debt maturity, pursuant to a consent tender and have since redeemed the remaining balance. The company is aiming to generate free cash flow of $300 million in excess of its capital expenditures for fiscal year 2014 and expected dividend payments too.
Conclusion
Encana looks very promising under the strong leadership of CEO Suttles. Encana's strong movement toward liquid-rich core assets will provide better opportunities while shedding low-value natural gas non-core assets. Encana's DJ Basin play could ramp up liquid production with advance drilling techniques and help it to meet its projection of generating 75% of 2017 upstream operating cash flow from liquid production. Taking all these factors into consideration, I recommend going long on this stock and expect better returns down the road.
Disclosure: I have no positions in any stocks mentioned, and no plans to initiate any positions within the next 72 hours. I wrote this article myself, and it expresses my own opinions. I am not receiving compensation for it (other than from Seeking Alpha). I have no business relationship with any company whose stock is mentioned in this article.