Permabears are always on the prowl for "evidence" the economy is slowing down and will soon drag the market down with it. Desperate to have the stock market train pull back into the station it left over five years ago, their latest claim is that strength in Long Term Treasury Bonds is motivated by a weak economy and capital's search for a safe haven.
On its face, the argument appears to make some sense. As shown by the iShares 20+ Year Treasury Bond ETF (NYSEARCA:TLT), treasuries are up about 9% this year.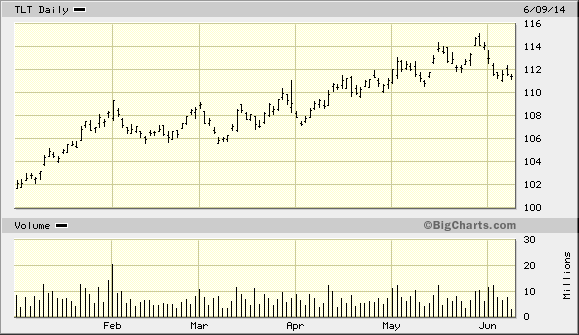 Source: bigcharts.com
But that is not the whole story. If the economy is in fact slowing down meaningfully, the price of utility stocks, whose high dividend makes them interest rate sensitive but whose anchor to the economy makes them sensitive to growth prospects, would not be performing as well as bonds.
After all: bond payments are guaranteed; utility dividends (and prospects for their growth) are most certainly not. If the market sniffs a recession---heck, the ECRI has been forecasting one for two years, it ought to be here by now!---utilities should be laggards relative to safe treasury bonds. What does Mr. Market say?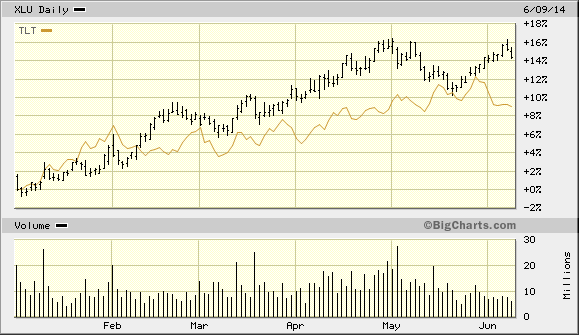 The contrast is stark. Utilities have outperformed their TBond brethren for months. Brief swoons in January and early May were quickly resolved. I expect the XLU's outperformance to exceed the eight percentage points we saw in April. Damn the torpedoes, full recovery ahead.
Bulls can hope another piece of the picture falls into place soon. Given growth fears, Consumer Discretionary stocks measured by the eponymous SPDR ETF (NYSEARCA:XLY), have underperformed bonds and the broad market by a wide margin.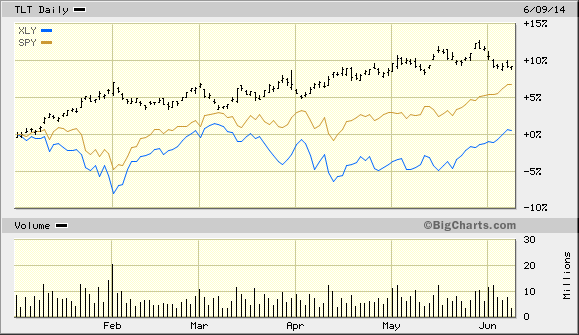 It would be a nice confirmation of the bull market thesis for this situation to reverse itself soon: for discretionary stocks to catch their mojo relative to these other indexes. If this occurs we can be sure the most recent breakout in major averages will have solid staying power.
Disclosure: I am long XLK, XLE, IHI. I wrote this article myself, and it expresses my own opinions. I am not receiving compensation for it (other than from Seeking Alpha). I have no business relationship with any company whose stock is mentioned in this article.
Additional disclosure: I am short gold thru DGZ, the inverse gold ETF.