Propane and not natural gas or electricity might be the alternative vehicle fuel of choice in the near future.
The use of propane as a vehicle fuel is growing faster than natural gas, Phil Horlock, the CEO of school bus builder Blue Bird, told Reuters. Blue Bird has teamed up with a company called Roush Clean Tech to promote propane-burning diesel engines as an alternative power source for school buses. In the school bus market, propane has some distinct advantages over natural gas.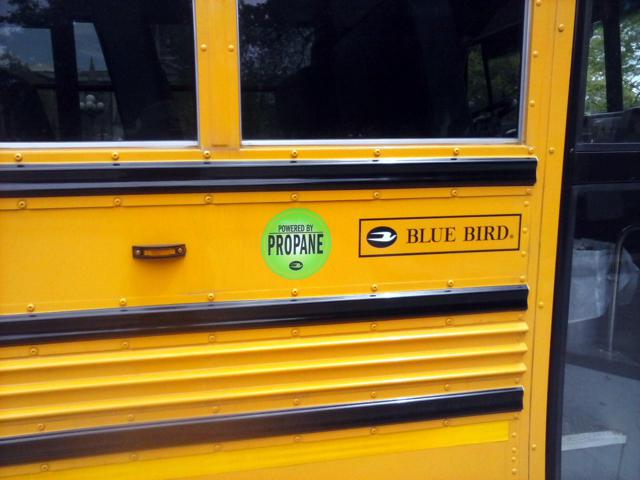 Click to enlarge
Like natural gas, propane is a low emission fuel that is cheaper than diesel fuel. Reuters reported that propane currently costs around $2.43 a gallon, while diesel fuel costs around $3.74. That makes propane very attractive to fleet operators such as Cleveland's Municipal School District.
The district chose propane rather than natural gas to power its school buses even though natural gas costs $1.80 a gallon, Reuters reported. The schools went with propane because switching to natural gas would have required the construction of a $1 million natural gas filling station.
By buying propane-burning buses, the district can reduce its fuel costs by around 35% without adding expensive infrastructure. Propane burning buses can be refilled directly from a tank or a tanker truck. Propane infrastructure is cheaper because no special venting is needed for the gas - natural gas requires special safety precautions.
Roush Clean Tech expects to sell 6,500 propane burning engines this year, according to Reuters. The company sold 4,000 such engines last year.
Already a Commonly Used Fuel
Filling stations for propane powered vehicles are also fairly common. A quick search by a website called AltFuelPrices.com turned up 16 propane filling stations in the Denver area. A similar search for CNG filling stations turned up around 13 such stations in the same region.
More importantly, Altfuelprices.com indicates that propane fueling stations are available in many small towns, such as Fairplay and Limon, Colorado. It is possible to refuel a propane-powered truck in rural areas but impossible to fill a CNG vehicle's tank outside of metropolitan areas.
That makes propane an ideal alternative fuel for America's 500,000 school buses. Propane has another advantage in the school bus market: it can be utilized in rural areas where there are no natural gas lines. Those communities already have propane dealers, many of which are Ferrellgas Partners (NYSE: FGP) franchisees.
A Company Position to Profit from Propane Burning Vehicles
Ferrellgas already operates dealerships in all 50 states and serves nearly one million customers. The company already has experience in providing propane for fleet vehicles. Ferrellgas supplies fuel for 5,500 propane-powered delivery trucks operated by frozen food supplier Schwan's.
In addition to school buses and delivery trucks, Ferrellgas' propane fuel solution, Autogas, can also be used in landscaping equipment, such as lawn mowers and blowers.
This possibility makes Ferrellgas an interesting alternative energy play. Unlike some of the other firms marketing alternative vehicle fuels, Ferrellgas actually posts fairly stable revenue figures. The company posted a TTM revenue figure of $2.238 billion in January 2014, up from $1.993 billion in January 2013.
The company's revenues were up because of a cold winter and rising propane prices over the winter. Propane prices rose by 37% in January, according to InvestmentU writer David Fessler. The price went up because of the increased demand for propane as a heating fuel and the shutdown of a key pipeline.
Ferrellgas does have some risks associated with it. The company reported a quarterly free cash flow figure of -$45.36 million on January 31, 2014, and a dismal TTM Return on Equity ratio of -64.48%. So this stock is definitely not for the faint of heart. Like other alternative energy plays, it comes with some big risks.
Propane Supply Might Not Support Vehicle Market
The biggest potential obstacle on the road to a propane-powered future is the unstable supply of the gas. Unlike natural gas, propane is vulnerable to serious shortages and price fluctuations.
The propane supply is more unstable than gasoline, diesel fuel, or natural gas because the U.S. government does not maintain strategic reserves of the gas, Fessler noted. That leads to shortages because the supply is more limited.
Currently, there are only two large propane storage facilities in the U.S., which means propane shortages are more likely. Such shortages and the price fluctuations can lead to nasty sticker shock at the propane pump. Propane prices jumped to $4.71 a gallon at one facility in Kansas during the January propane shortages.
Such price increases will make it difficult to sell propane as a vehicle fuel. The supply will have to become more stable to convince fleet operators to buy it.
The growing market for propane as a vehicle fuel provides Ferrellgas with an intriguing opportunity and some interesting challenges, the biggest of which will be convincing customers that propane prices will not suddenly double.
Disclosure: I have no positions in any stocks mentioned, and no plans to initiate any positions within the next 72 hours. I wrote this article myself, and it expresses my own opinions. I am not receiving compensation for it (other than from Seeking Alpha). I have no business relationship with any company whose stock is mentioned in this article.