The oil and gas industry plays a major role in the economic growth of Alaska. The industry paid 47% of the taxes and royalties as a percentage of total state revenues in fiscal year 2013. It is a major contributor to the growth of the state in terms of taxes, royalties paid and jobs created.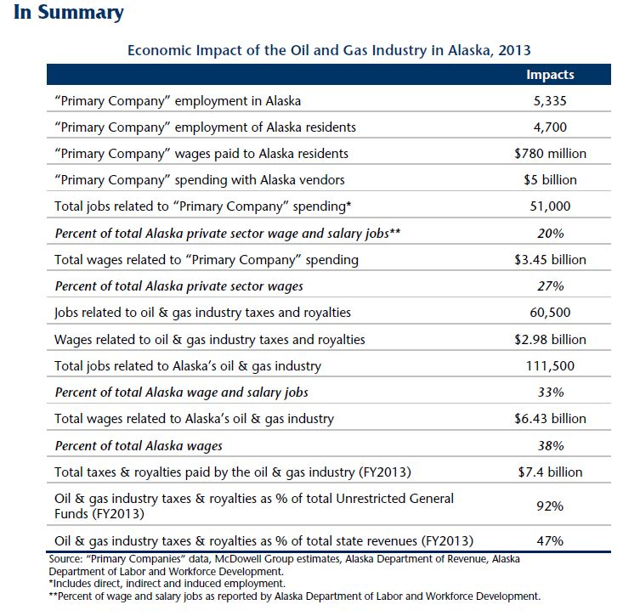 Click to enlarge
Source: AOGA
To achieve higher growth, Alaska needs to produce more crude oil from its existing and new wells. However, the production of crude oil in the state has been declining since 1988, due to low new production and declining yields from existing wells.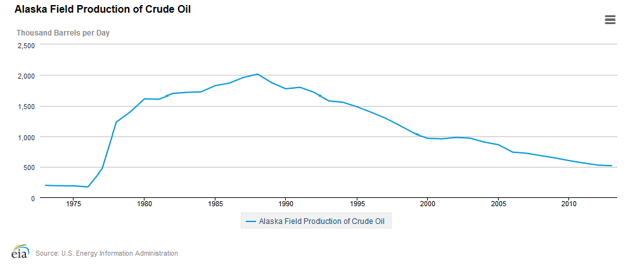 Click to enlarge
The decline in production is due more to low new production rather than to decreases from proved reserves. There are smaller reserves rather than super-giant reserves that no state has in the United States. However, these reserves need additional investment to increase production and the economic growth of Alaska.
To make the state revenues from the oil and gas industry more stable and to spur more new crude oil production, Sean Parnell's "More Alaska Production Act" become law on May 21, 2013. The new reform encourages major companies operating in Alaska to increase their new and existing production.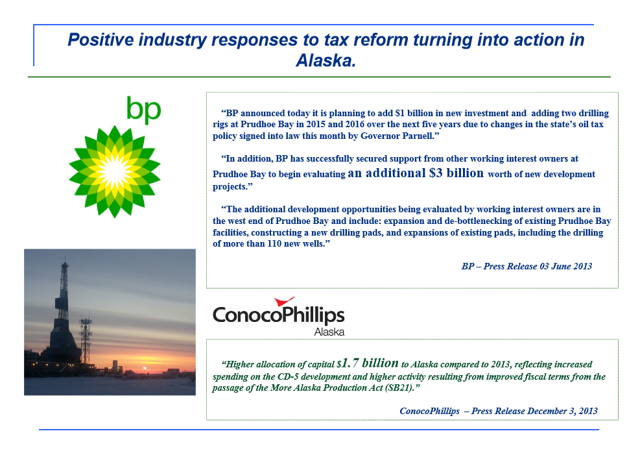 Click to enlarge
Source: Department of Revenue Alaska
In addition to the new investment referenced above, there are expectations that $10 billion in additional investments will be made for North Slope production over the next 10 years. The new investments will create more jobs and faster economic growth. However, this may not be able to meet all the requirements of the state, such as more state revenue.
The Alaska Department of Revenue said in estimates [pdf] released Wednesday that the state took in $6.3 billion in petroleum revenue in fiscal 2013. Next year, the state will take in $4.3 billion from petroleum production, an amount that falls to $3.9 billion in fiscal 2015.
Source: Washington Post
The decline in forecast revenue to the state would definitely be a damper on the economy, but the growth in new production has the potential to more than compensate for it. It will take some time to be reflected in the state revenue because the initiatives to increase production are still underway. In addition, if the oil prices increase in the future, it will also boost the revenue.
However, it appears overall that Alaska will see better growth in the future than what it is witnessing right now. To cash in on this opportunity, I have selected one bank that serves approximately 75% of the Alaska population.
Northrim BanCorp, Inc. (NASDAQ:NRIM) is a bank holding company that is the third largest commercial bank in Alaska, with $1.0 billion in total deposits and $1.2 billion in total assets as of December 31, 2013.
The company's business strategy is highly focused on providing commercial lending products and services to businesses and professional individuals through relationship banking. Additionally, a major portion of the bank's lending activities is related to commercial real estate projects.
The company posted diluted earnings per share of $0.40 for 1Q2014 compared to diluted earnings per share of $0.41 for 1Q2013. The decline in EPS was due to a decrease in other operating income and an increase in other operating expense, primarily expenses related to the acquisition of Alaska Pacific.
Asset quality is one of the key characteristics of a bank, which explains how well the operations of the bank are managed. Higher nonperforming assets represents low asset quality; generally nonperforming assets below 1% of total assets is considered as having good asset quality. At the end of March 31, 2014, total nonperforming assets were at 0.37% of total assets.
An interesting point is the favorable NRIM stock valuation. With the diluted EPS of $1.87 for 2013, the stock recently has a 13.38 ratio of price to earnings, 1.12 times book value and a forward price to earnings ratio of 11.12. One broker following the stock has a strong buy rating with a target price of $28; the stock is currently trading at $25.20 when last checked. Northrim's board of directors declared a regular cash dividend of $0.17 per share to be paid on June 13, 2014.
Although the oil tax reform should help the state to see increased economic growth in the future, there are risks to investing in this growth story. The "More Alaska Production Act" is subject to a referendum set for the August 2014 ballot. If the voters vote against the Act, then the entire growth scenario might be undermined. However, there is a chance that the companies who proposed the investment plans might continue making their investments and associated operations if the situation favors them, like with higher oil prices.
Disclosure: I have no positions in any stocks mentioned, and no plans to initiate any positions within the next 72 hours. I wrote this article myself, and it expresses my own opinions. I am not receiving compensation for it. I have no business relationship with any company whose stock is mentioned in this article.