MobileIron, Inc. (NASDAQ:MOBL), provider of a mobile IT platform, designed to secure and manage mobile apps, content and devices, plans to raise $100.0 million in its upcoming IPO.
The Mountain View, California firm will offer 11.1 million shares at an expected price range of $8-$10 per share. If the IPO can reach the midpoint of that range at $9 per share, MOBL will command a market value of $763 million.
MOBL filed on April 7, 2014.
Lead Underwriters: Barclays Capital Inc.; Deutsche Bank Securities Inc.; Goldman, Sachs & Co.; Morgan Stanley & Co. LLC
Underwriters: Nomura Securities International, Inc.; Raymond James and Associates, Inc.; Stifel Nicolaus & Company, Incorporated
Business Overview
MOBL is the creator of a mobile IT platform designed to allow enterprises to manage and secure mobile applications, content and devices, as well as provide employees with privacy and device options.
The platform is intended to assist companies moving towards the use of mobile computing as their primary computing platform. The platform addresses corporate IT needs, such as mobile security, supporting multiple mobile operating systems, defining mobile compliance and management policies, and allowing compatibility with firms' existing IT systems.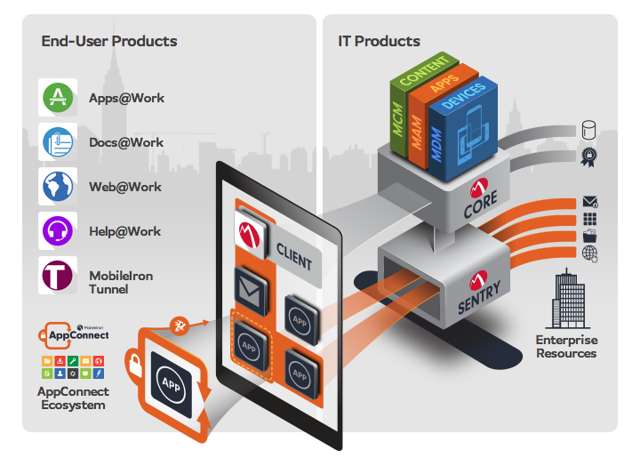 (Overview of MOBL products found at: www.mobileiron.com/en/products/overview)
MOBL has sold its platform to more than 6,000 customers since 2009; the firm attempts to expand its sales to existing customers by upselling new products and renewing subscriptions.
MOBL's renewal rate for 2013 was over 90% for subscription renewals and software support agreements on a device basis.
Valuation
MOBL offers the following figures in its S-1 balance sheet for the three months ended March 31, 2014:
Revenue: $28,213,000.00
Net Loss: ($13,962,000.00)
Total Assets: $102,991,000.00
Total Liabilities: $60,788,000.00
Stockholders' Equity: ($120,050,000.00)
MOBL's revenues have expanded rapidly over the past several years; the firm posted total revenues of $13.9 million in 2011, $40.9 million in 2012, and $105.6 million in 2013.
However, the firm has also incurred significant losses over the same periods, posting net losses of $25.7 million in 2011, $46.5 million in 2012, and $32.5 million in 2013.
Competition With Large Firms
MOBL faces competition from other firms developing solutions for mobile-oriented computing. Many of the firm's traditional competitors have been incorporated into much larger firms; Zenprise, AirWatch, and Fiberlink were acquired by Citrix Systems (NASDAQ:CTXS), VMware (NYSE:VMW), and IBM (NYSE:IBM), respectively. These much larger firms have access to far greater technical and financial resources than MOBL, and also benefit from established relationships and name recognition.
Impressive (And Highly Compensated) Management
President and CEO Robert Tinker has served in his current positions and as a member of the board of directors since 2008.
Mr. Tinker previously served as Director of Marketing and Business Development at Cisco Systems, Inc. and as Vice President of Business Development at Airespace, Inc. He also worked as Director of Marketing and Business Development at Vertical Networks, Inc. and as Vice President of Information Technology and Operations at NationsBank Corporation.
He received a B.S. in Systems Engineering from the University of Virginia and an M.B.A. from Stanford University.
Despite the firm's heavy losses, MOBL has chosen to reward some of its executives with very generous compensation packages. In 2013, Senior Vice President of Sales John Donnelly received total compensation of $1.46 million, while CFO Todd Ford received total compensation of $2.57 million.
Conclusion: Not Yet A Buy
We are neutral on this IPO.
Though MOBL's business should benefit from increasing corporate interest in mobile-based computing, the firm is also losing money, and its overcompensation of its executives at this early stage bespeaks questionable priorities.
The firm also competes with a potent roster of established tech firms, and will face an uphill battle in trying to push its products past heavyweights like IBM and Citrix.
A further source of concern is MOBL's struggling cloud-oriented version of its platform, which has soaked up resources but has failed to attract customers.
The current less-than-favorable environment for tech stocks could be another negative factor for this IPO.
We suggest investors hold off on MOBL at present.
Disclosure: The author has no positions in any stocks mentioned, but may initiate a long position in MOBL over the next 72 hours. The author wrote this article themselves, and it expresses their own opinions. The author is not receiving compensation for it (other than from Seeking Alpha). The author has no business relationship with any company whose stock is mentioned in this article.