When you think about it what is the biggest concern for a company like Best Buy? The fact that retail is getting more and more competitive, or the online vendors with their cost advantage lowering prices? When it comes to competition let's say that companies competing in the same business with similar business models can be compared but the current situation with brick and mortar vs. online goes beyond simple advantage. Online retail is like a new improved breed that the old model cannot match. In order to compete with online peers a company like Best Buy starts lowering prices but with its higher fixed costs only goes to diminish the margins.
Online sellers have a distinct advantage especially for consumer electronics, basically any person looking for a new tablet, laptop… can easily go to a store like Best Buy check the product get all the information and advice and then order it online for a lower price. It really make no difference, you're going to receive the same thing cheaper, so as far as that goes I don't think there's anything innovative that can be done to deal with this issue direct but on the other hand I don't think it's reasonable to expect that people can just shop online without the showroom of the brick and mortar retailers, that leads me to believe that there will be an equilibrium point reached in order for both models to survive.
So the natural path of free markets and competition is to reach a balance where you can get the highest quality for a reasonable price, a development like this seems only natural that a lot of the sales are moving online with lower operating costs. There seems to be a lot of confusion especially when you see the price of a company like this move more than 200% on optimism just to fall back almost 50% after failing expectations. Keeping in mind that nothing intrinsically changed regarding the business model aside from the cost cuts that can have a limited benefit.
DCF analysis
Starting with the assumption that brick and mortar will survive and hold a position in the retail industry of the future, then addressing the current issues of declining revenue and contracting margins I will incorporate this effect in a DCF model to try and predict the path of development before the company goes into a stable state. So supposing the company goes through a phase of cost cuts as it started and the effect of lower capex and decreasing working capital increases free cash flow for the short term, but keep in mind that these are only short-term boosts and the long-term operating performance will contribute more to determine the value. And the fact that the company has more than 3B in cash and marketable securities definitely strengthen its position.
2014

2013

2012

2011

2010

Changes in Working Capital

(671)

(432)

713

(1.363)

(247)

Capital Expenditures

(547)

(705)

(766)

(744)

(615)
Source: Reuters
-Operating income for the starting year is set about 15% lower than actual reported for the previous year.
-Revenue is set at a negative growth rate for the next 4 years then gradually increasing to reach stable growth, these assumptions are intended to simulate the transition through a difficult period before stabilizing.

Click to enlarge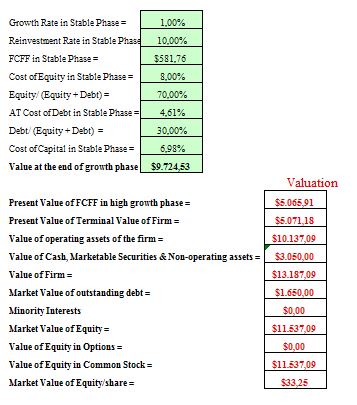 This represents a lot of guesswork but still it makes more sense to at least try and put some numbers on it in order to value the company and get to the price of the stock.
Looking at the most recent developments in revenue trends we can see the effects of these pressing issues. For the first quarter of 2014, revenues declined 3.3% at $9.0 Billion compared to the same quarter last year while earnings managed to increase from $0.32 to $0.33 thanks to cost cuts, additionally same-store sales declined by 1.3% as projected.
Increasing the bottom line earnings represents a positive sign as management puts an effort to improve the efficiency but still that doesn't deal with the real problem of the inefficient business model.
Margins have been declining for years now as can be seen in the chart below, mixed with weaker sales makes it easy to develop a negative outlook.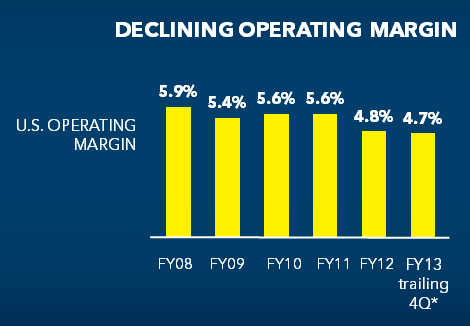 Source: Company site
Recent developments
Best Buy developed a strategy called Renew Blue for dealing with declining sales by improving the advice, service and convenience for shoppers but the question remains, is this sustainable and do you get the return on your investment, meaning your investing in something that currently seems and most probably will not be able to create value at least not direct, by improving the service what makes you believe that more people will actually purchase the product instead of just ordering online. Since Q4 FY14 earnings release, Renew Blue annualized cost reductions have increased an additional $95 million bringing the total Renew Blue annualized cost reductions to $860 million ($645 million in SG&A expenses and $215 million in cost of goods sold).
Additionally, developing the ship-from-shops policy intended to increasing online availability and cutting down on shipping times as retail outlets will be used as distribution centers, other initiatives include store-within-a-store spaces for top electronics makers.
Last quarter, Best Buy's online sales jumped 29% after the company rolled out its ship-from-shops policy in all 1,400 stores for the first time, the number of full time employees has been declining as part of the cost cutting initiative - chart below. Based on these developments it looks to me like Best Buy is trying to copy or at least mimic the model of the online retailer.
2014

2013

2012

2011

Full-Time Employees

140.000

165.000

167.000

180.000
Source: Reuters
Conclusion
Based on the assumptions in the model the stock at the current price looks undervalued by some 10%+.
I wouldn't be surprised to see it move higher above that level as things stabilize, any positive developments could easily drive the price higher from the present position of prevailing pessimism, personally I would wait for a pullback closer to $25 to buy.
One possible development I would anticipate in the future to equalize the market could be a levy imposed in the form of a tax for online purchases in order to protect the vast workforce employed in brick and mortar retail, this is a far-fetched idea but it might be possible.
Disclosure: I have no positions in any stocks mentioned, but may initiate a long position in BBY over the next 72 hours. I wrote this article myself, and it expresses my own opinions. I am not receiving compensation for it (other than from Seeking Alpha). I have no business relationship with any company whose stock is mentioned in this article.