September has been a good month for stocks thus far as both small caps and large caps have posted positive gains. Month to date, the S&P 600 Small Cap Index is up 3.8 percent and the S&P 500 is up 4.2 percent.
As I said time and time again this summer, I expect the market to move sideways as businesses, investors, and policymakers attempt to decipher the mixed messages coming from around the globe. And it has, continually bumping up against resistance and retreating to support. Since April 1, both large and small cap stocks are neck and neck - down around 4.5 percent.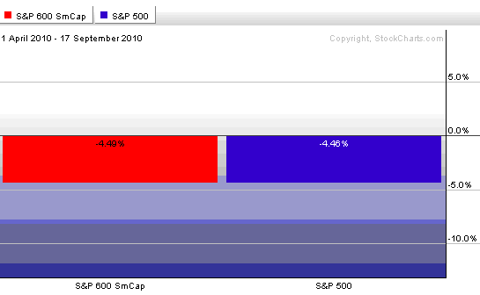 But we've seen pockets of strong performance - including technology and precious metals - and investors who waded into these sectors have most likely been able to capitalize on low volume trading weeks to add strong positions to their portfolio.
***I want to briefly discuss where stocks are relative to where they've been over the last five years to put today's market in perspective. The chart below shows the S&P 500 (in blue) and the S&P 600 Small Cap Index (in red) over a five year time horizon. Both show support lines established in the summer of 2006 and in 2008 continue to function as resistance for small caps and large caps alike.
For the S&P 600 we're up against resistance right now around 350, and similarly the S&P 500 has had a hard time breaking (and staying) above the 1350 area.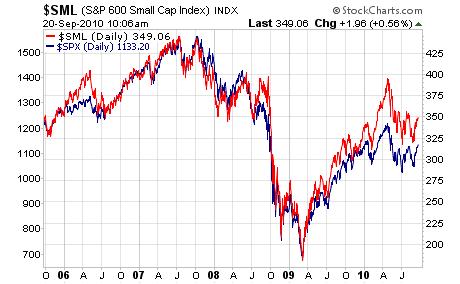 You can also see from the chart above and the performance chart below that both small caps and large caps have hardly returned any profits over the last five years.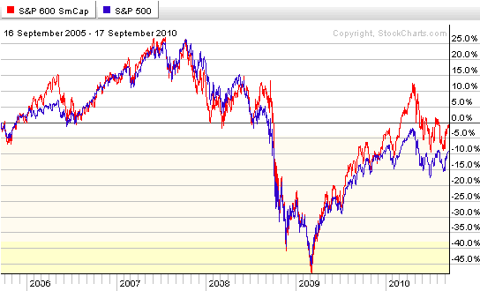 The takeaway message from these charts is: now is not the time to get greedy. It's easy to let your guard down and pile into highly speculative, fast trading stocks when the market is rallying as it did coming off the March 2009 lows.
But we are in a period of market consolidation now as the economy works through significant challenges. Accordingly, we need to maintain a cautiously optimistic perspective and stay in stocks that will continue to perform whether the economy grows, stagnates, or contracts.
Of course, if stocks push above the resistance lines I've just discussed, they might just stay there. In either scenario, small cap investors should continue to pursue high growth companies in strong industries like technology, energy and precious metals. In other words - don't adjust you strategy based on the day-to-day noise in the market. Look for strong industries, invest accordingly, and only change your plan if you have a fundamental shift in your investing thesis.
***For the more adventurous, this week may provide some momentum for a deeply hated sector - housing. Some may wonder how I can suggest investing in strong sectors in one paragraph, then say to keep an eye on housing related investments in the next.

My answer is simple - housing is a major drag on the economy. Part of why stocks are flat over the last 10 years is because of deflation in the housing sector. But if you believe that stocks will be higher in one year, you almost have to assume that the housing market will begin to recover. And if it does, you want to have at least a little exposure.
Sometimes the risk of investing in a hated sector is far lower than piling into an overheated one. Of course, it will depend on your time horizon. But when something is deplored, hated, and being sold at a deep discount, there are bargains to be had.

The headline today is that homebuilder's confidence is at an 18-month low for the second straight month. This is terrible news if you're a contractor - or if you were heavily invested in housing stocks a year ago. But if you are neither, you may want to start looking for bargains. Especially since fall and winter is typically a weak time of the year for homebuilding.
Hated, deplored, beaten down, and entering a slow season. Sounds like a shopping opportunity to me.


***Keep an eye out for housing data to be released this week. The Department of Commerce releases housing starts and building permit data for the month of August tomorrow, and existing home sales are released by the National Association of Realtors on Thursday. The housing data week wraps up with new home sales data released by the Department of Commerce on Friday.
I've got a few ideas on how to invest in this hated sector. But before I open up the discussion, I want to hear what you have to say.