It has been a long time since potash/fertilizer stocks had any momentum and probably just as long since investors had good reason to be bullish on the sector as a whole. With M&A picking up and many viewing the most recent economic news as bullish and paving the way for further growth both domestically as well as internationally. If the general sentiment is correct and global markets do improve over the next 6-18 months, especially in the developing countries, then we could see prices for potash start to rise once again.
Chart of the Day:
The crumbling of the Eastern European cartel had a bigger impact upon some of the members of Canpotex than others but with the potash market still functioning and not having been flooded we think that now might be a good long-term entry point.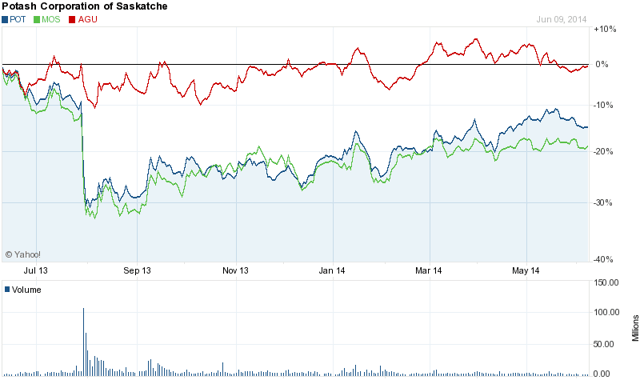 Source: Yahoo Finance
Commodity prices are as follows (at time of submission):
Gold: $1,260.60/ounce, up by $6.70/ounce
Silver: $19.18/ounce, up by $0.114/ounce
Oil: $104.17/barrel, down by $0.24/barrel
RBOB Gas: $2.962/gallon, down by $0.0228/gallon
Natural Gas: $4.575/MMbtu, down by $0.07/MMbtu
Copper: $3.0505/pound, up by $0.007/pound
Platinum: $1,482.70/ounce, up by $28.40/ounce
The Potash Market
Investors have not been able to buy the entire sector and be successful in recent years, but at different times one could have success by riding the momentum in Potash Corporation of Saskatchewan (NYSE:POT), Mosaic (NYSE:MOS) or Agrium (NYSE:AGU). The only way to have had success playing the entire sector would have been to be short, a trade that has not been a winner since the blow out over the break-up of the rival potash cartel from Eastern Europe.
Each company has their own issues right now but each also offers investors unique opportunities within the sector. Although we think that the sector as a whole is a buy and that investors might want to diversify among the names, we recognize that some might want to play the giant pure-play with excess capacity (Potash Corp. of Saskatchewan), the US-based player often rumored as a takeover target (Mosaic) and the diversified producer which also has other farm offerings through its retail operations (Agrium).
Another reason we like these names right now is because we think that there is yield protection with Potash Corp. of Saskatchewan yielding 3.90%, Mosaic offering 2.00% and Agrium sporting a 3.30% yield.
Fertilizer Plays
Investors might also want to take a look at the fertilizer names focusing on nitrogen and phosphates, namely CF Industries (NYSE:CF) and Terra Nitrogen Company, LP (NYSE:TNH). Both sport a dividend, with CF Industries yielding 1.60% and Terra Nitrogen offering a rich 8.80% due to its being a partnership entity.
Lately it has been tough to be a unit holder in Terra Nitrogen, but if the market turns we could see the value of the partnership increase quickly as their distributable cash flow increases.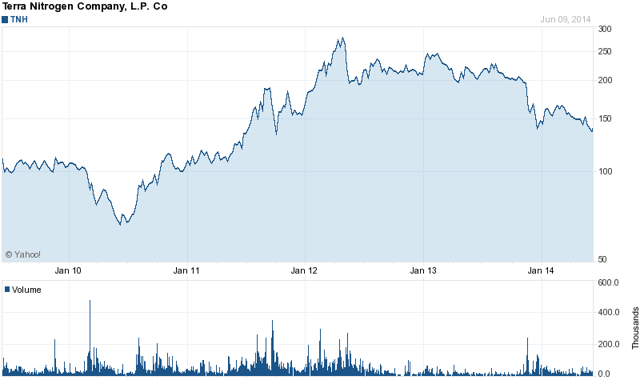 Source: Yahoo Finance
With natural gas prices and other inputs remaining relatively cheap these US-based producers have a leg up on their international counterparts. We would point out that if investors are trying to play a rise in prices of fertilizers, and also think that natural gas prices remain stable, then Terra Nitrogen might be the most appealing play as their cash flows and distributions would grow and potentially provide investors with more immediate returns.
Disclosure: The author has no positions in any stocks mentioned, and no plans to initiate any positions within the next 72 hours. The author wrote this article themselves, and it expresses their own opinions. The author is not receiving compensation for it (other than from Seeking Alpha). The author has no business relationship with any company whose stock is mentioned in this article.