Costco (NASDAQ:COST) continues to deliver positive news to its shareholders by beating analysts' estimates. Costco reported its May 2014 sales results of a 6% increase compared to the consensus estimates of 4.6%. This is the third month in a row that Costco has outperformed in an industry that is being hurt by high fuel prices, slow economic recovery, and increased competition by both small retail chains and online shopping. Costco has been able to leverage its brand name and global reach to integrate and benefit from the issues that have stumped competitors.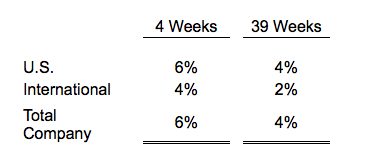 Source: Costco Comparable Sales for four and thirty-nine week periods.
Costco's share price of $117 is comprised of four key divisions, which help drive revenue and bottom line profits. Its U.S. and International Core Merchandise makes up over 60% of the company's revenue. For the four-week period in May, the company reported net sales of $8.78 billion, an 8% increase from the same period in 2013. A key driver was inflation in gasoline prices that Costco gas stations provide to its members. Costco sold 3.8 billion gallons of gasoline products during the fiscal year 2013, generating $11.2 billion in sales.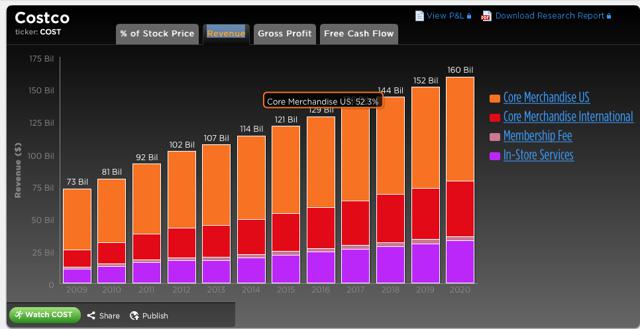 Source: Trefis Costco Revenue Outlook
Costco, the world's fourth largest retailer, has 74.6 million members, covering 40.9 million households, generating over $2.5 billion in cash fees. New membership growth in 2014 has continued, as sign ups increased 1% with the addition of 1.2 million cardholders. Memberships are broken down into two basic categories, Regular and Executive. Executive Members are a key driver in Costco's ability to keep outpacing expectations. Executive Members pay an annual $110 membership fee, versus the $55 paid to be a regular member. Executive Members make up one-third of Costco's customer base, but generate two-thirds of the company's revenue. UBS increased Costco's price target to $124, citing membership growth, as analyst Mike Dean explains;
Costco had its price target upped to $124 at UBS, due to the company's increased core membership growth. The new PT suggests the company's stock price will increase by 9%.
What are Costco members paying a premium to buy? Members have a strong demand for wine as Costco had $1.4 billion in wine sales for 2013. The more interesting statistic here is that fine wine made up 56% of total wine sales, meaning consumers are going to Costco to meet the high-end demand for quality wine. Costco is able to hold its own against small specialty wine stores because of its strategy to provide high-end product, even at the cost of lower margins.
Another driving factor for Costco's ability to be a leader in the industry is its ability to adapt to e-commerce. Amazon (NASDAQ:AMZN) is one company that is continuing to sell more bulk items, which directly competes with Costco and the Big Box Retail Industry. Though Costco's website only accounts for 2.5% of sales, the retailer's e-commerce revenue has continued to rise, with 20% and 15% growth in Q2 and Q3 respectively. The reason for double-digit growth is its strategy, which is to increase product categories but not cannibalize its retail stores sales. Over 80% of the products offered on Costco's website are different from the in-store inventory. Secondly, Costco is in the process of expanding its e-commerce into large markets like Japan, Australia and South Korea due to its recent ability to improve its shipping strategy. The company's ability to expand and increase online sales without destruction of its in-store sales exemplifies a strong ability for long-term growth.
Costco is hovering around its all-time high, but for good reason, as it shows its strength in an uncertain market condition. Its strategy to provide higher end products with its normal bulk selling retail sales will continue to supply the never-ending global demand for discounted prices for families and businesses.
Disclosure: The author has no positions in any stocks mentioned, and no plans to initiate any positions within the next 72 hours. The author wrote this article themselves, and it expresses their own opinions. The author is not receiving compensation for it (other than from Seeking Alpha). The author has no business relationship with any company whose stock is mentioned in this article.