By Robert Weinstein
Background: Rite Aid Corporation (NYSE:RAD), through its subsidiaries, operates retail drugstores in the United States. Rite Aid Corporation was founded in 1927 and is headquartered in Camp Hill, Pennsylvania. The company's shares are liquid and trade an average of 27.6 million shares per day.
52-Week Range: $2.62 to $8.62
Book Value: $-2.18
Rite Aid is forecast to record lower first-quarter earnings before the market opens on June 19, 2014.
The consensus estimate is currently 5 cents a share, a drop of 4 cents (44.4%) from 9 cents during the equivalent quarter last year. Last week, the company issued an earnings warning, sending shares sharply lower. Rite Aid dropped guidance from 8 cents down to only 4 cents.
After expanding its generic drug distribution contract with McKesson (NYSE:MCK), along with the company's overall rise from the dead, the market expected more.
Even with a 25% upside beat at 5 cents, don't expect as much upside compared to Walgreen (WAG) or CVS Caremark (NYSE:CVS) announcing a 25% beat. Estimates from analysts range from a low of 4 cents per share, up to the highest estimate of 9 cents per share.
Considering Rite Aid's pre-announcement timing, a blowout quarter is off the table. The press release did give shareholders a reason to hope. Rite Aid cited slow migration towards higher profit generic drugs as the primary headwind. To me, that indicates the growth strategy is working, albeit slower than anticipated.
The majority of analysts believe Rite Aid continues to offer a buying opportunity. Seven of the nine analysts covering the company give a buy recommendation. Some (2) are taking a more cautious approach, and rate it a hold. As of the last update I have, none of the analysts is recommending selling.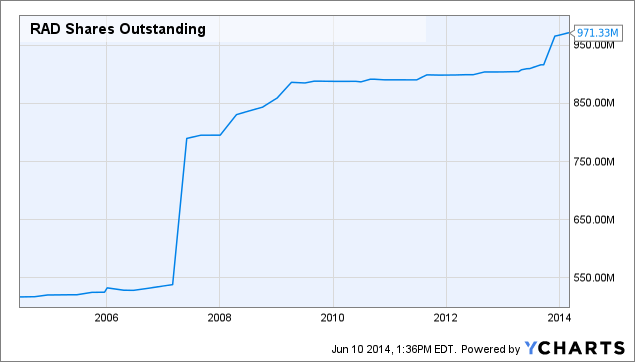 I like to look at call and put option pricing to get an idea of what the market is expecting. The higher the premium, the more investors are bracing for a major price move. From a percentage basis, investors are expecting a significant move from the report, despite Rite Aid's preliminary announcement.
Option premium tells us that the market is pricing in a 15%, or about $1.13 move in the next 45 days.
That means, as a shareholder or potential investor, you should anticipate the stock to trade as low as $6.25, or jump higher to $8.51, and still remain within one standard deviation, if you're not already prepared for such a wide move (and there's no guarantee it won't move beyond the expected range).
Last earnings release falls within this report's expected range also, although just barely. After the company reported in April, the stock jumped over 12% to close about 78 cents above the previous close at $7.39.
From a technical analysis view, the monthly, weekly, and daily charts remain in a bullish trend based on the price trading above the 200-period moving average in each case. The weekly chart is especially bullish with the faster moving averages solidly in an upward trend.
Walgreen, CVS Caremark, and Wal-Mart (NYSE:WMT) report after Rite Aid, so they won't give much help in gauging the market. Walgreen reports five days after Rite Aid though, and if you're a Walgreen shareholder, read over Rite Aid's numbers to provide clues on what you should expect.
Walgreen has soared during the past year, and any signs of disappointment in guidance, market share, or margins will quickly push the frothy shares lower.
Short interest above 4% is not enough to sound the alarms, but above 5%, it places renewed hesitation in allocating capital in the company. Short sellers are among the brightest and most informed market participants, and if they turn sour on a company, it is likely for a valid reason.
If the short interest ascends above 5%, you may want to scrutinize changes within the space. Otherwise, the prevailing 4.6% of the float short is not a major concern. In fact, it's been mostly stable during the past 12 months.
As I stated earlier, the option premium is rich, and I would sell covered calls into earnings if I owned shares, because I don't think much of a surprise (to the upside) is in the cards this quarter.
Disclosure: The author has no positions in any stocks mentioned, and no plans to initiate any positions within the next 72 hours. The author wrote this article themselves, and it expresses their own opinions. The author is not receiving compensation for it (other than from Seeking Alpha). The author has no business relationship with any company whose stock is mentioned in this article.