Sometimes good merchandise just gets marked up too much. Similar to other retail products, equity prices move up and down due to supply and demand. As buyers bid up a ticker, there is a point when the stock price becomes misaligned with the underlying business. Unfortunately for investors, no bell rings at the top. We are tasked with deciding when a stock has reached fair value, and what to do when it does.
In this 3-part series, I share my views as to why I believe Union Pacific Corporation (NYSE:UNP), General Mills (NYSE:GIS), and Intel Corp (NASDAQ:INTC) remain outstanding franchises, but the common stocks are too rich.
Identifying a Great Company Versus Evaluating Its Stock
At its core, fundamental investing entails 2 separate and distinct processes: understanding the business of a corporation, and valuing its stock.
Understanding and identifying great businesses involves screening and considerable research. In my estimation, companies that exhibit the following are reasonably investment candidates:
Straightforward business model
Strong management
Sound balance sheet and associated returns
Profits are generated in cash
Own an excellent franchise
Shareholder-friendly
Once an investor has isolated such premier corporations, the process next requires careful stock valuation. While the company may perform admirably, traders may take the stock above fair value; thereby challenging the investor to "pay up" too much, or facing asymmetrical risk-reward.
There are myriad ways to evaluate the fair value of most common stocks. These include Price-to-Earnings, Price-to-Sales, Price-to-Book and Price-to-Cash Flow, to name a few. However, in the preponderance of situations, I have long held the opinion that the best way to value common stocks is to multiply a reasonable estimate of forward operating earnings per share (GAAP earnings less one-time or extraordinary items) with the expected or assigned long-term P/E ratio.
Union Pacific Corporation: A Premier Railroad
Union Pacific operates an integrated Class I freight railroad across the western two-thirds of the United States. The business mix includes agricultural products, automotive, chemicals, energy, industrial products and intermodal. The Union Pacific Railroad Company connects with Canada's rail systems, serves 6 gateways to Mexico, and has access to Asian markets through California rail-to-port interchanges.
Over the past 10 years, experienced management has provided the leadership to enable the company to grow annual operating earnings by 15% per annum. A combination of reliable operations, a good safety record, sound contract negotiations, strong capital deployment and an outstanding franchise have provided the platform for creation of shareholder value. The stock price has out-performed the S&P 500 average for periods ranging between 1 and 15 years.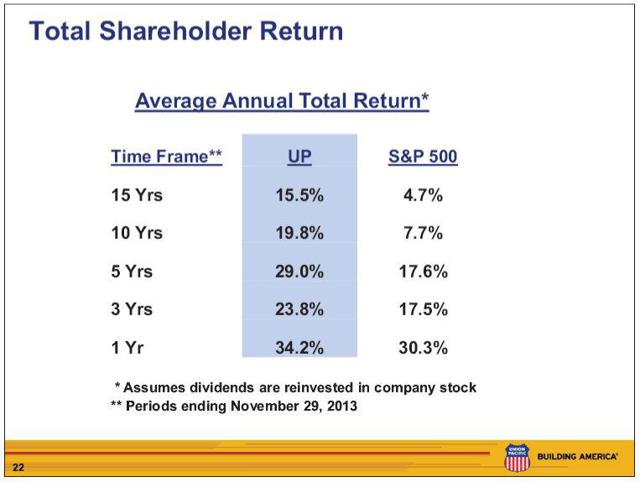 Source: Credit Suisse Global Industrial Conference, December 4, 2013
Return-on-equity and Return-on-Invested Capital have been consistently above absolute targets and U.S. peer averages. This is part-and-parcel to an overall strong balance sheet and superior margins.


Operating cash generation is outstanding. The 2014 first quarter cash conversion ratio was 162%. This means that for every $1.00 of earnings, UNP generated $1.62 of operating cash flow. The 2013 full-year CC ratio was 155%. This is precisely the desired result when seeking companies that generate profits in cash.
Unquestionably, the rails in general and Union Pacific in particular have strong franchises. By this, I mean the company has a strong brand and pricing power. UNP is the preferred mover for major commodities like coal, frack sand, lumber, and chemicals; as well as all manner of industrial products. Indeed, the rails are oligopolies, and by definition have "wide moat" business models that are difficult to duplicate.
Finally, Union Pacific management is shareholder-friendly. This has been demonstrated by the 5-year, 24% annualized dividend growth rate coupled with consistent stock repurchase programs that materially reduce the number of shares outstanding.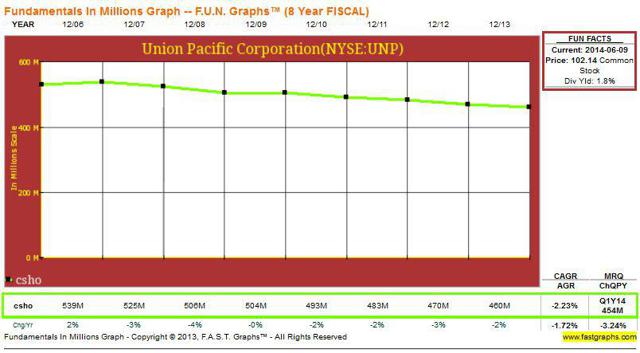 Courtesy of fastgraphs.com
The foregoing brief outlines an outstanding business. Indeed, nearly halfway into 2014, Union Pacific continues to hit on all cylinders. Given these outstanding facts and figures, isn't UNP stock a screaming buy? Perhaps not. For diligent investors, there is another critical piece to the puzzle.
The Stock Looks Above Fair Value?
The valuation exercise, or back end of the investment process, requires considerable diligence. Nonetheless, it's by no means a precise science, nor one that deals in absolutes. Investing is about probabilities; rarely certainties. This does not preclude good investors from making careful judgments about equity prices.
Historically, Union Pacific share prices have tracked operating earnings and P/E closely. Over the past 10 years, operating earnings have risen ~15% a year. The average normalized price-to-earnings multiple is 17.5x. Current 4-year analyst consensus forecasts anticipate the earnings growth rate will continue at the same 15% cadence.
However, notice the ttm P/E is over 20x, thereby stretching the historic price-to-earnings relationship. Since a picture tells a thousand words, please find below a F.A.S.T. graph that outlines the UNP common stock price-and-earnings relationship for the preceding 10 years and projected forward through 2015.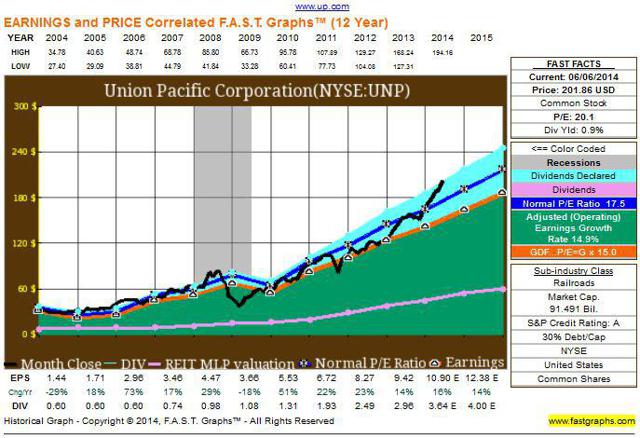 The black line is price. The blue line represents the average normalized 17.5x P/E ratio. Operating earnings are shown as the green shaded area. Dividend growth is illustrated by the aqua shaded area.
What's immediately apparent is that black price line always returns to the blue historic P/E ratio line. What's more, the price has not strayed so far above the price-to-earnings line. This is an indication the shares may be getting ahead of the underlying operation.
A recent post-split closing price was $102 per share. A 17.5x multiple on 2014 estimated earnings yields a $95 stock. The same multiple on projected 2015 earnings suggests a $108 stock. This is only 6% greater than today's price.
Since 2005, the highest high P/E ratio has been 21x, or roughly where is stands today. Over the same period, the average normalized low P/E has been 12.5x.
An exclamation point on the analysis is illustrated via the historic Price/Sales ratio. Note how P/S has taken off in 2014:

Courtesy of fastgraphs.com
The upside versus downside risk just doesn't look favorable. While the Industrial stock sector (where Union Pacific resides) remains robust, it's mitigated by a long, nearly uninterrupted bull market run. Markets, sectors or stocks do not go up forever.
An Actionable Approach
In January this year, I identified Union Pacific stock as a preferred stock holding; a great company aligned with key overarching sector strategies: 2014 Strategies And Aligned Stocks, Part 4: Union Pacific. Year-to-date, the shares have appreciated 21%, plus dividends. The stock split 2-for-1 last week. It's certainly outperformed the indices and sector nicely.
However, now I think it's time to pull in the horns a bit.
Having owned the stock for over 2 years, and having seen a gain greater than 25%, my discipline is to sell about 25% of my original holding. Furthermore, I may write short calls against another chunk of the position at a strike at no less than $110, or greater than my view of the shares' 2015 fair value estimate.
Importantly, since I consider Union Pacific stock a core position, I have no intention to sell the entire position. No, my approach is to take some profits, hedge a bit, continue to monitor the company carefully, and enjoy the growing dividends. If the shares drop back below $95, or my 2014 fair value estimate, I will consider buying back the shares sold.
Please do your own careful due diligence before making any investment. This article is not a recommendation to buy or sell any stock. Good luck with all your 2014 investments.
Disclosure: I am long UNP. I wrote this article myself, and it expresses my own opinions. I am not receiving compensation for it (other than from Seeking Alpha). I have no business relationship with any company whose stock is mentioned in this article.