Earlier this year, Capital One (NYSE:COF) passed ModernGraham's Enterprising Investor requirements. We just published ESG analyses for JPMorgan (NYSE:JPM) and Wells Fargo (NYSE:WFC) on Seeking Alpha, both of which passed ModernGraham's requirements. Now we add an ESG analysis for COF -- to make a trio of ESG analyses for Seeking Alpha readers who follow the financial services sector.
Once a company has passed the ModernGraham financial test for either Defensive or Enterprising Investors, Seeking Alpha readers should feel free to send me a direct request to analyze a specific company. Your requests help me prioritize which companies receive attention.
Environmental, Social & Governance Research. The Sustainability Accounting Standards Board (SASB) designed the graph below. SASB is working on industry-by-industry ESG accounting standards to guide corporate ESG disclosures in filings to the Securities and Exchange Commission (SEC). SASB has recently released a provisional standard for the financial sector and the commercial banking group, which can be downloaded here. The graphic below provides an overview of the universe of ESG issues that might impact a company or industry.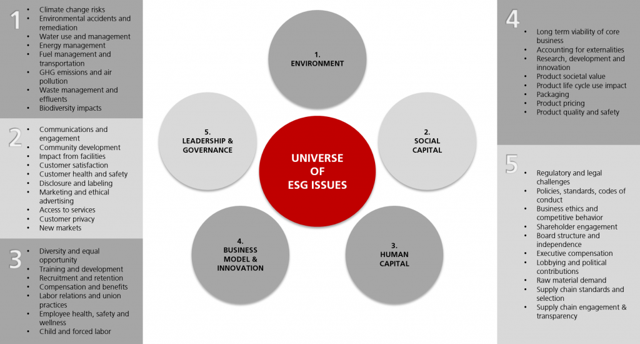 A growing number of investors are examining a public company's ESG performance data to make more informed investment and business decisions. This growth complements Ocean Tomo's primary finding in their Intangible Asset Market Value Study: in 1975, the market value of S&P 500 companies represented about 80% tangible assets and 20% intangible assets. In 2005, that flipped. Now, the market value of the S&P 500 is about 20% tangible assets, and 80% intangible assets. Ocean Tomo also found that a significant portion of the intangible asset value gap is attributable to patents and innovation.
ESG performance disclosures also serve as proxies to address the "value gap" -- by highlighting risks and opportunities related to material environmental, social and governance issues for specific companies and/or industrial sectors.
Analysis of COF's 2013 ESG performance.
The data in Table 1 shows Capital One's 2013 ESG performance data, which the company released earlier this year. ESG Disclosure Scores (Column 2) range between 0 (no disclosure) and 100 (full disclosure). Capital One's ESG disclosure score of 25 is below the group average of 31. The Average ESG performance data shown in Table 1 is a based on Bloomberg's selection of 24 peers for Capital One.

Table 1: A Snapshot of Capital One's 2013 ESG Performance


Source for Table 1: Bloomberg Professional Finance and ESG Platform June 9, 2014
The commercial banking industry group, as a whole, leads other industries in terms of disclosing ESG metrics. This is likely attributable to the banks' desire to rehabilitate their reputation by being more accountable and transparent after the financial crisis. However, in Capital One's case, ESG disclosure scores have been essentially flat since 2007, except for a one-time score increase to 36 in 2011, which evaporated the following year.
Table 2: Capital One's ESG Disclosure Score Trend for the Years 2007 -2012
| | | | | | | |
| --- | --- | --- | --- | --- | --- | --- |
| 2007 | 2008 | 2009 | 2010 | 2011 | 2012 | 2013 |
| 15 | 18 | 21 | 24 | 36 | 25 | 25 |
Source for Table 2: Bloomberg Professional Finance and ESG Platform June 9, 2014
The environmental footprint of a global commercial bank is of value to capital markets because it relates to operational costs. Columns 3, 4 and 5 of Table 1 show Capital One's energy, water and greenhouse gas intensity ratios as a percentage of sales. COF's Energy Intensity, calculated as megawatt hours of energy consumed per million of sales revenue in the company's reporting currency, is well below the group average. This is also true of Capital One's Greenhouse Gas Intensity as a % of Sales.
A good question for Capital One is how did it achieve these low intensity numbers? Was there a deliberate attempt to address operational efficiency throughout the COF enterprise and, if so, what was accomplished? Capital One has not yet disclosed total water usage or its annual financial investment in operational sustainability (Column 6). So another good question for Capital One might be whether it has a budget for operational sustainability?
Capital One's social performance in disclosing key metrics also has disclosure gaps. The company has not disclosed the percentage of women in its workforce or in management. However, Capital One has disclosed that 20% of its directors are women, and 90% of its directors are independent. Lastly, Capital One did not disclose its community investment metric, and the group average for community investment is $81M.
Good follow up questions for Capital One include what are (1) what is Capital One's business strategy to attract the best and brightest employees to its organization, and (2) what role does Capital One have in supporting the communities where it operates?
Finally, SASB issued a provisional ESG accounting standard for the financial sector in February 2014.

Investors should expect further development of ESG disclosures by commercial banks in the near future because of the SASB provisional standard, which identifies these additional material issues for the commercial banking industry group:
Financial inclusion and capacity building

Customer privacy and data security

The legal and regulatory environment

Systemic risk management

Integration of ESG issues into credit risk assessment.
Lesson: Public companies (and the private companies who do business with them) need to recognize that best practices for sustainability disclosures include standard ESG aggregate data like what is presented above. When companies in an industrial sector first disclose sustainability performance, aggregate ESG scores reflect the level of disclosure. Once ESG disclosures are mature for an industry sector, intensity and productivity metrics can be calculated as proxies for operational and management efficiency. Companies that do not disclose ESG data at all risk being eliminated in a competitive situation because of the appearance of risk and lack of transparency and accountability. For a more detailed explanation of ESG data as a game-changer, read this white paper.
Where does this data come from? Since 2009, Bloomberg's Professional equity platform has provided corporate financial and ESG performance data to the capital markets. Corporate ESG data is typically released through annual corporate sustainability reports. Bloomberg Finance dashboards now contain public corporate financial and ESG performance data, and this information is available to subscribers via nearly 400,000 Bloomberg terminals installed in investment and financial institutions throughout the world, including Fortune 500 CFO offices, academic settings, and public libraries. Anyone with access to these terminals has access to the information.

Disclosure: The author does not currently hold a position in Capital One and has no intention of changing that position within the next 72 hours.