Prospect Capital Corporation (NASDAQ:PSEC) is a business development company or "BDC" which invests in other companies. Its investment portfolio is well diversified in a wide range of industries which includes: healthcare, financial services, energy, and manufacturing. This company recently announced an SEC request to consolidate on its balance sheet, any company for which it owns more than 50%. Even though this appears to be much ado about nothing, some lawyers have filed shareholder lawsuits against the company which has put more pressure on the stock in the past few days. This has created a solid buying opportunity. Let's take a closer look at this high-yielding company and the reasons why the pullback is a solid buying opportunity:
First of all, the fact that the company is discussing a possible change by consolidating certain wholly-owned holding companies with the SEC, does not appear to be anything more than some short-term noise. Nonetheless, there are always some investors who will sell a stock anytime the word SEC is mentioned and any uncertainty is often unsettling to certain shareholders. However, this is how contrarian investors find great buying opportunities in undervalued stocks. For example, if you were a contrarian investor you could have bought stocks like Bank of America (NYSE:BAC), or Genworth (NYSE:GNW), for just about $5 per share, when those companies were facing uncertainties. Now those stocks both trade for over $15 per share. I am not expecting Prospect Capital shares to triple in value, but there is potential for strong gains in terms of capital appreciation and investors will be paid a monthly dividend that yields over 13%. This stock is clearly undervalued now, especially as it trades well below book value which is about $10.73 per share.
The potential downside risks from a possible change in balance sheet consolidation seems extremely limited; in fact it could end up being a positive for shareholders. This seems especially true if you take the time to read this press release from Prospect Capital which states:
"As we previously disclosed, Prospect is currently in discussions with the accounting staff at the Securities and Exchange Commission regarding the potential consolidation of certain wholly-owned holding companies that hold majority owned operating companies. The staff is not seeking consolidation of the operating companies underneath these holding companies. If these wholly-owned holding companies were to be consolidated for financial statement purposes, there would be no significant change in the leverage ratio of Prospect because there is no third party debt at any of these holding companies. Because the tax basis of these entities would not change, we expect there would be no negative effects on our taxable income from consolidation. At least 90% of taxable income is required to be distributed to shareholders to maintain our Federal income tax status as a regulated investment company. As a result, we expect no negative change in our dividend paying capacity or change in our dividend policy through consolidation."
Lawyers need to pay their bills and some are willing to file lawsuits first and ask questions later. Between May 29 and June 3, a flurry of new lawsuits have been filed by lawyers suggesting that the company violated securities laws due to the potential changes requested by the SEC. Take one look at the headlines under Yahoo Finance and you can see a number of menacing looking press releases that are sure to concern some investors, especially ones without significant experience. The fact is that most publicly traded companies get these types of lawsuits which are just part of the cost of doing business. In many cases, these suits are either dismissed or settled for pennies on the dollar. These cases are often immaterial to the companies and it frequently amounts to nothing more than a small settlement being paid to the lawyers, and so little going to any shareholders that it is not even worth your time to file a claim. I have received a number of these claim forms in the mail for many companies in the past several years and they go straight into the garbage. Remember, it only costs a couple hundred dollars to file a lawsuit and a couple hundred more to issue a press release stating that you filed a lawsuit. While these might capture the headlines in the short-term, smart investors will use this temporary pullback as a buying opportunity.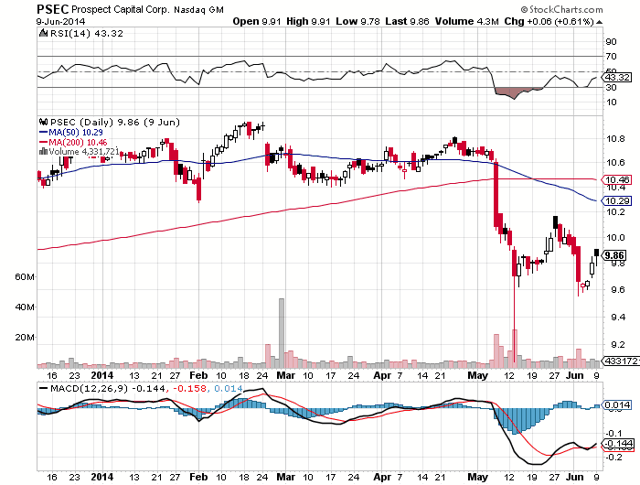 As the chart above shows, this stock was trading around $10.60 per share for much of 2014. However, it then dropped to about $9.60, after the news about the possible change requested by the SEC. It then rebounded to nearly $10.20 per share, and then declined again right after the flurry of lawsuits were filed. I have seen many stocks decline for a few days after shareholder lawsuits are filed as they can scare off weaker and inexperienced investors. However, as mentioned before, these lawsuits often amount to nothing more than a hill of beans in the long run for most companies and that is why the stocks can rebound sooner or later. Buried under the recent headlines about lawsuits, is the fact that on May 29, 2014, analysts at Evercore upgraded the stock due to valuation. That is because this stock is cheap.
Finally, an article from Thestreet.com points out that even if Prospect Capital has to make the changes requested by the SEC, it could lead to a restatement that is actually positive for shareholders. That means this would actually be good news, and further diminish claims in the recently filed lawsuits. The article details comments made by the President and COO of Prospect Capital, Grier Eliasek at an investment conference and he stated:
"Through a restatement, our net income would go up, shareholders will make more money, net income will go up, net asset value will go up, taxable earnings will go up, where we've undistributed in the bank $60 million of excess, that will go up. And we haven't quantified exactly by how much, but it's only positive for shareholders. So while the stock dropped 8% in two weeks, SEC restatement, sell first, ask questions later. The reality is, shareholders got more money in their pockets."
It's worth noting that Prospect Capital has an excellent long-term track record for paying dividends. Another big positive is that it pays a dividend of 11.05 cents per share on a monthly basis. That works out to a yield of about 13.75%. Furthermore, it won't be long to wait for the next dividend, which will be paid out to shareholders on record as of June 30, 2014. Finally, while the short-term noise has taken some of the focus off the longer term outlook and the track record of this company, it has an experienced management team that will likely put these issues to rest fairly soon. This company and its management are well-regarded by many top notch investors. CNBC's Jim Cramer has "blessed" Prospect Capital in the past, due to its management and track record, he stated:
"I always thought it was a well-run outfit. It has that really high
yield, which is a red flag, because a lot of high yielders have been
trimming their yields. It is well run, though, and I'm going to bless
it. I've known them for years."
In conclusion, Prospect Capital shares are significantly undervalued with the stock trading well below book value. The generous dividend will pay investors to patiently wait for a higher share price. The potential downside risks appear limited since the restatement could actually be a positive and the shareholder lawsuits seem to be nothing more than a temporary nuisance. For another book value bargain stock, read this article on a silver stock (trading for less than half of book value) that is priced like an option, but could have major upside due to multiple catalysts.
Here are some key points for Prospect Capital Corporation:
Current share price: $9.68
The 52 week range is $9.17 to $11.62
Earnings estimates for 2014: $1.27 per share
Earnings estimates for 2015: $1.29 per share
Annual dividend: $1.33 per share which yields 13.75%
Data is sourced from Yahoo Finance. No guarantees or representations
are made. Hawkinvest is not a registered investment advisor and does not provide specific investment advice. The information is for
informational purposes only. You should always consult a financial
advisor.
Disclosure: The author is long PSEC. The author wrote this article themselves, and it expresses their own opinions. The author is not receiving compensation for it (other than from Seeking Alpha). The author has no business relationship with any company whose stock is mentioned in this article.