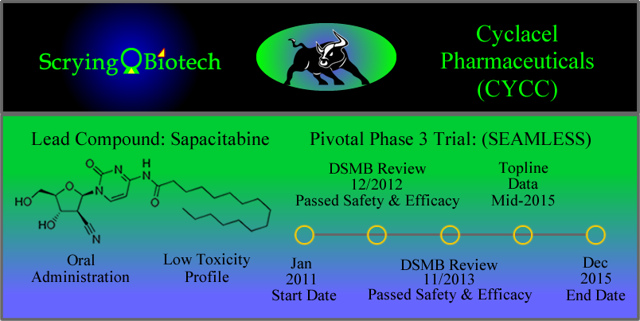 Cyclacel Pharmaceuticals (NASDAQ:CYCC) has turned the corner in its pivotal Phase III oncology trial, and is now heading for home, with topline results due in mid-2015. Enrollment should be completed by the end of this year, with a tripling of the number of active sights as participating centers come online in Europe. What's at stake for Cyclacel shareholders is enormous. The rewards for data sufficient to meet trial endpoints as defined in the Special Protocol Assessment agreement will be measured in multiples of between 4 and 10 times today's price, making Cyclacel one of the best risk/reward investments in the biotechnology sector today.
I've already given you a comprehensive look at Cyclacel after its inexplicable fall from grace in December of last year. This article will focus on the company's proposed 250-patient Phase IIb study in refractory myelodysplastic syndromes, and what it means to investors in the near and long term.
Declaring my bias, I remain unabashedly bullish on sapacitabine, SEAMLESS and now, on R-MDS Phase IIb. So, let's get started.
The Mysterious Outliers of Sapacitabine's Success
When elderly MDS patients have failed frontline treatments using hypomethylating agents, their prognosis for recovery is virtually nil. The disease is incurable without a bone marrow transplant that they're unqualified to receive. Therefore, treatment shifts to palliative care. And this is where sapacitabine shines. It's less toxic than other drugs in the reclamation space, and it offers patients the ability to administer their own therapy from the comfort of home through swallowing capsules.
And yet, sapacitabine in Phase II R-MDS, comprising 63 patients, also demonstrated the longest survival rates for that treatment population currently on record. Of significant note in all completed trials of sapacitabine to-date is the long tail at the ends of the Kaplan-Meier curves.
In the already completed Phase II study, there were 4 complete or partial remissions, and one patient remains on study over 3 years later. These outliers are crisply defined against a backdrop of overall survival measured at less than 5.4 months, on average.
Listen to Hagop Kantarjian M.D., renowned clinical trial leader in MDS, hit a home run for Cyclacel after viewing this Kaplan-Meier survival plot for sapacitabine in the refractory space. Please note it does not contain a control, but only the 3 active trial arms.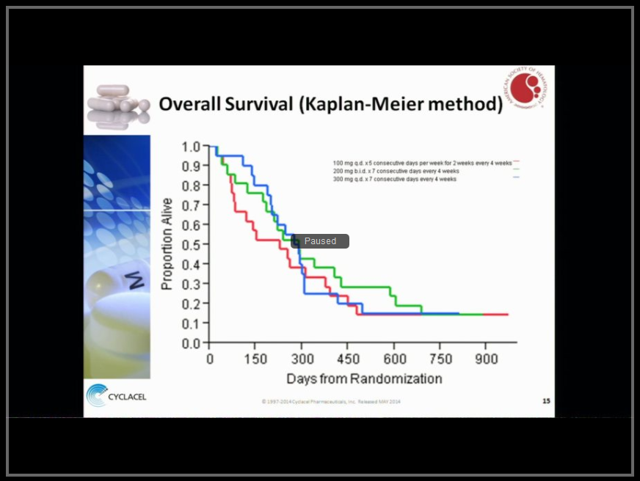 You know, we're noticing this in the long-term follow-ups, because people say there are no cures but when you look at the long-term follow-up of the frontline, and Dr. Manero makes that point, there is a tail to the curve which is in the range of 10 - 20%, even without the transplant. And these are patients who continue therapy. So it is possible. He makes that point consistently and people just dismiss it, but there is a tail of the curve with hypomethylating agents, even in the frontline setting. So it's possible that maybe in the salvage set that that's what we're seeing in that context with sapacitabine. That is, there could be a population of patients that's more sensitive to a particular drug where they stay longer on it.
What Dr. Kantarjian refers to as a "possibility" has become a reality in sapacitabine. The bodies of elderly patients are perfect hosts to sapacitabine's method of eliminating cancer cells, because they're by nature predisposed to cell destruction rather than rejuvenation. In other words, elderly patients participate in sapacitabine's cancer-killing effect in a completely natural way.
In a wonderful series called "Inside the Cell", the National Institute of Health published the following statement regarding the role of cell death in the aging process.
Far from being strictly harmful, scientists have found that cell death, when carefully controlled, is critical to life as we know it. Without it, you wouldn't have your fingers and toes or the proper brain cell connections to be able to read the words on this page.
This is an excellent metaphor to describe sapacitabine's therapeutic activity, which is essentially to cause selective single-strand DNA breaks which arrest cancer cell division, and therefore, replication.
A Phase IIb R-MDS Study Benefits SEAMLESS Success, While Simultaneously Hedging Against Unthinkable Failure
Note: I'm going to be using two interchangeable terms - low-dose cytarabine is low-dose ara-C.
Whilst I wasn't pleased with the choice of venue, and disappointed from a catalytic perspective relative to the flagging stock price, I'm in full agreement with the choice of pursuing a large, non-registration, Phase IIb study of sapacitabine in refractory myelodysplastic syndromes. Pairing up with low-dose cytarabine is strategically important from the vantage point of regulatory approval and commercial positioning.
Here are 5 reasons why this is the best course of action moving forward.
Sapacitabine has a track record of success as a combination therapy. Capitalizing on that advantage with low-dose cytarabine is a smart move. Testing that synergy in a registration Phase III trial is to unnecessarily push the envelope.
Pitting sapacitabine as a single agent in a pivotal study against physician's choice standard of care in the control arm would have allowed for a broader discussion of attributes that may or may not have been convincing enough for commercial approval.
It's easier to argue a case for regulatory consent with a contemporaneous control established in a low-risk Phase IIb setting. Though physician's choice standard of care in a refractory space without an approved treatment is sufficient as a comparator, why leave the discussion open-ended, when the issue can be properly defined?
The target in Phase IIb is one that FDA regulators would be happy to consider for approval in R-MDS, should SEAMLESS success compel that consideration. According to the vice president of Regulatory Affairs, Judy Chow, overall survival is the primary endpoint, and the bar is ironically set at 25-30%, which is the same separation required in SEAMLESS - 27.5%. And that is what we call a purposeful coincidence.
If the trial fails to show a conclusive separation in the Kaplan-Meier curve, all is not lost, as would be the case had the label 3 been attached to the study. Additionally, there will be a small lead-in group of patients to give management an unblinded peek at the early data. If it's determined that sapacitabine in performing well, the trial will continue.
In addition to these obvious advantages, a Phase IIb trial will enroll swiftly and provide an opportunity for expansion, should the need present itself.
Once approved as a combination therapy with low-dose ara-C, physicians will still have the option to prescribe the drug as an off-label standalone treatment. The outstanding 10-month survival data from the previous Phase II trial assures this. Meanwhile, Cyclacel, at its discretion, may run additional trials demonstrating the power of sapacitabine as a single-agent therapy or in combination with other compounds, as they see fit.
Always be well...
Disclosure: The author is long CYCC. The author wrote this article themselves, and it expresses their own opinions. The author is not receiving compensation for it (other than from Seeking Alpha). The author has no business relationship with any company whose stock is mentioned in this article.
Editor's Note: This article covers one or more stocks trading at less than $1 per share and/or with less than a $100 million market cap. Please be aware of the risks associated with these stocks.