Primo Water (NASDAQ:PRMW) has a straightforward business model. It sells three and five gallon bottles of purified water, as well as the dispensers. Its sells its bottles and dispensers across the U.S. via various retailers. Primo fell off a cliff in 2011 after missing earnings expectations. It is slowly working its way back up. Yet, it still trades at 1.1x sales, which is one of the lowest in the beverage industry.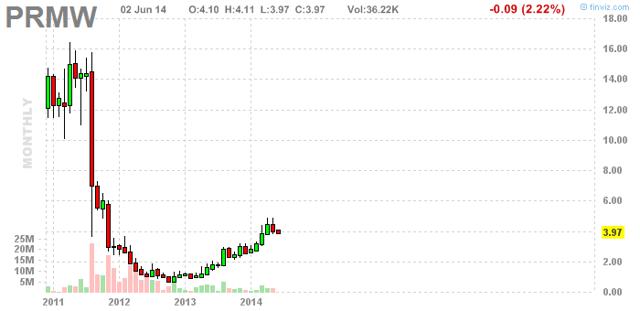 The company looks to have a couple of notable tailwinds. One is the shift toward a healthier lifestyle, where consumers are trading in soda for water. The other is the rise of environmental concerns and number of single-serve water bottles ending up in landfills.
The razor-razorblade model
Gillette pioneered the razor-razorblade model at the start of the 1900s. The model includes offering low-price razor handles, and then make the real money with higher margin razorblades. That is what Primo is doing. It sells its dispensers at low prices (low margins) in an effort to invest in its user base. It then capitalizes on this consumer base by selling them higher margin water.
So gross margins for the dispensers are in the single-digits, but its refill and water gross margins are 30% to 35%. Water makes up about 70% of total revenues, with dispensers accounting for the rest.
Margins on the move
EBITDA margins were a mere 6% in 2012, and jumped to 10% in 2013. That number is expected to hit upwards over 20% over the longer term (i.e. 3 to 5 years). Supply chain improvements have already been driving the gross margins higher. Last quarter, gross margins were up to 26% for 1Q14, compared to 23.4% in 4Q13. Within the water segment, gross margin was up 40 basis points to 31.3%, and dispenser segment gross margin was up to 7.6% versus 4.1% in the same quarter last year.
Other key areas that could help boost margins is the shift from third-party technicians to company-operated technicians. This should help make the company's deployment a bit more efficient. Primo has also been rolling out telemetrics across half its offerings. This involves remote monitoring and relays meter flow data to the company. This helps improve billing and increases visibility into operations.
Environmental concerns a tailwind
There are still some 2 million tons of water bottles ending up in landfills every year. According to the EPA, less than 30% of PET bottles are recycled as of mid 2013. There is a number of cities, including San Francisco that have voted to phase out the use of bottled water by governments. These "bottle bills" actually prohibit the use of government funds to purchase plastic water bottles.
Meanwhile, Primo recycles its water bottles after the lifecycle. Primo consumers purchase an average of 35 bottles of water annually and each bottle can be sanitized and reused up to 40 times before being taken out of use, crushed and recycled.
Driving sales via new locations
Household penetration is at the top of the list for helping drive revenues higher. The current household penetration for multi-gallon water dispensers is at around 4.4% in the U.S. There is a big opportunity to increase its presence in homes. That starts with innovation. Over the long term, Primo could offer various water-based beverages via its dispensers. Think of this as a SodaStream product built into Primo's dispensers.
Increasing locations is another key for driving sales higher. However, it also has to do a better job of making its presence felt in stores. There is a big opportunity to expand into the Western part of the U.S. where the company does not have a strong presence.
Going into 2014, the company had 15,700 exchange and refill services across its top 10 retailers. Primo believes it can add another 25,000 within its top ten retailers. Longer-term Primo hopes to increase its retail store locations to 60,000.
The other thing is getting its water dispensers into more retailers. In addition, with its razor-razorblade business model, there is no reason that Primo should not be more aggressive on selling more dispensers. Once customers have the dispenser they will buy higher margin water. At the end of 2013, Primo sold its dispensers across 7,200 locations, which includes the likes of Wal-Mart (NYSE:WMT), Lowe's (NYSE:LOW), Target (NYSE:TGT) and Sam's Club.
There looks to be ~40% upside
Its current free cash flow margin is 1.5% over the TTM, and operating margin a negative 5.9%. Nevertheless, the company is generating free cash flow. Primo generated $91 million in revenue last year, up from the $35 million in 2008. The company also turned free cash flow positive in 2012, and is now generating just under $3 million in free cash annually. That is around $0.12 a share, but still good enough for a free cash flow yield of 3%.
Sales in 2014 are expected to be up 7% to 11% year-over-year, with earnings before interest taxes depreciation and amortization expected to come in 17% to 22% higher. At the mid-range of 2014, EBITDA guidance (around $10.8 million) that puts shares trading at a forward EV/EBITDA multiple of 11.3x.
The recurring revenue model helps with estimating revenues. Assuming sales grow by roughly 10% annually over the next three years, at which point Primo hits 20% EBITDA margins, then it could generate upwards of $0.33 a share in free cash flow. Assuming that free cash flow grows at 3% annualized over the long term, coupled with a 10% discount rate, and fair value is $6.
Bottom line
There are a number of tailwinds for Primo, one of which is a rebounding economy, which should help drive store traffic higher. The other tailwind is the rising level of promotions and marketing that the company is doing. Finally, the overall increase in health consciousness (trading in soda for water) and environmental (keeping water bottles out of landfills) concerns will boost demand.
As well, there are initiatives the company is undertaking to boost margins, including increasing supply chain efficiencies and implementing Telemetry programs. Insiders have the most to gain with these initiatives with a 16% stake in the company. Overall, Primo looks to be a unique play on the water-focused beverage market.
Disclosure: The author has no positions in any stocks mentioned, and no plans to initiate any positions within the next 72 hours. The author wrote this article themselves, and it expresses their own opinions. The author is not receiving compensation for it (other than from Seeking Alpha). The author has no business relationship with any company whose stock is mentioned in this article.