GrubHub (NYSE:GRUB) operates in a competitive space of online food transactions. After their merger with Seamless in 2013, they became the biggest player in the space. I think this is an unattractive business model that will be disintermediated overtime and given that the company currently trades at 13x 2014 sales, I am recommending investors short the stock. Below is a summary of the business model and the reasons why I think the stock should be sold short.
The company operates a website that allows consumers to order food online from independent restaurants. A consumer orders off the website and provides payment, and then GRUB routes the order to the restaurant, which in turn delivers the food. At the end of the month, the restaurant is paid the money that GRUB collected, minus a commission. The company also acquired Allmenus and Menupages in the past, but these contribute minimally to the company.
In my opinion, here are some reasons I don't like the model:
1. Growth is slowing down significantly
2. No barriers to entry
3. No pricing power
4. Significant upcoming catalysts that can push the stock lower
The company's investment bankers were successful in building the hype and getting investors to pay an absurd multiple for shares when the company went public in April, which the sell-side justified given the large addressable market. However, the company is only expected to grow organically 25% in 2015 and is quickly losing its lead due to larger players entering the space. GRUB is reliant on sales and marketing spend in order to increase orders, and although they are profitable, they do not possess the operating leverage that many other fast growing online companies exhibit. GRUB reminds me more of Groupon rather than Yelp, and I believe that the stock can fall by up to 50% as the hype subsides and insiders get out after the lockup.
(Lack of) Growth Drivers
GRUB discloses that its total addressable market is about $67 billion in gross food sales. Given the current commission rates, it comes out to about $9 billion dollars in revenue. Even in the most optimistic scenario, I don't believe GRUB will get anywhere close to this figure.
First, this figure is dependent on growing the restaurant base. The company grew from 7,500 to 10,000 restaurant relationships in 2012, and to an estimated 13-14,000 organically in 2014. They ended the year with 29,000 restaurants (the rest through acquisition), but as of their June 4th, 2014 press release, only listed approximately 30,000 restaurants (on the last earnings call in May, they were under 30,000). So for the first five months on 2014, they added ~1,500 restaurants. Extrapolating this over the full year, the company would be growing their restaurant base in the low teens range. Some argument could be made if this will accelerate or decelerate on an absolute basis (being that they already picked the low hanging fruit vs faster technological adoption), but it's safe to say the opportunity in the next 3-5 years is closer to 50,000 restaurants than it is to 100,000, let alone 350,000.
So if restaurants aren't growing very fast, how about the orders? It's hard to conclude a meaningful trend because Seamless had a lot more corporate accounts than GrubHub, but from what I can see, the orders are flat to negative. Pre-merger, orders per diner per quarter were falling and order size was flat to slightly up so net, each diner was spending about the same in absolute dollars. Post-merger, there seems to be a meaningful decline in overall sales per customer as GrubHub customers tend to order less frequently. Again, the data is still new and there is seasonality involved, but average revenue per customer is not going up.
Something has to be driving GRUB's growth, but it's also not newer markets. I was very surprised on the last call when the CEO said that they are not seeking out new markets. They mentioned that their growth will result from penetrating existing markets, but given the lack of restaurant growth this year, these existing markets may already be saturated.
The last factor I can look at is number of diners. GRUB increased the number of diners by 250% last quarter y/y (primarily through acquisition), but only grew revenues 127%. What's more worrisome is that while management states that they are generating significant operating leverage, they are comparing post-merger to pre-merger numbers. Looking closely at the numbers reveals that sales and marketing as a % of revenue has actually increased over the last three quarters. In the last call, management stated that they won't be showing leverage in the sales and marketing line nor the operations line. These are over 50% of total expenses. The only leverage they are getting is G&A and technology, which has already come down significantly and is about a quarter of total expenses. The company is really just buying their subscription base through sales and marketing spend, implying that they aren't seeing significant network effects that exist in other companies such as Yelp (NYSE:YELP) or Facebook (NASDAQ:FB). If they really had the great brand and outreach, I would expect revenues to either accelerate or operating margins to decrease across the board.
Competition
GRUB is the largest player in the food delivery space, but it's pretty obvious to most that there are very minimal barriers to entry here. If I just do a quick search on Google, I see:
Grubhub/Seamless
Eat24
Delivery.com
Foodler
EatStreet
ChowNow
Along with various regional/local options as well.
GRUB was the first to market and became the clear market leader after merging with Seamless. However, like we've seen from other internet names such as Zynga (NASDAQ:ZNGA) and Groupon (NASDAQ:GRPN), being the first big player in the space doesn't necessarily lead to success.
Eat24 is probably the most significant competitor once it partnered with Yelp last year. This is an industry changing partnership that could significantly hurt GRUB. Eat24 mentioned that they were expecting to quadruple in 2013 due to Yelp, and as of July 2013, they had 25,000 restaurants. Eat24 is private, so there is no updated information, but I estimate that Yelp has about 150k total restaurants (based on total business + restaurant review mix), which gives Eat24 a significant runway as well.
Delivery.com also partnered with Yelp, but is slightly different because they offer groceries, liquor, and home products as well. Although I haven't gotten performance metrics, it's obvious that Yelp is committed to building out an all in one platform where you can get restaurant reviews, reservations, menus, and ordering, as opposed to GRUB and Opentable (NASDAQ:OPEN), which only fill specific roles.
Facebook also recently announced a new menu product that directly competes with GRUB's Allmenus and MenuPages. While this is a small part of GRUB's overall business, it's another bad sign when the really large players begin to build out products using their existing platforms.
GRUB estimates that it does 10x more traffic than its next closest competitor, but if I take a look at the website traffic estimates, I think the actual race is a lot closer. GRUB did about 3.8m in visits combined for May (based off trafficestimate.com), while Eat24 (through eat24hours.com) did about 2.6m and Delivery.com had about 900k. I'm not sure if these numbers include the Yelp or not, because an order through Yelp never leaves their website: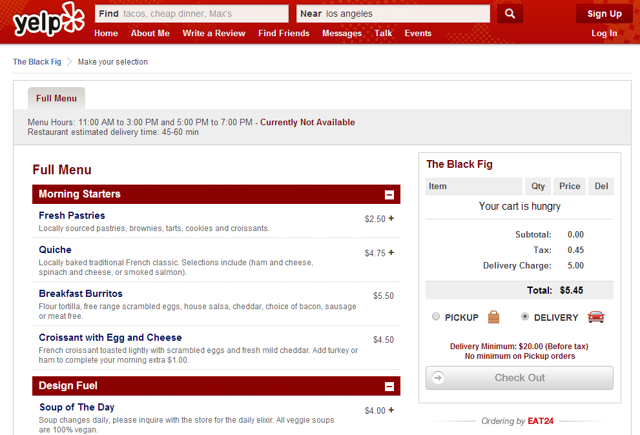 Click to enlarge
There is an "Ordering by Eat24" at the bottom, but the traffic may not be picked up by one of the internet tracking sites. If the traffic numbers don't include contributions from Yelp, it's reasonable to assume that GRUB has already been surpassed.
Another good way to look at traffic is to see how everything is trending. Alexa gives only relative rankings, but the chart paints a good picture.
For GrubHub: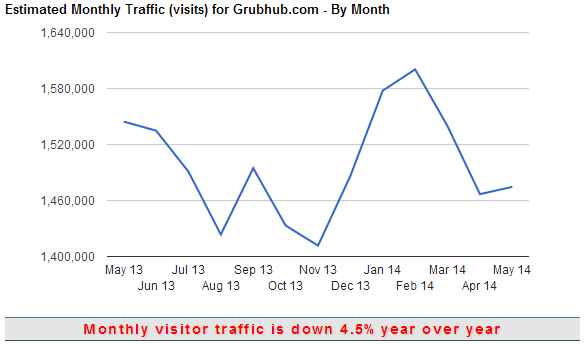 And Seamless: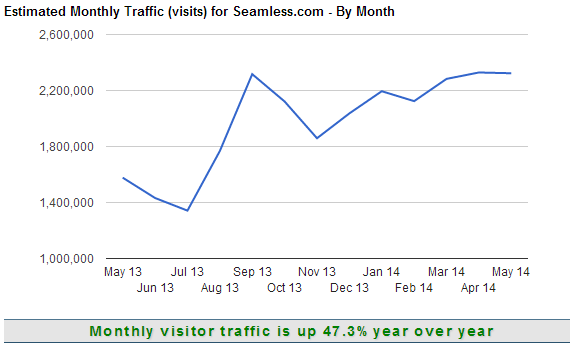 Eat24 (no secondary chart)


As you can see, Eat24hours.com is rapidly growing and has already overtaken the Seamless.com as the most popular single URL. As a side note, Eat24 was able to do this without venture funding, as well as without acquiring other companies.
Personally, I believe that the market is also not considering the smaller players in the space. There are numerous regional food delivery companies that could provide a much higher touch solution to local restaurants. Also, many new delivery services are beginning to gain traction, such as Postmates or TaskRabbit, which provide actual delivery services (as opposed to just a transactional portal). If restaurants ever decide to outsource the entire delivery portion out, they would be looking for these types of players in the field that have actual vehicles.
Another issue is that I believe that GRUB will face pricing pressure. The company saw an uptick in commission rates in the most recent quarter and most likely this quarter as well because they are shifting Seamless to an auction pricing platform (restaurants bid to be placed higher in search listings). However, management has stated that this is a short term impact, and if I look at the last two years, commission rates have declined from ~15% to 13% pretty quickly. I believe this trend will continue as the market becomes more and more competitive. EatStreet charges restaurants 10% (I don't have data on the other competitors) and I believe that as the industry grows, rates will fall near this level and be closer to parity.
Short-term forecast
There were two idiosyncratic events that occurred in Q1 14 that made the company perform above expectations. Most significantly, bad weather gave a large boost to the business as people were more hesitant to leave their homes. While this caused the entire industry to outperform, GRUB benefited more due to their top markets in Chicago and New York. The other impact was the Seamless auction transition that I mentioned before. It's hard to determine the exact revenue impact, but I estimate that they would have done $54.5m for Q1 instead of $58.5m without weather and auction pricing.
I'm using sequential numbers primarily because the company has not yet anniversaried the acquisition, so year over year comparisons are not really helpful. I continue this analysis by looking at Q2 and Q3 in the past. In a normalized environment, the summer months will result in negative sequential growth, as school is out and people go out more. I believe that the company will end up closer towards the low end or below guidance for Q2 (and trend the same for Q3), as the overall growth slows and seasonality becomes more prevalent. This is in disagreement with the sell-side, whom expect results at the top end of guidance.
Additionally, GRUB is a recent IPO with shares that are locked up until early October. Only 7m shares were sold at the IPO, and so there will be ~71m of shares coming out of lockup. The top two holders of GRUB are private equity funds that will be looking to get out of their investment. I believe that given the significant amount of shares coming out of lockup, there will be significant selling pressure in a few months. We just saw Twitter (NYSE:TWTR) trade a quarter of all its shares on the day of the lockup and fall nearly 20% throughout the day.
Valuation
We're halfway through 2014 already, so looking out to 2015, I see an overvalued stock based off a company that is just treading with the rest of the market. The company is currently valued at 10x 2015 Sales, 35x 2015 EBITDA, and 90x 2015 P/E. These are consensus estimates that assume 25% growth in 2015 and 22% growth in 2016, along with significant operating leverage. Management has EBITDA target margins of 35% in the long term, but the sell-side is assuming that GRUB exceeds this by 2017. Even using 2017 numbers, the company is trading at 7.5x sales, 20x EBITDA, and 45x P/E. The company also really only has half the amount of cash on the balance sheet, because there is ~100m of cash owed to restaurants that they haven't paid yet (they pay the restaurants the net sales every 30 days). If I exclude this timing effect, they aren't generating much cash as well. If I look 3 years out, this company is going to be more expensive than FB and TWTR with much slower growth and more competition. Once the hype dies down, I would expect that GRUB trades at a more normalized EBITDA valuation of 15x. At 2014 estimates, GRUB is a $15/share stock, or 60% downside from today's price.
Disclosure: The author has no positions in any stocks mentioned, and no plans to initiate any positions within the next 72 hours. The author wrote this article themselves, and it expresses their own opinions. The author is not receiving compensation for it (other than from Seeking Alpha). The author has no business relationship with any company whose stock is mentioned in this article.