Microsoft Corporation (NASDAQ:MSFT) reported fiscal third quarter earnings that came in below my expectation but above management's guidance. Based on the disclosures, it appears that I was wrong about Azure and Windows 8.1. But I was right about Office 365 and Xbox One. The first pair was not a significant positive contributor to financial performance while the latter pair was a significant positive contributor.
Looking forward, Microsoft SQL Server 2014 should be a significant positive contributor to revenues during the next fiscal year, but, even so, Microsoft appears poised to fall short of my full-year revenue estimate of $87 billion. Unearned revenues are flat, and Xbox sales are leveling off. The launch of Surface Pro 3 should offset some of the weakness in Xbox sales, but Azure doesn't appear to be doing a whole lot and Window 8.1 isn't an outstanding performer in the consumer market.
With those puts and takes, Microsoft is set to grow at a high-single digit pace this year, and using conservative estimates of the firm's fundamentals, the shares are 13% undervalued. I'm bullish on the common equity shares of Microsoft.
Recent Developments
The newly available, updated Microsoft Dynamics features significant new capabilities in marketing, customer care, and social listening. Microsoft, Oracle (NASDAQ:ORCL), and salesforce.com (NYSE:CRM) are positioned in Gartner's "Leaders" quadrant for CRM Customer Engagement Center.
Salesforce.com and Microsoft announced a strategic partnership that makes salesforce.com's customer relationship management apps and platform more integrated with Windows and Office than they were previously.
Microsoft and SAP AG (NYSE:SAP) extended their partnership by increasing support for SAP applications on Microsoft Azure, improving data access and interoperability, and increasing mobile collaboration.
Microsoft launched the Surface Pro 3, which is a more enterprise friendly version of the company's tablet offering.
China's Central Government Procurement Center banned the use of Microsoft's Windows 8 operating system. There appears to be continuing fall out from Edward Snowden's revelation of the NSA's national-defense tactics.
Analyst's Note
Microsoft Corporation is engaged in developing, manufacturing, licensing and supporting software products, services and entertainment, and device hardware products.
Microsoft reported fiscal third quarter revenues that are below my expectation. I was expecting revenues of $22.5 billion; management was expecting $20.25 billion, and revenues came in at $20.4 billion. Microsoft will have to report revenues of $23 billion in the fiscal fourth quarter to meet my full-year forecast of $87.19 billion. Revenues grew 9.5% for the first nine months of the year, and I am expecting revenue growth of 12%. Profitability remained in line with my expectations, while the investments management are making in devices and infrastructure increase operating costs. The share repurchase program was significantly smaller than I anticipated. That is likely attributable to the high share price, in my opinion. The diluted EPS forecast for the full year has been reduced to $2.77.
Of the $3 billion increase in revenues from the Commercial segment during the first nine months of the year, approximately 1/3 came from server products, primarily Microsoft SQL Server. Another 1/3 of the growth came from Cloud Services, primarily Commercial Office 365. For the first nine months of the year, it appears there is minimal impact from Microsoft Dynamics, Dynamics CRM Online, and Microsoft Azure. Of the $2.59 billion increase in revenues from Devices and Consumer during the first nine months, $1.5 billion was attributable to higher sales of Xbox.
Microsoft SQL Server, a relational database management system, competes with offerings from Oracle and IBM. SQL Server comes in different editions aimed at different audiences and for workloads ranging from small single-machine applications to large internet-facing applications with many concurrent users. SQL Server 2014 was released to the general public on April 1, 2014; the latest version comes with in-memory capabilities, which is also featured in competing products. Microsoft SQL Azure Database is the cloud-based version of Microsoft SQL Server and is offered as software-as-a-service. SQL Server comes up short in the interoperability category, as Oracle Database and IBM's DB2 support multiple operating systems.
| | | | |
| --- | --- | --- | --- |
| Quarter ending | Q3 Expected recognition of unearned revenues (in millions of dollars): | Quarter ending | Q4 Expected recognition of unearned revenues (in millions of dollars): |
| 3/31/14 | 7955 | 6/30/14 | 7825 |
| 6/30/14 | 5403 | 9/30/14 | 4937 |
| 9/30/14 | 2799 | 12/31/14 | 3504 |
| 12/31/14 | 1459 | 3/31/15 | 1404 |
| Thereafter | 1858 | Thereafter | 1842 |
| Total | 19474 | Total | 19512 |
The total amount of unearned revenues at the end of Q3 is approximately flat relative to the end of Q2. The dollar amount of unearned revenues expected to be recognized in Q4 is 1.6% less than the amount that was expected to be recognized in Q3. The unearned revenues, $7.83 billion, expected to be recognized in Q4 are sizable.
| | | | |
| --- | --- | --- | --- |
| (in million): | 2014E | 2015E | 2016E |
| Xbox units sold | 12.9 | 12 | 10 |
Xbox units sold are expected to peak around the release date and tail off to the steady-state-run rate. Granted this is a rough estimate because of the lack of disclosure. But based on the available disclosures, I think Microsoft will sell 12.9 million units during fiscal 2014. During fiscal 2015, as the price point declines, demand is expected to remain firm for new Xbox consoles. But during 2016, I think the luster will have worn off and Xbox sales will decline to the roughly 10 million annual sales run rate. Increased sales of Surface tablets may offset some of the revenue declines for Xbox sales in the Devices and Consumer Hardware division.
Overall, Microsoft remains well positioned within the enterprise space and appears to be keeping a few toes well positioned in the consumer space. The combination should drive free cash flow to the firm towards $30 billion annually with the company's competitive advantages generating substantial returns on equity and debt capital. Additionally, at over $80 billion of annual revenues, the high single digit growth rate is truly impressive.
Portfolio & Valuation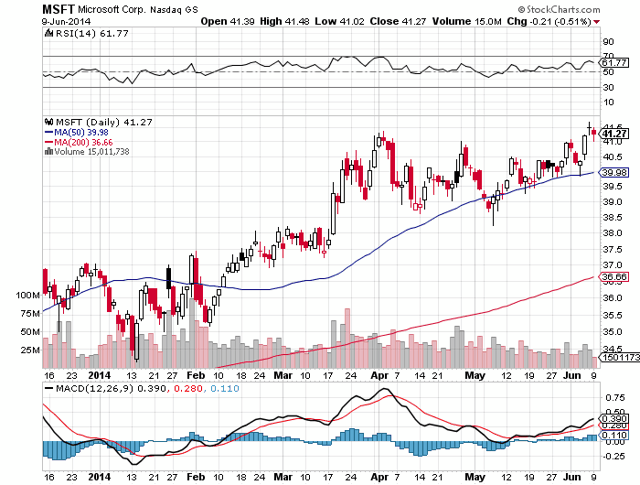 Shares of Microsoft are in a flat intermediate term correction as part of a primary-degree-bull market. While the bull market is "long-in-the-tooth," the share price can continue to rise. The $43 to $45 per share zone is the next "zone-of-interest," should shares trade above $42 per share for an extended period. Simply stated, there continues to be visible signs of accumulation, as the MACD rebounds from the support zone.
| | | | |
| --- | --- | --- | --- |
| Monthly expected return | Quarterly expected return | Quarterly standard deviation of returns | Sharpe ratio |
| 1.64% | 4.92% | 11.28% | 0.37 |
| | | |
| --- | --- | --- |
| | Intrinsic value estimates | Forward valuations |
| Current share price | $41.06 | P/E: 14.83 |
| Optimistic | $70.00 | P/BV: 3.86 |
| Base case | $46.65 | P/S: 3.96 |
| Pessimistic | $23.33 | P/CFO: 9.89 |
These valuations are based on very conservative estimates of the business's fundamentals. With that stated, Microsoft is 13.6% undervalued. Also, 14.83 times fiscal 2014 earnings for mid-single digits growth is inexpensive. The valuations make a compelling long case.
General Risks
The share price is likely to remain volatile, and investors could lose a portion or all of their investment.
Investors should judge the suitability of an investment in MSFT in light of their own unique circumstances.
A decline in the global economic growth rate and/or a decline in the pace of economic growth in the United States could adversely impact the results of operations and the share price.
The technology industry is characterized by rapid technological change, which could materially adversely impact the results of operations.
Competition in product development and pricing could adversely impact performance.
Incorrect forecasts of customer demand could adversely impact the results of operations.
Higher interest rates may reduce demand for MSFT's offerings and negatively impact the results of operations and the share price.
This section does not discuss all risks related to an investment in MSFT.
Disclosure: The author has no positions in any stocks mentioned, and no plans to initiate any positions within the next 72 hours. The author wrote this article themselves, and it expresses their own opinions. The author is not receiving compensation for it (other than from Seeking Alpha). The author has no business relationship with any company whose stock is mentioned in this article.