In my previous article on Ulta (NASDAQ:ULTA), I argued that ULTA's strong performance and expanding retail presence justified a share price of $101, which was around 13% upside to the then stock price of around $88. Since my article was published (on 4/25), the stock trended slightly downwards to $85 levels, only to bounce back up beyond $90 on the back of a stellar earnings report. Based on its latest earnings and outlook, I took a fresh look at my valuation model to test if ULTA still represents an attractive investment opportunity.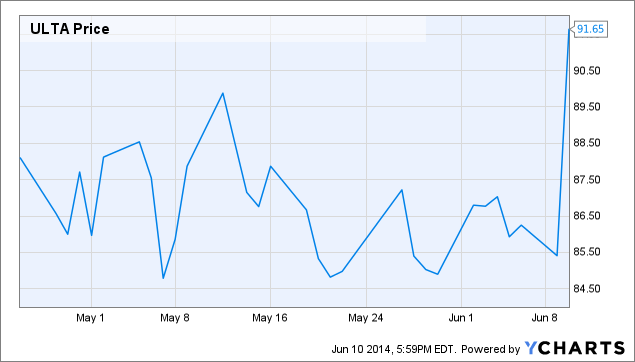 Business Performance
I will not dwell upon ULTA's historical performance, since I have already done that in my previous article and interested readers can find out more there. Rather, this article will take a forward look at ULTA and how my previous valuation assumptions are impacted by the current results and updated outlook.
ULTA reported Q1 EPS of $0.77, which was 3 cents above consensus. More importantly for a growth company, revenues rose 22.5% YoY to $713.8M. Same store sales increased 8.7%, which was well over the 6% in my model and the 5-7% range that the company had previously communicated. E-commerce sales grew 72.3% and represented 1.9% of the 8.7% comp growth.
For the second quarter, ULTA expects revenue growth in the range of 17-19%. Based on these expectations, I am increasing my outlook for full-year revenue growth slightly, from 17% to 18%. I now expect current year revenues to come in at $3.15B, up from $3.12B previously modeled. This is at the higher end of the company's outlook ("in the mid-teens"), but given Q1 performance and expectations for Q2, I believe this is achievable.
Based on Q1 performance, I have raised my outlook for comps growth to 7% for FY15 and FY16, and from 5% to 5.5% thereafter. ULTA's e-commerce business is growing at a healthy pace and should provide a tailwind to store comps.
Margins and operating expenses
Gross margin came in at 34.5%, slightly lower than the 35% in my model. Operating margins were also lower at 11.3% compared to my full year operating margin of 12.4% for FY14; however, this is attributable to seasonality. With my updated assumptions, ULTA grows its EPS for FY14 by 18%, which is in the range the company has communicated.
Valuation model
Based on these results and my more optimistic view on the long-term store comps, my updated valuation model yields an FMV of $104/share for ULTA. This is an upside of 13% to the current share price, post the earnings bump. This would suggest that there is still potential remaining in ULTA's shares. The complete valuation model is attached: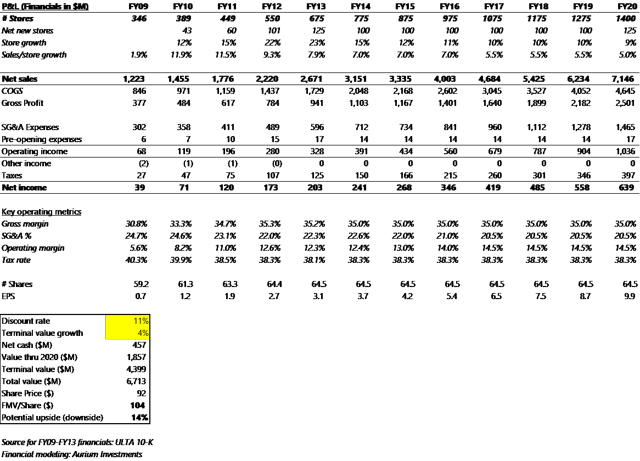 Click to enlarge
Summary
ULTA is reaffirming its premium valuation through its strong performance and execution. The company continues on its rapid pace of expansion, but is not ignoring its fundamentals as operating metrics remain strong. Its Q1 performance have validated my confidence in the company as an attractive investment opportunity. Shares are still a buy.
Disclosure: The author has no positions in any stocks mentioned, and no plans to initiate any positions within the next 72 hours. The author wrote this article themselves, and it expresses their own opinions. The author is not receiving compensation for it (other than from Seeking Alpha). The author has no business relationship with any company whose stock is mentioned in this article.
Additional disclosure: I am short ULTA $60 puts.