By Todd Shriber & Tom Lydon
European equities and the relevant U.S.-listed exchange traded funds have been in focus in a big way recently due to the run-up to and result of last week's European Central Bank meeting.
Last Thursday, European Central Bank President Mario Draghi announced a negative deposit rate and a long-term refinancing operation of $544.5 billion, along with some other measures that have further increased speculation that the ECB will eventually engage in quantitative easing.
A plethora of Europe ETFs benefited from the news, most already known to investors. One Europe ETF that has flown under the radar yet still merits consideration is the PowerShares BLDRS Europe 100 ADR Index Fund (NASDAQ:ADRU). Like its emerging markets counterpart, the BLDRS Emerging Markets 50 ADR Index Fund (NASDAQ:ADRE), ADRU exclusively focuses on stocks that have U.S. listings in addition to listings in their home countries.
That gives the $19.4 million ADRU a lineup chock-full of many of European large-caps with which U.S. investors are already familiar. ADRU's top-10 lineup, which combines for about 40% of the ETF's weight, includes Swiss drug giant Novartis (NYSE:NVS) and Europe's three largest oil companies: Royal Dutch Shell (NYSE:RDS.A), BP (NYSE:BP) and Total (NYSE:TOT).
Although not intentionally designed to be a dividend ETF, ADRU's combined 40% weight to European health care and energy names turns the ETF into a credible yield play as highlighted by a trailing 12-month yield of nearly 4.4%.
In addition to energy stocks, European consumer staples and health care stocks are among the region's better dividend destinations. Staples stocks account for 11.2% of ADRU's weight.
Like many diversified Europe ETFs, ADRU is heavily allocated to the U.K. and Switzerland, a trait that has been favored by conservative investors seeking European equity exposure. The downside of the combined 58% weight to the U.K. and Switzerland is that ADRU's correlation to a weaker euro could be reduced and the ETF is heavily exposed to the strong British pound and Swiss Franc.
The upside is British and Swiss equities have been solid performers this year. Additionally, ADRU offers positive leverage to recovering European dividend growth. Remember, European payouts need to grow almost 40% just to get back to pre-financial crisis levels.
PowerShares BLDRS Europe 100 ADR Index Fund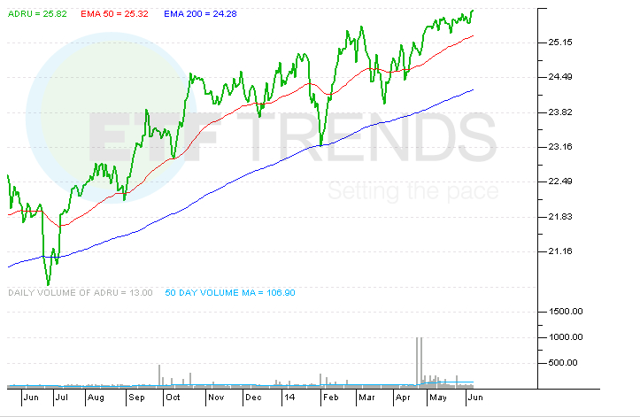 Click to enlarge
ETF Trends editorial team contributed to this post.
Disclosure: The author has no positions in any stocks mentioned, and no plans to initiate any positions within the next 72 hours. The author wrote this article themselves, and it expresses their own opinions. The author is not receiving compensation for it. The author has no business relationship with any company whose stock is mentioned in this article.