Shares of Prospect Capital (NASDAQ:PSEC) have been languishing in recent weeks. The company has been hounded by the revelation of an SEC request for it to consolidate its holding companies. Fears were that this consolidation request could have forced the company to restate its prior results, which may have had impacted its leverage ratio, taxable income, NII, NAV, and other metrics.
Through it all, Prospect Capital has maintained that it was expecting no changes to its dividend paying capacity or dividend policy. However, recent news from the company seems to have alleviated most of these fears.
SEC: No restatement will be required
On June 10, Prospect Capital announced that based on its discussion with the SEC, it will not be required to restate its prior period financial statements in order to consolidate its subsidiaries. This news has had a major positive impact on its share price, with the after-hours trading seeing shares up 5% to $10.36 as of this writing.
However, while Prospect Capital appears to have won its appeal, the company will need to make some changes:
1. Prospect's historical non-consolidation of certain wholly-owned and substantially wholly-owned holding companies will not require restatement of Prospect's prior period financial statements.

2. Upon the adoption of ASU 2013-08 by Prospect for the June 30, 2015 fiscal year, Prospect will begin consolidating on a prospective basis certain of its wholly-owned and substantially wholly-owned holding companies formed by Prospect in order to facilitate its investment strategy.
Basically, this news means that Prospect Capital will definitely be consolidating its future investments. However, what this entails for the prior investments remains somewhat murky and unclear.
From the press release, it appears as if Prospect Capital will be consolidating its wholly-owned subsidiaries, with the only concession from the SEC being that a restatement of prior financial releases will no longer be required.
In addition, starting June 30, 2015, Prospect Capital will adopt FASB accounting standard ASU 2013-08. The main change here is that this will modify the definition of an investment company under GAAP.
According to the accounting firm Pricewaterhousecoopers "PWC" (link),
Under the revised definition, an investment company is an entity that both (1) obtains funds from investors and provides them with investment management services, and (2) asserts that its business purpose and only substantive activities are investing the funds solely for returns from capital appreciation, investment income, or both. Additional characteristics are provided that would also typically be expected to exist in an investment company.
Make no mistake that the SEC request for consolidation was a major drag on Prospect Capital's stock price. Since that news broke, shares have fallen nearly 10%, from around $10.75 to the high $9 range, with a brief tumble to as low as $9.17.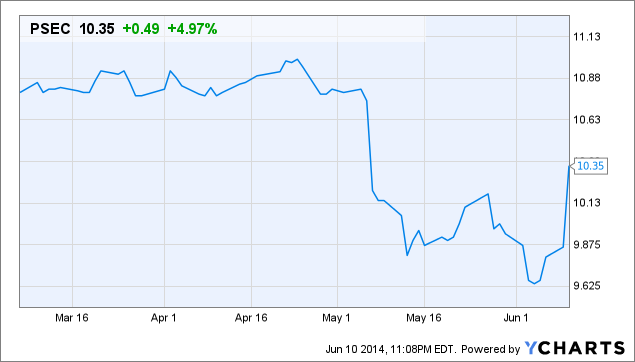 Conclusion: Prospect Capital is now a strong buy
As I noted in my earlier article, Prospect Capital has always been a great income stock. However, with the SEC issue now apparently resolved, Prospect Capital is now a strong buy. The stock has several things going for it including:
Hopefully investors were able to buy the SEC related dip. I doubt we'll be seeing Prospect Capital trading with a $9 handle anytime soon.
Disclaimer: The opinions in this article are for informational purposes only and should not be construed as a recommendation to buy or sell the stocks mentioned. Please do your own due diligence before making any investment decision.
Disclosure: The author is long PSEC. The author wrote this article themselves, and it expresses their own opinions. The author is not receiving compensation for it (other than from Seeking Alpha). The author has no business relationship with any company whose stock is mentioned in this article.